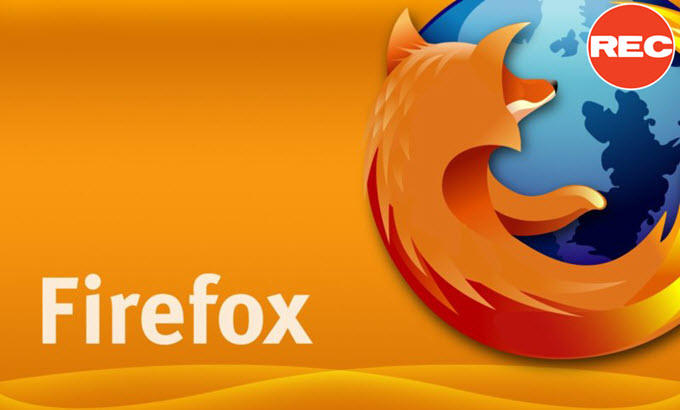 Firefox is one of those reliable internet browsers that provide service for more than a decade. Unlike other internet browsers, Firefox is fast and equipped with other functions that provide easier browsing experience. With increasing number of people using this browser, many of them are looking for a Firefox screen recorder that can help record their browser activity, streaming video or more. Recording Firefox is essential since it allows the users to record a useful video, an important post, or simply a helpful tutorial. If you're one of those who seek for a recorder for Firefox, then you can check solutions after the jump.
1. Best Recommended Firefox Screen Recorder
2. Top Screen Recording Extensions for Firefox
Apowersoft Free Online Screen Recorder
If you are searching for a trustable screen recorder for Firefox that can capture anything in browser as video and even edit it, then Apowersoft Free Online Screen Recorder is the best tool for you to choose. This is a reliable web-based application that provides unlimited screen recording for free. Before capturing, users are allowed to modify their video and audio settings along with the output format, and the cursor appearance as well. Once a video is done, you can choose to save it as a video file or even GIF format. Simply follow the guidance and you can know how it works: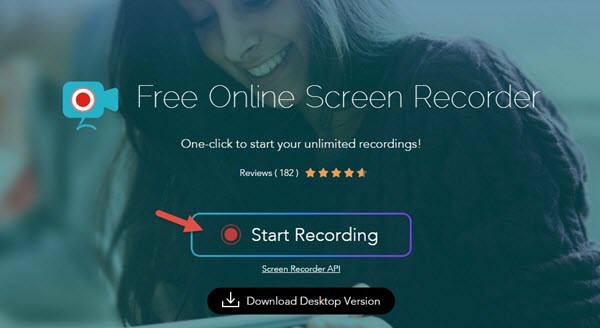 Go to the official website of this video recorder for Firefox, and click "Start Recording". If this is your first visit, you will need to download a launcher to activate it normally.
Once the tool is launched, you will then see its interface popping out. And then you can configure some audio and video settings as you like..
Prepare the material that you want to record and adjust the recording area and make it suitable.
Once all done, click on the "REC" button to start recording process.
If you want to finish recording, simply click on pause button and click tick icon to continue.
Preview the recorded video and choose to save as video file. There are seven optional formats.
Video will be stored in your selected folder soon.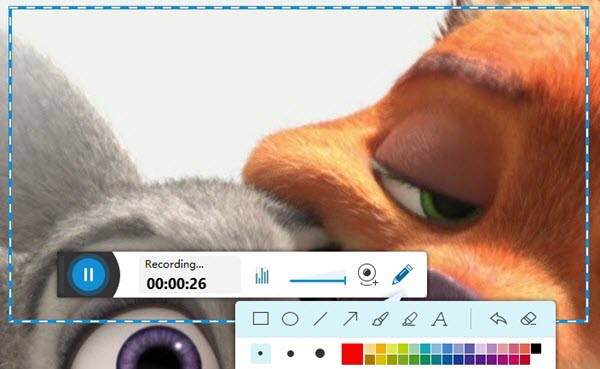 Moreover, if you need a more stable and powerful program so that you can record video at any time, then it is highly recommended to use the desktop version of this online application. Besides the functions aforementioned, it also covers a task scheduler and a video editor and many other useful features. By using this desktop program, you are capable of creating recording tasks as well as editing your video easily. Just go and get this app from the button below to experience it personally.
Available Firefox Extensions for Recording Screen
#1. Capturefox
This Firefox video recorder can be downloaded free from Mozilla Add-ons page. From the name itself, this tool is created to provide recording mainly on Firefox platform. The features that you can get with this add-on, include the capability to record your screen as well as audio. And the recorded clip will be saved in AVI format. It also has different recording modes that could capture the "Whole Screen", "Firefox Window", or "Browser Region". Plus, you can set video quality from low, moderate, to high according to your preference. To do the recording with this add-on, simply follow the steps below.
Get this add-on from Mozilla Add-ons page and install it to your browser.
Once it's done, go to the Firefox page that you want to capture, or play a video clip that you need to record.
Click the Capture FOX icon located on the task bar and set the appropriate settings, then click "Start Capturing".
To stop the recording, just click "Stop Capturing" and then save the recording to the folder as indicated by you.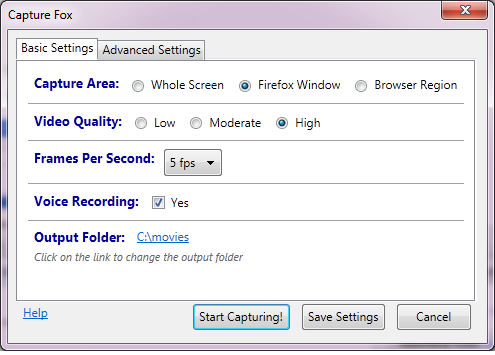 The good thing about this add-on is that it allows users to modify the recording settings according to the users' need. Yet, the bad thing is that sometimes it does not response, and it's not compatible with the newer Firefox versions.
#2. MakeGIF Video Capture

Another Firefox Screen Recorder that you can utilize is MakeGIF Video Capture. Unlike other screen recorders, this app basically creates a screen recording by means of saving it as GIF image. It saves the images frame by frame to form a sort of a recording. In using this add-on, users are given a chance to set the recording settings they prefer, such as capture FPS, the video quality, max frames, and size. If users want to edit a certain portion of the recording they can edit it by speeding it up, or slowing it down. The captured GIF can be stored on local folder or shared on MakeGIF website.
Here are the ways to use this browser add-on.
Install this tool from Mozilla's add-on site.
Navigate to a page that you want to capture from your Firefox browser.
Next is to click the MakeGIF icon on the upper right portion of the screen.
To record screen, click "Start" button, and when you're done simply hit the "Done" button on the upper right corner of the browser.
To save the video file, just click "Generate GIF" and look for the local folder where you want to save the recording.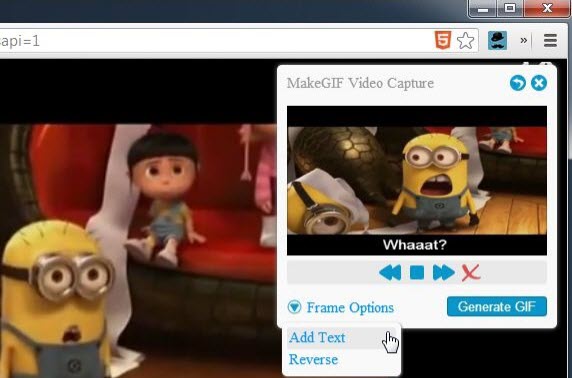 This add-on works well especially when you need to make frame by frame editing. But there are also some issues linked to this tool such as glitch in saving the processed file on local disk. Plus, some users complain about that their videos will be deleted after 1 month without notifying them.