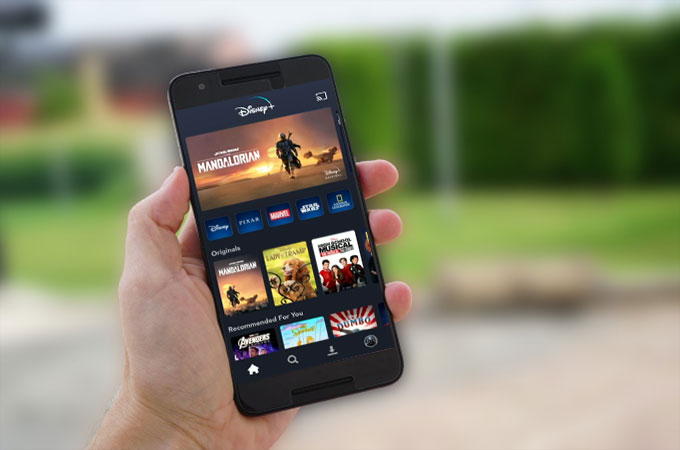 Disney Plus is The Walt Disney Company's original streaming service featuring all your favorite movies and shows from Disney, Star Wars, National Geographic, Marvel, Pixar, and so on. Moreover, this service lets you watch unlimited movies and shows using TVs, phones, and computers when you pay the subscription of $8 a month, or $80 for an annual plan. Like Netflix, Disney Plus allows you to download and watch shows in your free time even you are not connected to the internet. On that note, this article will help you on how to download videos on Disney Plus.
How to Download Videos on Disney Plus App?
Disney Plus provides an application so users can watch their favorite movies or TV shows anytime and anywhere. To do that, simply follow the steps listed below.
Firstly, install the Disney app on your device.
Next, launch the app and create an account or sign in on your existing account.
Choose the title you wish to download.
For a movie, tap the download icon. For TVs shows, tap the right icon of the episode title. While tap the icon to the right of "Season" to download the entire season.
Once the download is done, you can now watch Disney plus video offline.
Meanwhile, watching your favorite shows on a bigger screen like a PC is possible. This streaming program supports the desktop version. To do that, just get it from the Microsoft Store and install it on your computer and log on to your account. On the other hand, if your PC is running out of storage and you don't want to install any software to avoid lag, an online version works. Simply go to the official page of Disney Plus and log on an existing account.
FAQ about Disney+
1. Why can't I screen record on Disney Plus?
Most contents on Disney Plus are protected. Meaning, any type of screen recorder is not allowed to record any content from the streaming site.
2. Can I take screenshots on the Disney Plus app?
No. Because the app forbids taking any screenshots in the app.
3. What is the feature of Disney+? What film can I see on it?
Disney Plus offers the best TV shows and movies such as Star Wars, The Incredibles, Hamilton, Toy Story, The Avengers, The Lion King, and a lot more.
4. How many people can watch Disney Plus at once?
Disney Plus allows users to stream for up to four devices simultaneously. Not only that, but Disney Plus can set up to seven profiles.
5. How can I get free Disney Plus?
Sadly, Disney Plus recently announced that they will not be offering a free trial. If you are a new user, you'll need to sign up and pay $8 per month.
6. Can you cancel Disney Plus at any time?
Just like other streaming services, Disney Plus allows you to cancel your subscription anytime. After canceling, you can still watch movies and tv shows until your next scheduled billing date.
7. Where is Disney Plus available?
Disney Plus is not yet available in the whole world. This is available in some countries including The United States, Canada, New Zealand, Australia, Netherlands, Spain, France, Italy, Ireland, Austria, Denmark, India, and a lot more.
Conclusion
It is now easier how to download Disney plus movies and TV Shows with the help of this article. By simply following the easy steps, you will be able to enjoy watching your favorite tv shows and movies on Disney Plus.