FLV stands for Flash Live Video which is a container file format developed by Adobe Systems in the year 2002. It allows high rates of file compression whilst retaining brilliant video quality. Having a superior video quality, FLVs became popular on streaming websites due to their manageable file sizes.
From YouTube to Facebook videos, most online clips today use FLV. But what if you want to download a certain clip posted on YouTube? How about a great movie shown on Veoh? What if you want to save interesting clips on your hard drive and later transfer it on your portable media gadget? You will need a great FLV converter to make all of the above things possible.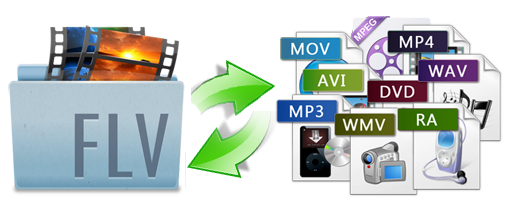 1. Online Solution: Two Free Video Applications
2. Solution for Windows: Apowersoft Video Download Capture
3. Solution for Mac: Apowersoft Video Converter for Mac
4. More tips about how to convert FLV files
1. Online Solution to convert FLV from Web or desktop
Convert FLV from Web with two free apps
When it comes to converting FLV files, nothing can beat tools that are easy-to-use, efficient and best of all free; just like the Apowersoft Free Video Downloader + Apowersoft Free Online Converter power combo.
With the Apowersoft Free Online Video Downloader, you can grab any videos on the web absolutely free of charge. You don't need to install it, sign for registrations or pay premium memberships. This program supports 10,000+ video sites including YouTube, Dailymotion, Metacafe, Break, Vimeo and all others.
Free downloader is readily to use from below. Attached is an instruction to grab desired flash clip from almost all streaming video sites.
Using the tool to grab FLV files is very easy, see below:
Simply copy the URL of the site and paste it on the blank address bar.
Hit the "Download" button and permit the java notification pop up.
choose any output format you like, but if your fancy format is not included here, please move on to the next tool – online video converter.
After grabbing your desired clips on the web, it is now time to convert FLV files to make it playable on your PC or portable device. Same as with the above, this no-installation required tool handles the job with ease. The Apowersoft Free Online Converter supports different video outputs such as mp4, mov, mkv, webm, wmv, avi, mpg, 3gp, swf, vob and many more.
Using the online converter to convert FLV is very also simple, see below:
After saving the file, convert it using the Apowersoft Free Online Video Converter.
Add the downloaded flash video that needs to be converted by clicking "Browse".
Select video output format and resolution.
Hit "Convert" button and save the modified clip on your PC.

Tips: If you have some FLV videos in your local PC, you only need to use Apowersoft Free Online Video Converter to convert your local FLV files to your desired formats.
2. Solution for Windows: Apowersoft Video Download Capture
The Apowersoft Video Download Capture is an all-in-one tool that features fast downloading speed, support for almost all video streaming sites, three video grabbing modes, built-in smart file converter, video editor, advance RTMP downloading protocols, ability to record live videos and flexible media player. This tool allows you to retain file quality even after converting flash videos to the formats you need.
This tool performs as a robust FLV video converter too, letting you easily pull off HD videos with up to 1080p resolution from web and then convert them to other formats. And when it comes to the embedded file converter of this Windows software, it is so smart that with just one click you can turn flash videos to compatible files for your iPhone, iPad, PSP, Zune, Android tablet, and other portable media gadgets. To use this software, all you need to do is:
Download, install and run the tool on your PC.
Copy the URL of the website containing video. It has an auto-detect function. If the video detector is on, it can help you download your video automatically once you open the link of video.
Click the "Download" tab and paste it on the blank address bar.
Tap the "Download" button.

You can check the download progress of flash videos in the list on interface, once a video is done, right-click on it and choose "Convert".
In the "Convert" panel, adjust video settings, output formats or edit clips as necessary.
Click the "Start" button to automatically save it on your PC.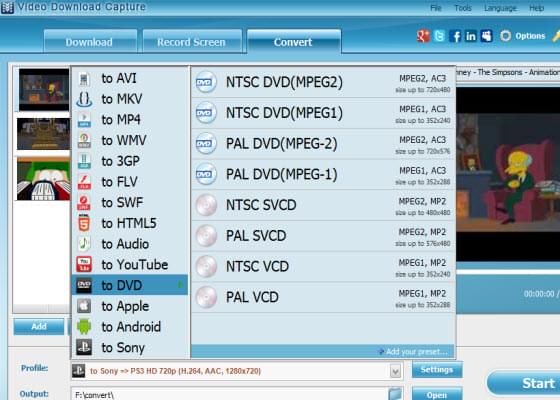 You can also use it for batch downloading and converting flash video. This will significantly save both your time and effort. Coming in with tons of features and practical benefits, the Apowersoft Video Download Capture is more than just your ordinary FLV video converter.
3. Solution for Mac: Apowersoft Video Converter for Mac
If you are an Apple fanboy, looking for the best FLV converter is indeed a big challenge. Converters made specifically for Macs are pretty limited; if there's any sure it commands a high price tag. One of the best programs available that let you convert any videos not just FLVs into compatible formats is the Apowersoft Video Converter for Mac. This tool can modify both audio and video file formats without losing quality.
It also supports the latest OS X 10.9 Mavericks. On the other hand it has tons of features users will definitely enjoy such as the built-in video editor, batch converting, fast conversion speed with APEXTRANS, compatibility with portable media gadgets, standard file formats, high definition file extensions, direct AVCHD file modification, and batch downloading options.
To convert FLV on Mac using this program, see this simple guide below:
Firstly, click "Download" button to download the flash video from web.
You can convert video files that are downloaded online or those saved on your hard drive.
For converting grabbed clips, tap the "Downloaded" tab on the left pane and click "Convert".
Add your saved files on your hard drive to the library first before clicking "Convert".
Select the appropriate output format and adjust settings as necessary.
Hit "Convert" button and wait until process completes.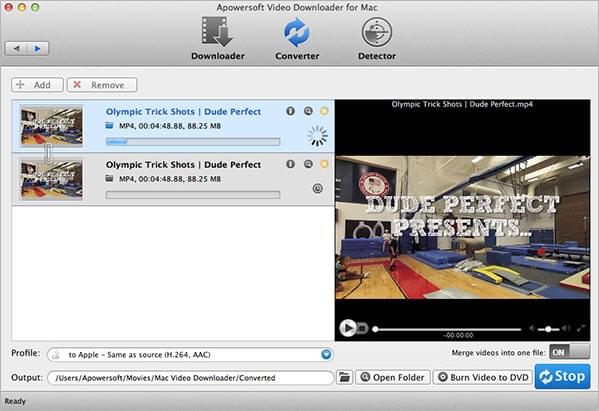 Related Topics about FLV Conversion
So far we have reviewed comprehensive and feasible solutions which fulfill your general needs on converting FLV files from web and desktop. However, regarding the specific case of users that may occur in practice, you can refer to the articles that suit your case.
Free Convert FLV to MP4 – for those who want to play video on their digital devices, it is advisable to use the MP4 file system. MP4 or MPEG-4 is a standard video file format that is readable on most players and media devices.
Convert Video to FLV – FLV is widely adopted by streaming videos online, learn how to compress your video into FLV format, so as to easily upload and share on web. Videos converted to FLV can be uploaded quickly on the internet and there are free online FLV converters available that are efficient and easy to use.
Convert FLV to MOV – Mac users would like to convert FLV to MOV file format as they are supported by iPhones, iPads, iPods and Macs. MOV is developed by Apple and shares major similarities with MP4 being the latter packed with more hardware as well as software support.
Convert FLV Videos to HMTL5 – HTML5 is the latest technology developed for an advance browsing experience. Website owners looking for a better and more improved performance should choose HMTL5.
Convert FLV to AVI – Audio Video Interleave or AVI is a video file format developed by Microsoft. Most players online or offline supports AVI whereas it uses less compression than MPEG or MOV.
Convert FLV to MP3 – Streaming flash video online is great, but it's much more convenient that you could possibly convert those videos to MP3 so that you can enjoy the fantastic audio clips in various portable devices such as iPod, Zune, Creative Zen or other MP3 players.