HTML5 is the latest markup language used in presenting website content. This makes it easier for developers to make information available to people using different web browsers. Videos are commonly uploaded on sites. However, plug-ins usually needs to be installed in order to play them. Each web browser require a different plug-in so you need to install the certain program to use in order to view videos on a specific browser. The video element of HTML5 lets you include different video formats that various web browsers support. This is more convenient as there is no need to create a different coding for the site to work on other browsers. This will also benefit users as the content is readily available without the need to install plug-ins. HTML5 supports three video formats. They are MP4, WEBM and OGG. There are applications that you can use to convert video to HTML5 formats online.
The 5 major browsers support the said video formats. Internet Explorer and Safari can play video MP4 formats, Firefox and Opera supports WebM and OGG and Chrome supports all three formats. When you include all three supported video formats on HTML5's video element, the web browser will check the formats available and play the first source that it supports. If you have a video that you wish to embed on your site but it is not supported by HTML5, you may use any of the two tools below for conversion.
Free Method to Convert Video to HTML5 Online
Apowersoft Free Online Video Converter is a free online application that you can use to convert video to HTML5 formats (MP4, WEBM and OGG), as well as other video formats such as AVI, MOV, WMV and more. It also allows you to convert video to audio as it supports conversion to MP3. Aside from the fact that it doesn't cost a thing to us this program, it has a friendly user-interface so you will not have a hard time using it even if it is your first time to convert videos. Go to /free-online-video-converter to start using this great tool.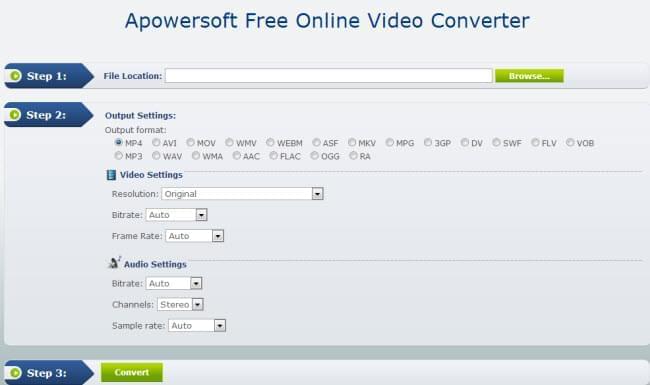 It's pretty easy to use. Just browse the video you wish to convert, choose your desired settings, click convert, save the file and wait for the conversion process to complete. Conversion of videos is quick so you don't have to wait for a long time to get the output. It does not have any limits, so you can convert as many videos as you wish. It does not require any sign up or registration so you can use it instantly on any computer with Internet connection.
Shareware to Convert Video to HTML5 Formats
Apowersoft Video Converter Studio is another powerful HTML5 video converter. Like the online version, it doesn't just support conversion to HTML5 video formats but other formats as well, in case you wish to use the video on other devices. It needs to be downloaded and installed on the computer and it comes with a cost. However, you can get the free trial first to test the waters and see if this is the application for you. If you're satisfied, which is more likely to happen, you can download the paid version to continue using the program.
The good thing about this application is that you don't need to connect to the Internet to use it. Launch it from the computer where it was installed and you can start converting videos as much as you want. It also supports simultaneous conversion, which saves time, as you don't have to wait for one video to be converted before you can convert another one. It has a straightforward and simple interface. You can learn about all its functions in a jiffy even if you are not tech savvy.
It does not just convert FLV to HTML5, it also has other features that you will enjoy. You can add subtitles, as well as audio on the video before converting it. Its subtitle editor also lets you load subtitles from another source and edit them easily. You can also put together various videos or clips and make them into one full video. Furthermore, it has video editing options that let you trim, crop or add effect on your videos. This FLV to HTML5 converter is everything you need for video conversion and editing.
Both applications are convenient and easy to use. If you just need to convert videos once in a while, then the free online version would be good for you. However, if you convert a lot of videos and you would like to have editing features, then Apowersoft Video Converter Studio is the best choice for you.