People record videos for various reasons such as creating tutorial, presentation, as well as for entertainment. They are usually posted online or saved on the computer in different formats. But some of these formats are not compatible with other browsers and media players. Furthermore, they may also take time to load and may not have good quality. For these reasons, some convert video files to FLV as this format is cross platform, has smaller size and high quality; and is supported by most browsers, devices and players.
Before, videos that need to be converted to other formats require the help of a professional. But this is not the case nowadays as there are several easy to use and free video converters that can be installed on the computer or be used online.
Free Ways to Convert Video to FLV
Here are some of the best applications that you can use to convert videos to FLV format. Let's take a look at them one by one to learn more about their features.
The first option for converting videos to FLV is Apowersoft Free Online Video Converter. This is a browser base application that you can use by going to this site. It has a simple and basic user interface that says everything that you need to know on how to convert videos. Conversion is fast and easy as it only requires three steps including selecting the video, choosing your output and your settings and finally, clicking on the Convert button to start converting. It does not require registration or installation and it also does not have any limit on the number of videos to convert. With this application, you can have high quality FLV videos fast.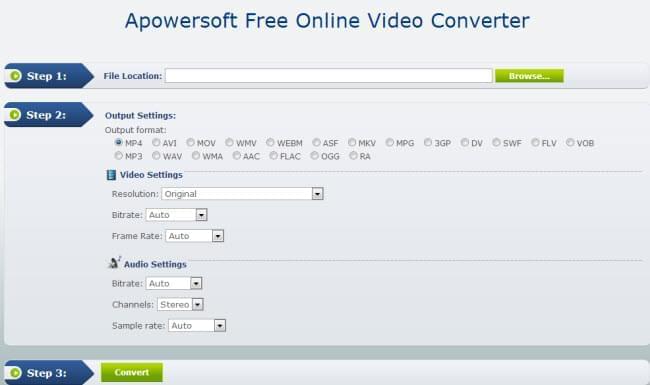 Free FLV Video Converter Factory
Another free video to FLV converter that we have is the Free FLV Video Converter Factory. You will not have difficulties learning how to use it because the options are self explanatory. It supports popular video formats for converting to FLV and it also allows multiple conversions. However, this program also has its disadvantages. The first drawback is that it needs to be downloaded and installed, which could be inconvenient especially if you need an application that you can use instantly. Moreover, it is limited on features as it does not support adding effects and editing videos, which is something that its paid version offers.
For the last method, we will tackle about the features that Apowersoft Video Converter Studio has to offer. This is a shareware, meaning you can use it for free but only for a limited period. Once the free trial is over, you need to purchase the full version in order to keep using the program. But even though it comes with a price after the trial, the cost is worth it because it is the best software for video conversions. Even beginners will not have problems utilizing it since its design is uncomplicated. It also supports conversion of videos not just to FLV but to a wide selection of other video and audio formats. Furthermore, it allows editing of videos, as well as adding of subtitles, so you can personalize the videos before the conversion.
If we compare the three given applications, the first program, which is Apowersoft Free Online Video Converter is the best choice if looking for a free converter because of its convenience as it can convert video to FLV online without the need for installation. However, you can only convert videos one at a time. So if you are looking for a free program that supports multiple conversions and you don't mind downloading and installing the application, then the Free FLV Video Converter Factory is for you. But if you want all the great features that an FLV converter can bring including multiple conversions, editing of videos and support to wide range of formats, the third method, which is Apowersoft Video Converter Studio is the best option, though it comes with a cost after the free trial is over.