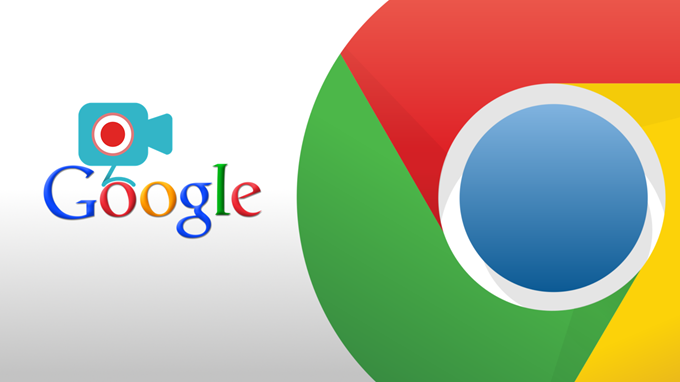 Chrome is an internet browser that is developed by Google Incorporated. So far it is one of the leading web browsers around the world. It also has stable versions for different OS like Windows, Mac, and Linux. Recording screen in Chrome is important because it allows the users to record an important clip, an amazing animation, or to make DIY tutorials. But recording Chrome is not possible without a help of a Chrome screen recorder. To know more about the finest recording tools then you can check the brief preview which is provided as the post continues.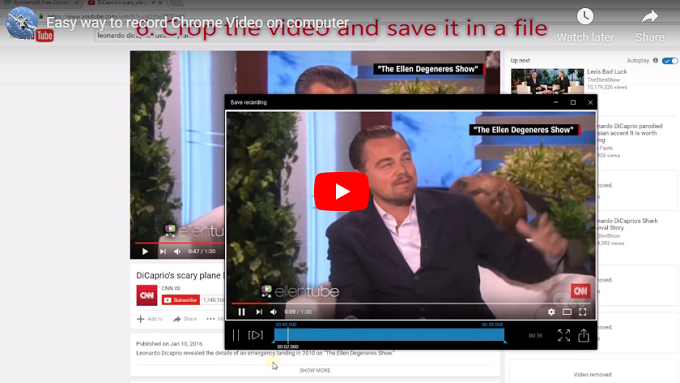 Top 5 Screen Recorder for Chrome
1. Apowersoft Free Online Screen Recorder
To record your browser like Chrome, the best tool that you can easily use is Apowersoft Free Online Screen Recorder. This recorder is a web-based application which means no additional software downloads and installation needed to use it. Users have the options to choose the audio and video settings that they prefer along with the various recording modes. What's more, the tool can record every details of your Chrome video, including PC screen, web camera, system sound and microphone voice. In a word, this recorder can satisfy nearly all your requirements.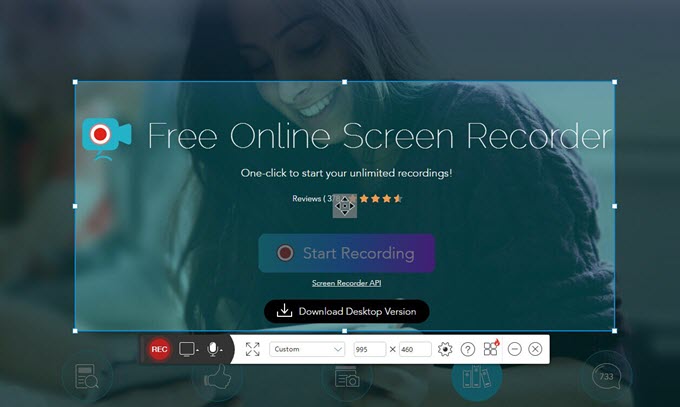 Where it falls short
The only drawback of this tool is that the online version is not stable, because it relies on internet browser and internet connection for it to work. However, to avoid this hassle it is recommended to use its desktop version which is more professional and more stable than the online version. Get this app now by clicking the button below.
2. Screencastify
This is a plug-in application that is available at Google Webstore. This tool features various recording modes, like Tab, Desktop, or Camera. It also allows the users to set the audio input that they prefer for the video, and integrating the webcam to the video is also enabled. Recording screen on this app is free as long as the recording does not exceed 10 minutes, or else you need to subscribe to its paid version.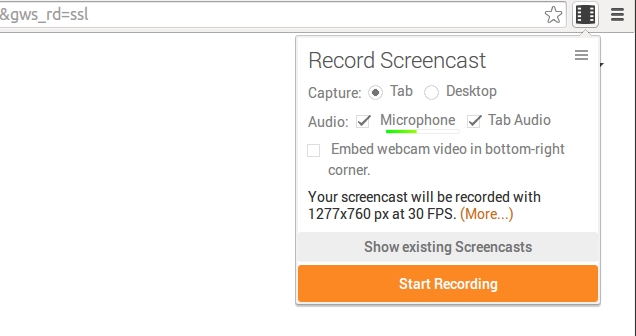 Where it falls short
The app is not stable because extension freezes at times and do not responds at some point. Moreover, the video output has a watermark which is not good. And recording limitation is also a drawback since 10 minutes of recording might be short and it should be unlimited.
3. MediaCore Capture
MediaCore Capture is a screen recorder for Chrome extension that you can get from Google Webstore. By using this app you will be able to record desktop or record webcam activity. In recording, users are given options to choose the video size that they want from 240p to 720p and the microphone can be included on the video recording as well.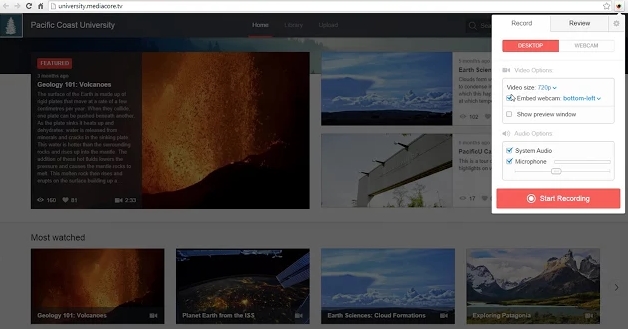 Where it falls short
The issues involved in this app include constant lagging and unresponsiveness. It also lacks functions like annotating tool for adding notes or pointers, and direct uploading of video to YouTube is not supported.
4. MakeGIF Video Capture
Another tool to record video in Chrome is by using MakeGIF Video Capture. What this app basically does is to create a screen recording by saving it as GIF. By using this app you will be able to set the capture settings that you need for your recording such as quality, size, capture FPS, and max frames. The saved frames can also be edited, speed up, or slow down. The processed GIF can be saved on local disk or share it on MakeGIF site.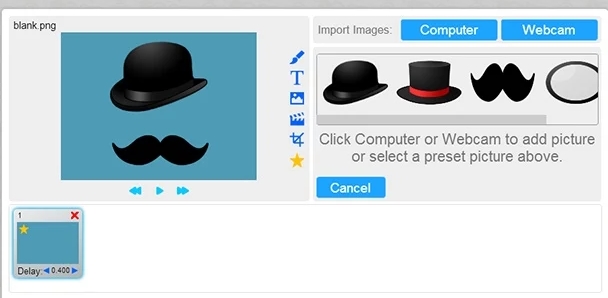 Where it falls short
It wouldn't allow saving the recorded screen on local disk and in sharing video online. The uploaded videos will be deleted after 1 month without any prior notice to the uploader. It's not actually recording a video but a framed GIF images so editing is a must.
5. SnagIt
The next Chrome video recorder in line is SnagIt. This is probably the most recognized screen capture tool that is now available as extension for Chrome. Aside from capturing screen, this app also has screen recording function which can be utilized in recording Chrome. It features different capture modes, screen recording, and sharing function. The user interface is updated and annotating tool is added as well.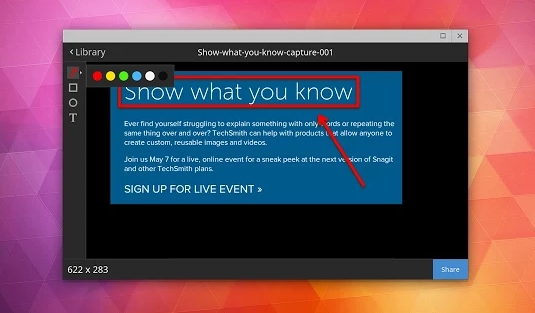 Where it falls short
Many users are having concerns regarding its audio for it does not work after recording. It only has one recording mode and it's quite complicated to use. Furthermore, there are no options where in you can set the audio and video settings.
Conclusion
Those are the best recording tools for Chrome that are worth trying. However, it is advisable to use Apowersoft Free Online Screen Recorder. This is because it provides additional functions like an annotating tool, sharing function, and different recording modes and many more. If needed, you can also download and use its powerful desktop version. While the browser extensions that we've discussed above have limited function and it can only be used in web browsers.