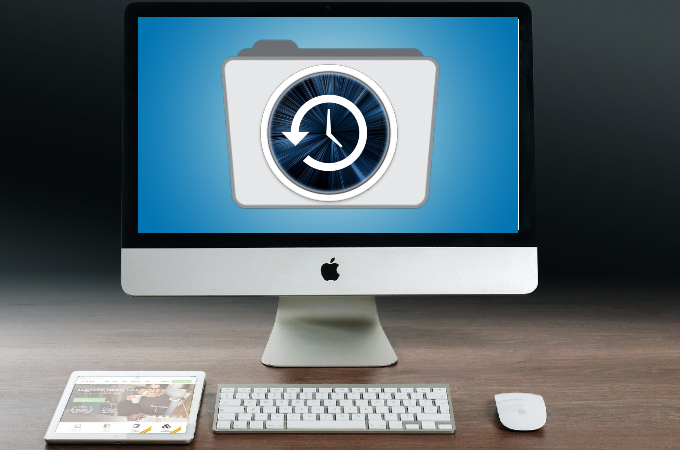 File Recovery is the process of retrieving lost or deleted data from a computer. In the past, the only way to retrieve a document is by using the recycle bin. However, that is all in the past, since data recovery tools are now available. These tools can restore any file that you lost regardless of when and how you lost them. With that being said, we reviewed five of the best file recovery software that will surely give you some of the best features.
Best File Recovery Software
Easeus Data Recovery
Easeus Data Recovery is a professional recovery tool that works on both Windows and Mac. It supports unlimited data recovery in its free version, which you need to purchase first. On the other hand, if you don't want to immediately spend any money, you can use its trial version. You will be able to recover files of up to 2GBs of data under the free version. Using this tool, you can recover files from broken hard disk, flash drives, and corrupted SD cards. In general, if you are looking for the best data recovery software, then you can start with Easeus Data Recovery.
TestDisk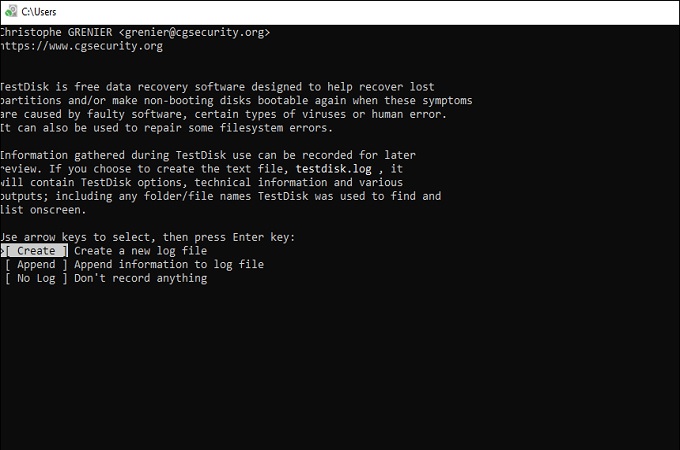 TestDisk is an open-source data recovery software that you can use for free. In terms of recovering power, TestDisk is considered decent enough. However, using it requires at least an experience, since it is DOS-based. This means that it looks a lot like the Command Prompt, and runs like it. That is why you'll need some time to fully understand how it works. On the flip side, you will be able to recover files from different locations, including corrupted ones, once you get used to it. That is why if you want a decent and free file recovery software, then you can use TestDisk.
Recuva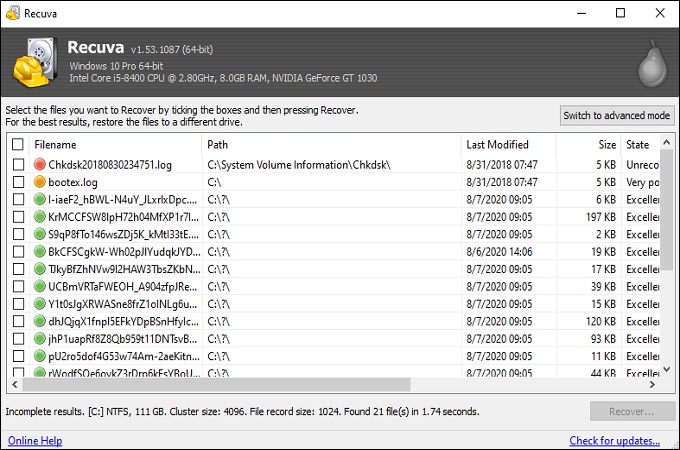 Next up on the list is Recuva. This advanced recovery tool provides easy, and quick file retrieval options since it has a simple graphical user interface. Recuva is one of the safest ways to recover deleted files, as it can efficiently scan for your files even if you can no longer use the storage. As an additional feature, it has is that it can also recover files from Apple's handheld devices, which is a major plus in its credentials. The next time that you are looking for free data recovery software then you can try Recuva.
Disk Drill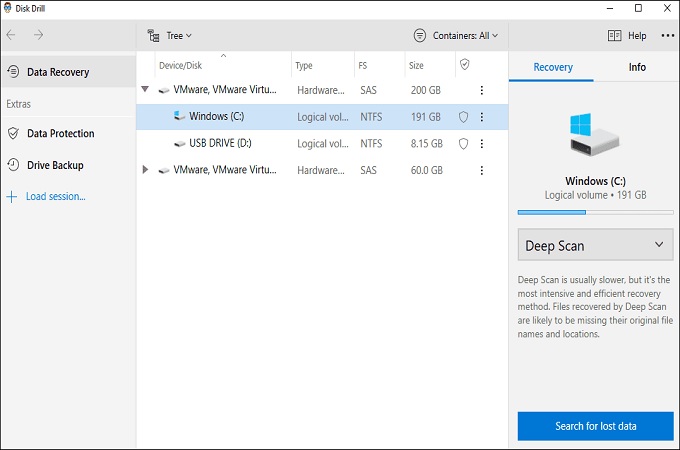 Disk Drill is one of the software that you can use to recover files even when the recycle bin is empty. It is powered by a powerful algorithm that efficiently scans a file location for lost files. You can modify your recovery session by putting it on a pause, and get the specific file that you want. Apart from that, it has a deep scan feature that digs deeper into your system if you failed to find the file on your first try. Additionally, you can also scan and recover files in bulk which is a time-saver. Overall, Disk Drill gets our approval as one of the best file recovery software that you can use.
Wise Data Recovery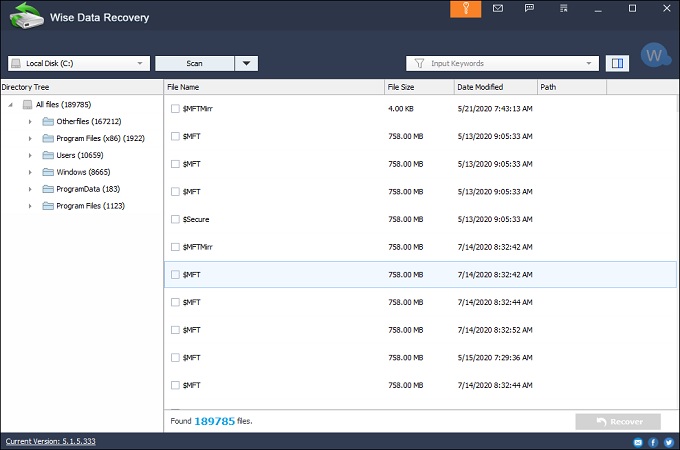 The last tool that we have on the list is Wise Data Recovery. This app provides an organized way of recovering data and files. It scans for files from different drives and then presents them in chronological order. You can then sort them into different categories, like date and size for faster retrieval. Additionally, you can retrieve multiple files at the same time using this software. That is the reason why it is one of the best data recovery software that you can use.
Alternative Solutions
1. ApowerRecover
Price: Lifetime – $139.95; Annual – $79.95; 1 Month – $49.95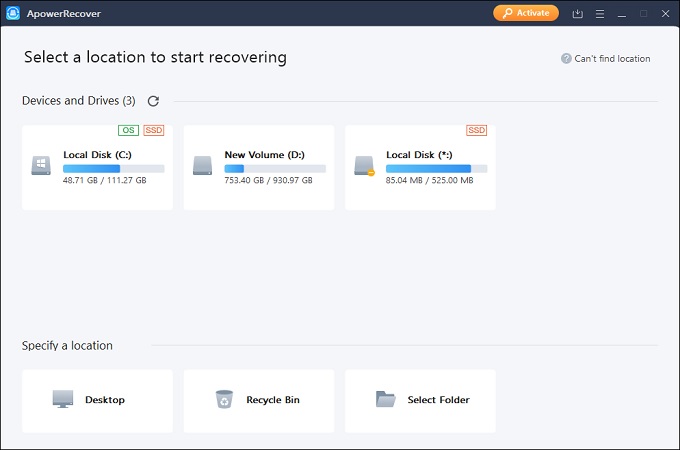 Recover files from a specific location for faster recovery
Recover multiple files at once
Highly-intuitive interface
No matter how powerful a tool is, there will still come a time where it won't be able to recover what you need. That is why when all else fails, you can just use a different program like ApowerRecover in this case. This is a great alternative to all the tools mentioned above, as it possesses all the features mentioned. If you think about it, it's like using a 5-in-1 tool with ApowerRecover. From images, emails, office documents, and videos, this tool got you covered. That is why you'll score a great deal with the tool. However, this is not a free file recovery software so you will need to make a purchase which is totally worth it.
2. ApowerRescue
Price: Lifetime – $69.95; Annual – $49.95; Quarterly – $39.95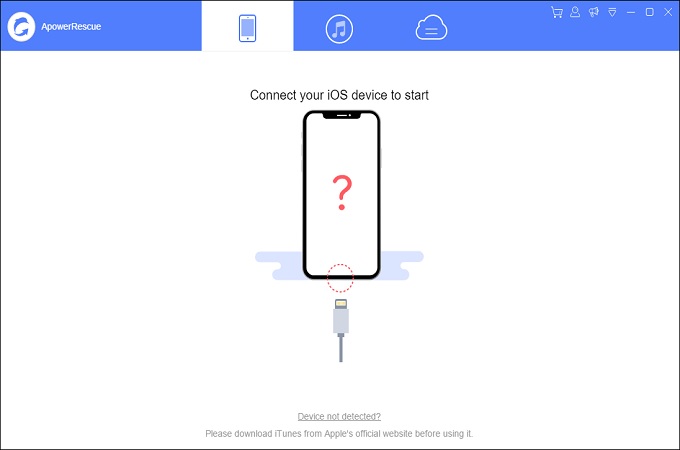 Recover iOS files regardless of the OS version
Back up files on iTunes
Cloud back-up enabled
iOS users can also enjoy the benefits of such software. Using ApowerRescue, people will be able to recover files from their Apple handheld devices. This is due to the tool's specialized algorithm that scans and retrieves files directly from your iOS devices. Take all the features of the above tool, and put them in a convenient iOS recovery software, you will get ApowerRescue. Now, for every iOS dilemma, make sure to use this amazing application. On the other hand, just the one above, it is not a free data recovery software but can be used under the trial version.
Conclusion
Losing and recovering corrupted files can be complicated and stressful. Losing critical files can spell the worst days of your life; thankfully, we now have the best file recovery software which can help you handle these unexpected scenarios and retrieve all important data you lost. Our featured top 5 free data recovery tools present you with the easiest online solutions that can restore critical documents and important data. These tools and applications guide you in your search, retrieval, and restoration of all your files. Finally, always remember that if you lost some data, there is available help, and using the right data recovery software can help you restore your losses.