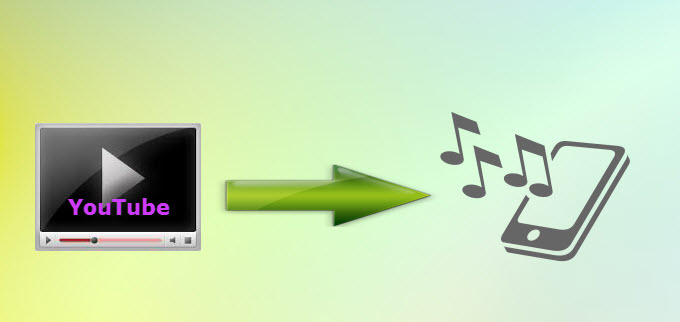 Ringtones are sounds used by mobile phones to indicate a certain action such as incoming call, text message, MMS or other notifications. From before we can only hear mobile phones making a beep ringtone, the technological advancement of mobiles has turn everything customizable including ringtone. You can purchase mobile tones available online but better be aware of their steep price. Alternatively, you can browse millions of interesting music videos on YouTube and turn them into ringtone at no cost.
Yes, you've heard it right. You can convert YouTube to ringtone by using special tools and software. No more buying of costly ringtones and settling yourself to boring ones. Read below and discover how YouTube audio clips can be turn into mobile tones.
I. Make Ringtone from YouTube for Android
You will feel lucky by owning an Android smartphone because changing the default ringtone on Android is much easier than iPhone or other mobile OS devices. By simply using the tool Apowersoft Free Video to MP3, you can instantly convert YouTube video to ringtone. Moreover, you can use this program to download audio from other video and music sites, then turn them into ringtone.
The application needs no installation because it is an online-based application. Also, it is 100% free with no registrations, memberships and fees. Using this wonderful YouTube to ringtone converter is easy, follow the steps below:
Copy the URL of the YouTube clip containing the sound track you prefer.
Open Apowersoft Free to MP3, paste the URL into the search bar and click "Convert".
Enable the online launcher by following the instruction.
The tool will begin audio conversion save the MP3 file on your PC.
Connect your Android phone to PC and transfer the saved MP3 ringtone file.

Then, you can enter your music library of mobile and set it as ringtone.
II: Multiple Ways to Convert YouTube to iPhone Ringtone
Unlike the easy and almost sweat-free solution with Android, changing iPhone's ringtone can be quite challenging. Gladly, there are efficient tools available online that can literally cut your working time in half.
1. Apowersoft Free Video to MP3 and iTunes (Free Solution)
You can change the default ringtone of your iPhone by first using the above mentioned tool. The concrete operation is just like the instructions above. Also copy and paste the link of a clip as instructed in first part, but do remember to cut the length to no more than 30 seconds.
After you have saved the 30-seconds YouTube audio successfully, it is time to transfer it to iTunes then make it as ringtone:
Launch iTunes and add the saved MP3 file on your library.
Right click the file and select "Create AAC Version" item.

Right click on the new made file and choose "Show in Finder". This file will be in M4A format.
Rename the M4A file and change it to M4A format.

Double click the new m4r file to automatically move it on your iTunes library.

Connect your iPhone to computer then go to iTunes.
Select the "Tones" tab from iPhone then choose "Sync all Tones". Click the "Sync" button on iTunes.
The new ringtone should appear on your device under "Settings" – "Sounds" – "Ringtone". You only need to select it and set it as your iPhone ringtone.
2. Ringtone Expressions (Easy Solution)
For those who don't want to undergo the above a bit technical way to convert YouTube to ringtone, there is an easy solution. Just utilize the Ringtone Expressions, a known easy tool that can create custom melody for iPhone. It supports all versions of iPhone and iTunes. You can use this tool to grab audio clips from YouTube, MySpace, Grooveshark, and MOG for turning them to ringtones.
Here's the how to use guide:
After downloading and installing the program, open it and choose "More" from the left side panel, then choose "YouTube".
Search the song or audio file you want on the YouTube interface.
Play it and click the "Start recording" button above, press "Stop" to finish the recording process.
Choose the recorded audio, click the "Create ringtone" button.
You have an option to send it to SMS, to social networking sites, or to your iPhone directly.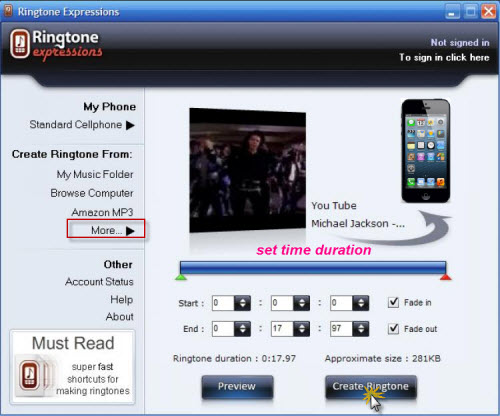 There are many tools and programs made to turn YouTube into ringtone. For practicality reasons and for personal consumption, it is advised to go for free yet efficient ways such as using the Apowersoft Video to MP3. They don't cost a dime and using it is pretty simple. Besides, you can always search online for full instructions. Those who are willing to shell out at least $2.95 per month of $13.95 for life can choose premier programs like Ringtone Expressions.