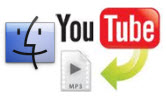 YouTube is one of the premiere online video sharing site across the planet, for it caters massive amount of videos with varying types. And a huge portion of these videos is composed of music videos and sound tracks. It is a lucky thing that you can not only find videos that suit your taste but also enjoy music through these clips, so there's also a solid need of saving music from YouTube to Mac and Windows. This article will concentrate how to get YouTube MP3 on Mac and sync the audio to iTunes for playing it on iPhone, iPad, iPod and other players.
However, to rip an audio from an online video may be confusing for Mac users due to various reasons. Especially when upgrading to Mac OS X El Capitan, some apps are turn to useless. Then, it is important to choose an application which can save YouTube to MP3 for Mac perfectly. If you haven't chosen one yet, here are some of the best options that you can have a look.
I. Shareware to Turn YouTube to MP3 on Mac (Pro solution)
Since some users worry about the stability issue, you can consider using a shareware that is built especially for devices running on Mac OS. This program is called Apowersoft Audio Recorder for Mac. By using this tool, grabbing YouTube to MP3 for Mac will not be a concern at all. Moreover, this sophisticated software has varieties of highlights such as the ability to record audio on Mac 1:1, convert the whole YouTube video or a certain part of it, tag ID3 information for recorded audio automatically and output audio to MP3, M4R, ACC and others.
Here are the steps in grabbing YouTube MP3 using Apowersoft Audio Recorder for Mac:
Download and install the software.
Now launch it and modify the output settings that you prefer for your audio.
Open a YouTube video which contains your wanted audio.
Click the red "Record" icon to start recording YouTube MP3 for Mac.
Once done, simple click "Stop" button, you can then check your recorded MP3 in the output folder.
II. Web-based Mac YouTube MP3 Converter (Free solution)
One of the best way to extract MP3 from a video is a by using an online app. Unlike other programs, these applications do not require any software downloads and installation for it to work. They also do not eat a lot of your computer's memory and make your computer works slow. Some of these tools are shown below.
Video to MP3
The first in the list for Mac users is the Apowersoft Free Video to MP3, a great tool perfectly designed to meet audio ripping needs of people. It also comes with other useful function that allows use to search YouTube music video or convert local YouTube audio files. To use it, here are the things you should remember:
Open the Video to MP3 main page.
Go to YouTube and look for the music video that you want to process, and copy the video's URL and paste the copied URL on the convert box provided on the online application.
Click on the "Convert" button to start the process, and the setting will be display. Select the output format, configure bitrate, channel or others, then click "Download" button.
Wait for few moments and your newly ripped MP3 audio will now be available.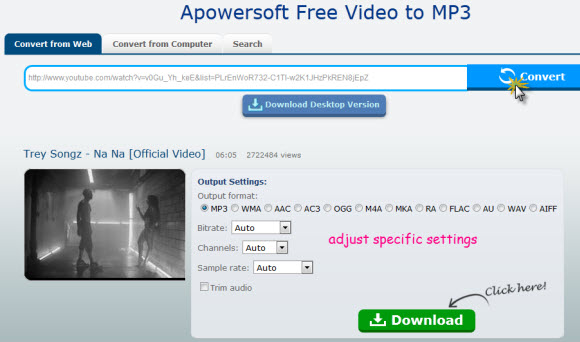 You can find the audio file in the browser download folder. Then, you can enjoy it on Mac or transfer it to portable devices for playing on the go.
Free YouTube to MP3
Another tool which is able to convert YouTube to MP3 for Mac OS X El Capitan is none other than Free YouTube to MP3. This is a magnificent converter that can easily rip any online music that you prefer. It is also free and won't require you to sign up on the site. The better thing is, Geekersoft Free YouTube to MP3 has no limitation and lets you rip as many audio clips as you want. Below are way to run this awesome app:
Copy the YouTube URL, then open Geekersoft Free YouTube to MP3. Enter the URL into the blank bar and click "Go". The app will analyse the video and provide you a download link once done. The rest thing is to click the download link, select a destination folder to save the MP3.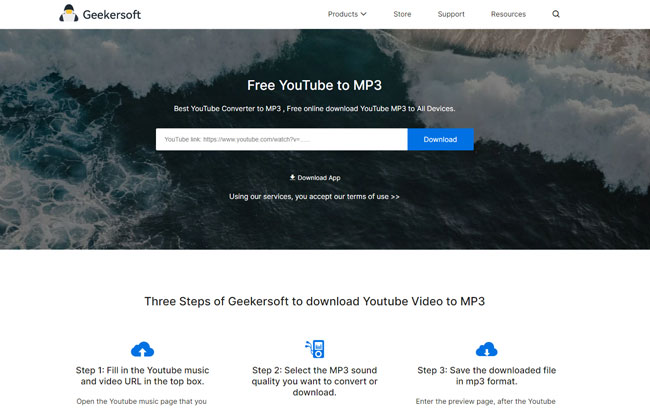 Conclusion
Above introduced ways have proven to be useful, you can choose one according to your need. The online YouTube to MP3 converter for Mac work fine for they can rip MP3 from a YouTube video at any time with no need of installation. However, the shareware is more stable and advanced for it not only can record YouTube MP3 on Mac but only can manage, convert and edit audio clips easily. Try it yourself, and decide which one suits you.