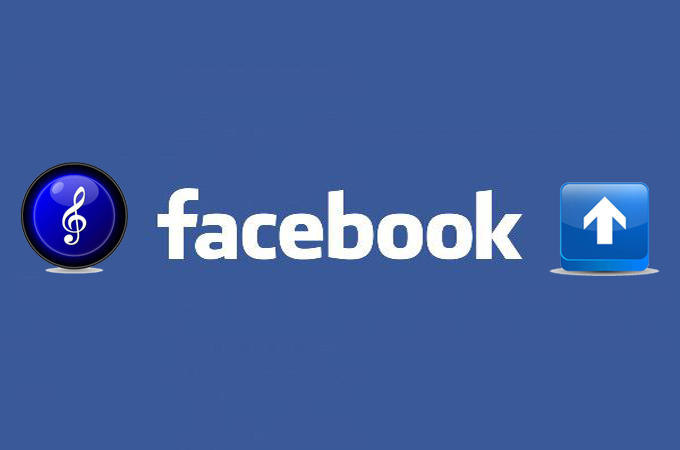 Facebook is one of the top social media sites that is being used by people. It is a friendly community which helps users in many aspects. It allows them to meet old and new friends, and supports to meet and see their other relatives from different parts of the world. Aside from finding friends and relatives, Facebook also allows people to share their thoughts, photos and videos to their "Friends" in their timeline.
The only problem about this site is that it cannot upload an audio file directly on Facebook timeline. With that being said, it is necessary to draw support from third party service in order to upload audio file to Facebook. Continue reading to know them.
Easy Solutions on How to Upload MP3 to Facebook
Below are the easiest solutions you can do for uploading an audio file to your Facebook account. These solutions will help you share favorite song with your friends easily.
1. Draw Support from File Uploader
Using a third party file uploader, you'll be able to upload an audio file on Facebook. However, not all the uploading service you see on the Internet are compatible with Facebook so you need to be careful in choosing which one to use, or else, you'll have your time wasted.
A good file uploader for uploading audio to Facebook is CloudApp. This tool allows you to upload a specific MP3 file from your computer so that it will be ready to be shared on Facebook.
Go to CloudApp page and create your account (if you already have an account, just simply sign in).
Once logged in, upload the MP3 file you want to share over Facebook.
After uploading, make sure to rename the file. Put in "+" or "-" between words instead of spaces. You need to remember this thing because if you do not do this, the file cannot be played on Facebook.
After renaming, click the file and it will direct you to a new window where the audio is being played. On the right corner, drop down the menu bar and choose "Download File".
Now copy the link address (just right click "Download File").
Log in to your Facebook account and update your status. Just simply paste the URL in the status box and share.

2. Use Sharing Service on Music Communities
Aside from using a file uploader, another good option is to make use of the sharing services found on music communities. There are so many music communities to choose from, and this method is easier than the first one.
A good example to use is Grooveshark. Grooveshark is an online streaming music service which allows users to share audio on lots of sites and blogs. Just follow these steps to upload audio to Facebook:
Visit the Grooveshark page.
Find the music you want to share by typing the title, or singer in the top search box.
Once found, you'll see the "Share" icon on the right side of the page. Click on the Facebook icon.
A new window will pop out and sign in to your Facebook account.
Say something about the song and simply click on "Share link" found on the lower part of the window and you're done.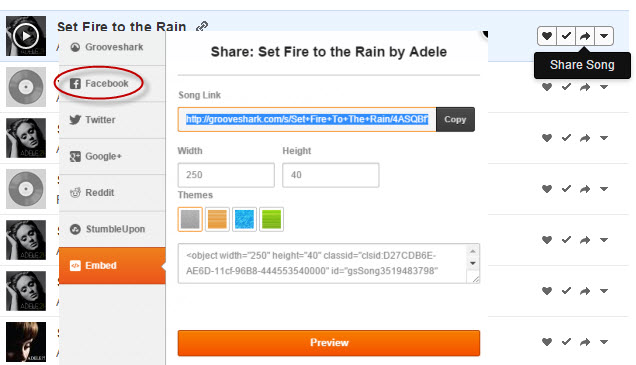 Approach to Get Audio Effectively
Expect of online songs, you can create your own song and share it on Facebook. In this case, it is suggest to use Apowersoft Free Audio Recorder. This is a free online tool which can help you in obtaining a high quality audio file by means of recording. It can actually record from the system sound, microphone, or both. In addition, this tool can also convert an audio file into other audio file format you desire. To record using this amazing tool, follow the steps below:
Go to Apowersoft Free Audio Recorder page and click on "Start Recording" button.
A few seconds later, the tool will appear on your computer screen. Drop down "Audio Input" and choose "System Sound" if you are recording from the system or choose "Microphone" if you'll record from the microphone. Note that you can also choose both.
Play the song you want to record and then click on "Record". Click "Stop" once finished.
Click "Open Folder" to find the recorded audio, you can then start sharing the file on Facebook by using the methods above.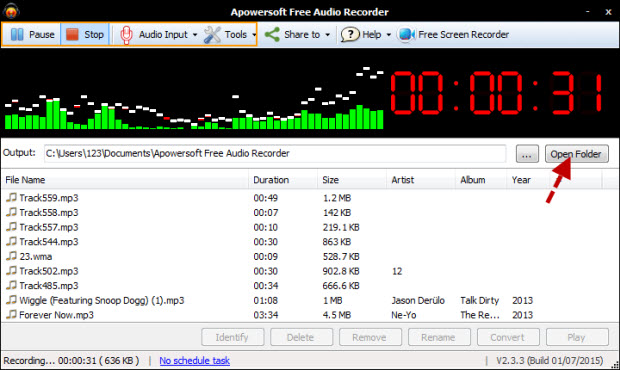 Conclusion
Obviously, the recommended ways to upload audio on Facebook are all effective and free. You don't need to spend more time thinking on which solution to utilize for sharing favorite songs to your friends. In addition, you just need to make sure that the audio file quality is great. This is the reason why this article recommends to get audio resource with Apowersoft Free Online Audio Recorder.