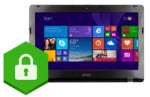 Windows 8 is a very modern and slick incarnation of Windows – but its interface is geared towards mobile devices and touch enabled screens rather than standard computers. Consequently, it does not feature a sophisticated level of customization that most advanced users desire from an OS. For instance, automatically locking the computer after a set period of time is essential to keep your files and data safe from prying eyes but you cannot create scheduled tasks in Windows 8 unless you're a batch programming expert. Luckily, this deficiency can easily be remedied using third party Windows 8 locker programs that let you create shutdown, lockdown, hibernation etc. tasks with ease. Thus, you can keep your computer's security in check, even when you're away. Shutting down/hibernating actions may also help in preventing excessive power consumption or overheating of your computer so these software help there too.
Best Lockers for Windows 8 PC Review
1. Windows Shutdown Assistant
Windows Shutdown Assistant by Apowersoft is a well-rounded and complete Windows automation tools out there. It lets you shutdown, log off, hibernate, restart and, of course, lock your PC after a certain delay that you can specify. All that required is to select "Action" as "Lock" and specify the time event after which you want the action to occur. Basically, you will be closing all unauthorized access to your computer – only those with whom you have shared your account password will be able to access the computer and its contents. Alternatively, you can choose to simply turn off your monitor, while keeping everything running under the hood, by choosing the "Turn off Monitor" action instead.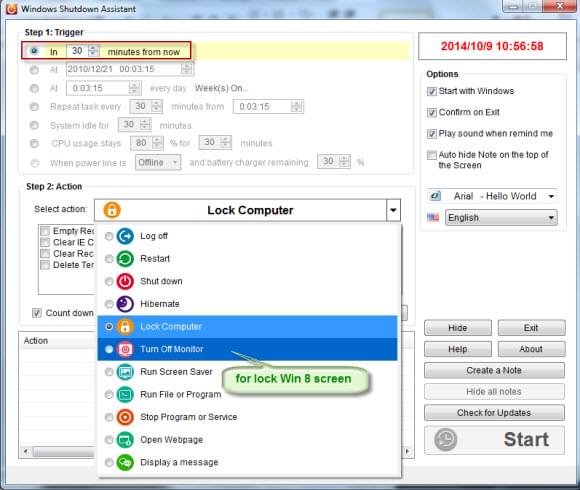 Besides the automated lock feature, this software lets you create scheduled reminders, run scheduled programs – meaning you can create even more sophisticated automation procedures if you know a bit of batch programming, and it works on all versions of Windows.
2. WinLockPro
WinLockPro is another software to lock Windows 8 efficiently. Installed through a tiny and fast setup, it is a simple, elegant alternative to the default Windows 8 lock screen that imitates it to near perfection (you can even import the Windows 8 charms bar!) and combines tight security to keep the computer safe from external threats. It records all login attempts so you can view them later and even sends you an email if any failed attempt occurs. In the event of multiple failed attempts, it shuts the system down to protect the contents of your computer. For an optimal user experience, a simple, responsive interface is used.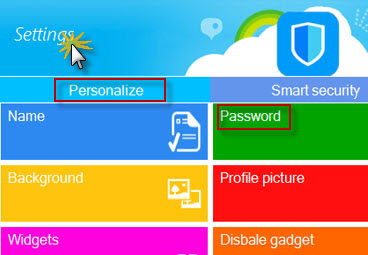 3. Smart PC Locker
Smart PC Locker Pro by NoVirusThanks is a light, powerful utility with the sole purpose of locking your PC and it functions through a password, meaning no one can access it while you are away without your say so. This is one of the better programs to lock Windows 8, since it takes concrete steps to protect the computer from hackers – it disables the task manager and all CD ROM drives to ensure that the process won't be terminated by outside interference i.e. your computer is on total lockdown until someone enters the right password.
You can choose to lock, turn of monitor and shutdown Windows after a specified amount of time or, you can choose to have the screen locked automatically on startup.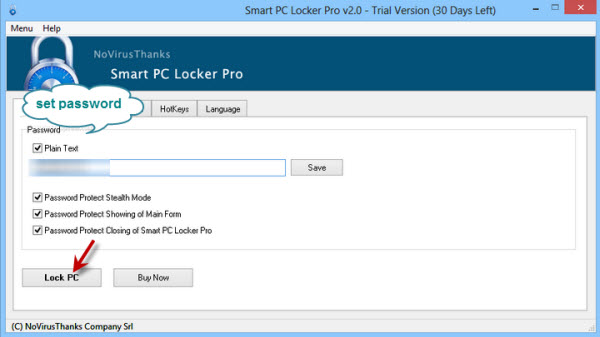 4. Switch Off
Airytec's Switch Off is a lightweight, reliable and handy PC timer utility that allows you to log off, shut down or force hibernate your computer. It works as either a countdown timer or an alarm clock. Once the specified time is reached, the application closes all other programs and executes the task. You can have the task run repeatedly on a daily/weekly basis or just for a single occurrence.
You can customize it with scripts of your own and even use it close Internet connections. A very useful feature of this locker for Windows 8 is its remote access capability which allows you to control its operation through the net (securely using a password).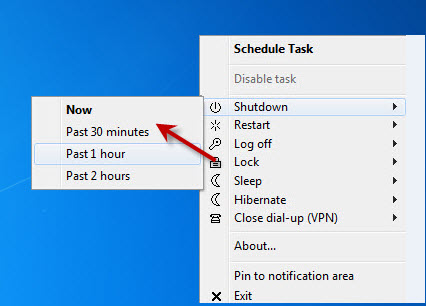 5. Auto Shutdown
This is another free software which you can use to schedule time bound shutdown, lock, hibernate, log off and standby actions. Featuring a simple interface which relies on drop down menus for selection of actions, this program lets you specify the time for the action accurate to the minute and also allows you to run the task repeatedly for specified days or dates.
This program has no instructions or "Help" function, but it is easy enough to figure out on its own, and its distinguishing feature is the keyboard shortcuts which let you create the tasks it can perform.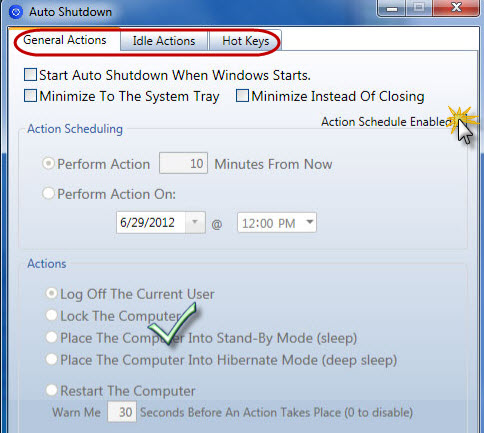 Simple Comparison
Weighing the pros and cons of these products can be tricky, especially since they all seem to perform the same core function. What you need to see is the degree of customization with which they allow you to automate tasks on PC, the automation features they pack and the level of security they have. With that in mind, Windows Shutdown Assistant, Switch Off and Smart PC locker are all good candidates. Smart PC Locker has Internet accessibility and Switch Off has a thorough security protocol. However, Windows Shutdown Assistant is the most preferable Windows 8 locker because of the larger number of automated tasks it can perform compared to the other two while packing reasonable accessibility and security.