Logging off a computer basically means a user end his sessions at present, yet leaves the PC or computer running for others to utilize. We often log off system to switch the current user, end the running tasks at once, change the system language or others. It is generally a better choice since it can be faster than a full restart. It will also prevent the other computer users from altering the settings and arrangement that you just made with you account such as desktop background, themes, system sounds, and many more. However, the process of logging off a system differs from the type of Windows Operating System that is being used. To know more about the ways on how to log off computer, a more elaborated discussion is provided below.
Flexible Ways to Log off a Computer
1. For Windows 7 and Windows Vista
The most common methods to log off Windows is by using the Windows "Start" menu or the "Task manager". The methods should be carried out in different approaches which applicable in Windows 7 and Vista OS.
a. Sign-off Using Start Menu
Click "Start" to open the menu, at the bottom you can notice a "Shut down" icon, simply click it.
From there, various options will be shown such as "Switch user", "Log off", "Lock", "Restart", and "Sleep". Pick "Log off".
Upon hitting this option, the system will log off instantly and will lead you back to the Windows Welcome Screen.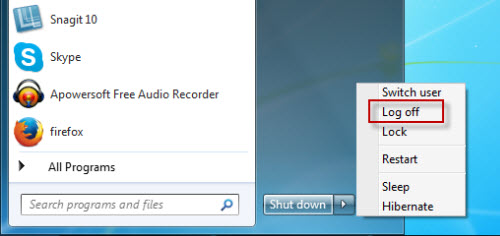 b. Log off from Task Manager
Press "Ctrl+Alt+Delete" to launch the "Task Manager", or right click at the task bar and choose "Start Task Manager".
Once it is opened, you can get access to various options. Just select "Log off" to begin with the process.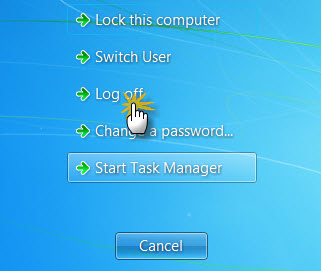 Note: The method from the task manager may differ from the Windows service pack that you have.
2. For Windows 8
For those Windows 8 users, you have to do so in different ways. This is because this Windows version does not have a "Start" button that is displayed. To log off PC in Windows 8, here are the steps to follow:
a. By Working on Start Screen
Go to the "Start Screen" and hit on your account user name or photo that is located at the upper right portion.
Upon clicking, various options will be displayed. Click "Sign out" and this will bring you back to the Start Screen.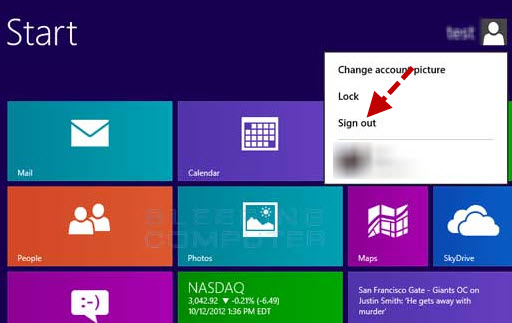 b. Using the keyboard shortcuts
Click "Alt+F4" to bring the "Shut Down Windows" box.
Select "Log off" from the dropdown list, and click "OK".
Note: Be sure to terminate running programs before using this way.
How to Automatically Log off Windows
Windows Shutdown Assistant
One the other hand, if you have to leave the seat without tasks running on your computer, you can even schedule to log-off when they complete, then the Windows Shutdown Assistant is what you should use. This is a powerful application that enables you to log off your system at a specific time and date that you wish. Aside from this function, this tool also has advanced features which let you automatically shutdown, lock, hibernate PC, run file, edit notes and more. To operate this tool, here are steps that you should do:
Download and open Windows Shutdown Assistant.
On the main interface you are given 2 simple steps for the process.
In "Step 1 – Trigger", set up the time schedule that you need, such as time and date. You can set the power line if using a notebook.
In "Step 2 – "Action", hit the down-ward arrow near the "Select action" and choose "Log off". Then, choose "Empty Recycle Bin" and "Browse IE History and Cookies" if you need.
And to activate this, hit the "Add to Action List" and "Start" button.
The below video demo demonstrate to operations clearly, watch it if you have interest.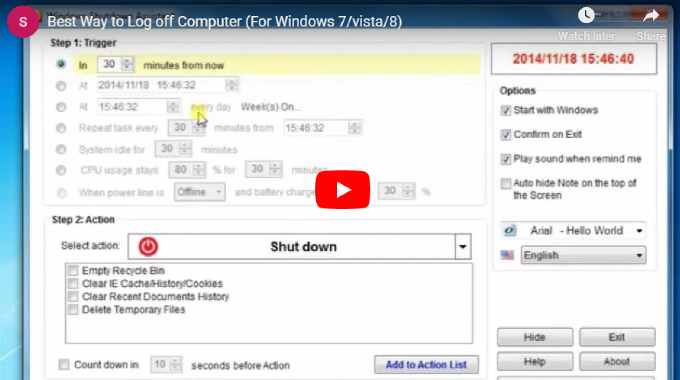 You can create several tasks at the same time, all the set tasks will be displayed in action list.
Switch off
Another way to log off computer automatically is by using Switch off. This lightweight utility takes a little space on your hard drive. It runs in background, you should click the icon on tray to open the interface. It has the abilities to log off, suspends, hibernate, shutdown your computer automatically. It also has a one click action execution, snooze button, and countdown timer. If you only need a simple and basic tool for logging off system, it will satisfy you.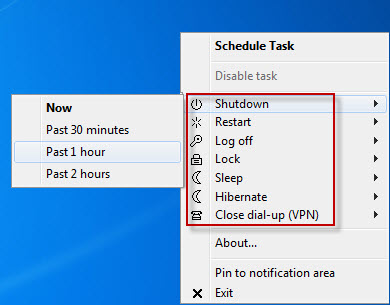 Comparing Various Ways
In comparing all of the solutions that we have discussed above, the manual process provides the same result as the automatic way of doing it with an app. However, in terms of convenience, it is better to go for auto log off Windows. This is due to the fact that it is more quicker and is able to instantly conducts log off operation in some unpredictable situations. Moreover, in using an application like Windows Shutdown Assistant, you can also benefit from not only its auto log off but with a bunch more of features that facilitate to manage and protect computer better.