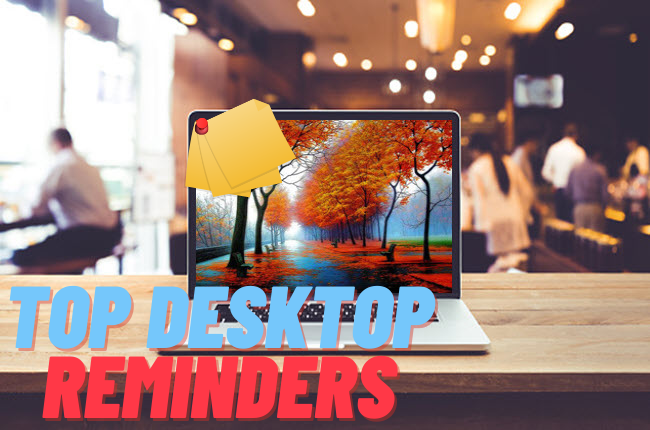 In today's fast paced world, everything needs to be organized or else you'll easily get lost. From meetings to time-bounded projects, reminding yourself of the things you need to do is certainly essential. That is why most managers and company executives have their own secretary, to keep them updated and clearly reminded all the time. Even though you don't need a special person to record your schedules, desktop reminders can always help you to manage tasks or daily chores in better way.
With no monthly payouts and boss-to-employee relationship, you can have your own secretary by simply installing reminder software. It keeps you always on track, buzzing you for upcoming meetings, appointments, to-do list, important notes, near deadline payments and all others. But with tons of reminder programs readily available online, choosing the right one isn't easy. To save some of your time and effort in search for the best reminder software, simply read this article.
Best Desktop Reminder Software
Desktop-Reminder
For those looking for an application filled with tons of functions, Desktop-Reminder is what you need best. It offers intuitive task planner in MS office style, task list with visual status, notifications, alarm messages, task repeats, customizable skins, sound profiles and many more. From task management to event notification, you can use it to do the trick.
However, not everything with Desktop-Reminder is free. True that it is filled with wonderful features but not all are available for free users. If you want to enjoy all of its functions, you need to purchase the Pro version.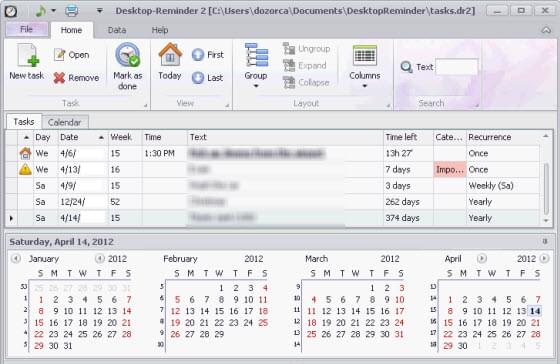 Windows Shutdown Assistant
Different from the others, Windows Shutdown Assistant is more than just an ordinary desktop task reminder. Most notable features of it is the visual break reminder which is highly customizable from editing colors to adding images. Take a few of clicks, you can create a reminder with it effortlessly. All you need to do is specify the time and select "Display a message" in "Action". Hit the "Settings" icon, edit the reminder, then customize layout, color, image and reminder sound at will. Finally, add it to task list and hit "Start".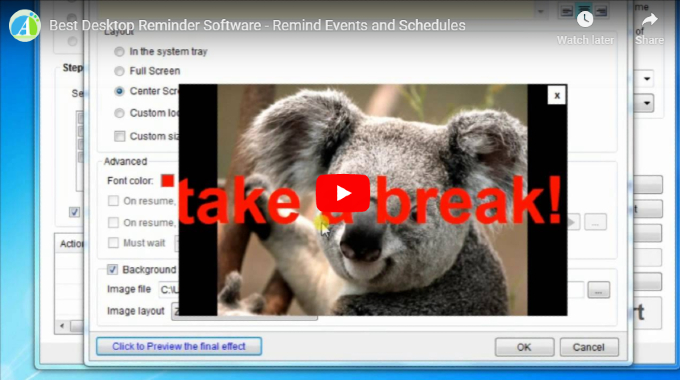 Except of its convenient reminding feature, it also has the ability to automate your computer. It can open URLs and run programs, shutdown, restart, lock computer at a given time. According to your requirements, you can create unlimited numbers of tasks, reminders as well as commands.
Kana Reminder
Another free desktop reminder that you can use to keep all your appointments and important notes on track is the Kana Reminder. This application is 100% free with no restriction usage. It works just like other reminder apps – tasks are set on schedule then triggered at specific time. It also activate designated program at specified time, but other than that, everything is pretty limited or basic with Kana Reminder.
One downside of this software is that it doesn't have category options and synchronization features. Updating the software is equally challenging, you have to unzip, find files on your hard drive and move data before you can actually upgrade the application.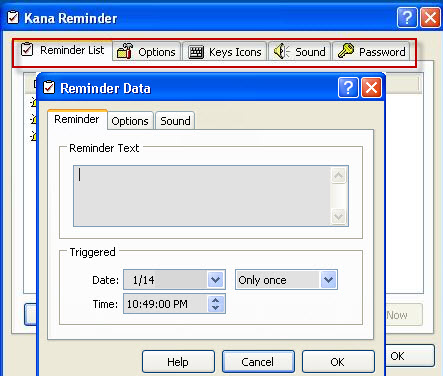 GMinder
If you want a reminder tool that needs not to be connected to the Internet just to function smoothly, check out GMinder. It downloads your events over the Internet, allowing you to preview list of agendas even when you're offline. It supports multiple calendars meaning you can create one for business and another for personal events.
GMinder is a freeware run by Google Code which can be downloaded online. After submitting a Google account, the program will work well for you. Note that in order to run it on your PC, you need to have Microsoft .NET 2.0 readily installed. Also, it is not compatible to lower versions of Windows OS including XP and 98.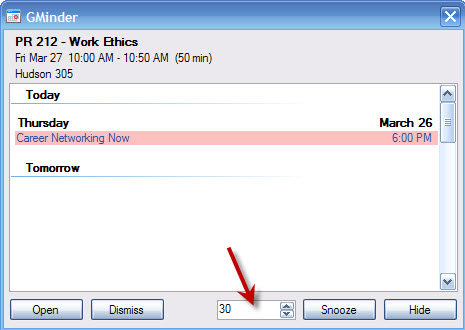 Rainlendar
Offering a very beautiful interface that is highly customizable, Rainlendar is a big name when it comes to desktop reminder programs. This tool keeps your important events and tasks always visible on your desktop. No more late appointments, forgotten meetings and missed payments, this program will alert as well as notify you early on. Besides, it comes with stunning skins, modern widgets and support for different languages.
However, just like other applications, not everything with Rainlendar is 100% free. Some of its features can only be availed by purchasing the software license. Though, the lite version is enough to suffice all basic reminding tasks.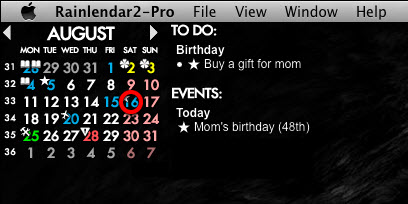 The list goes on and on when it comes to desktop reminders, there is an abundance of applications available online. When choosing the right program, double check its features as well as pricing if it's paid. One good tip is to choose one which is easy and intuitive, clear management and organization will help you achieve greater efficiency.