Many users like to make their Windows PCs be in sleep mode when they are not in front of computer. In the standby situation, they can not only save computer power, but also wake up their Windows PC from sleep mode within 15 seconds.
Though sleep mode has the above-mentioned advantages, it has its own shortcoming. For example, it isn't a good ideal for long power off.
In order to be long term power off, many Windows XP users are eager to look for a new way instead of enabling sleep mode. The answer is enabling Hibernate in Windows XP other than activating sleep mode.
The answer is nice, but many people don't know how to enable Hibernate in Windows XP. The similar issues were discussed in lots of technology forums. Here I take one as an example.
How to enable Hibernate in Windows XP?
I have a Dell laptop with Windows XP. I don't want to enable standby on my laptop because I will lose my whole contents of any unsaved and RAM files if my laptop battery runs out of power.
Based upon this reason, I plan to activate Hibernate in Windows XP so as to overcome this problem. But I can't find the Hibernate button in Power Options, what should I do? – Jenny
Yup, there isn't Hibernate option by default in Windows XP. If you have the same puzzlement like Jenny, please follow the guide to enable Hibernate in Windows XP.
The simple steps to enable Hibernate in Windows XP:
Step1: Go to "Start ->Control Panel ->Power Options".
Step2: Open "Power Options -> Power Options Properties -> Hibernate".
Step3: Under "Hibernate", check "Enable hibernation" checkbox.
Step4: At last, Click "OK" or "Apply" button as the below picture.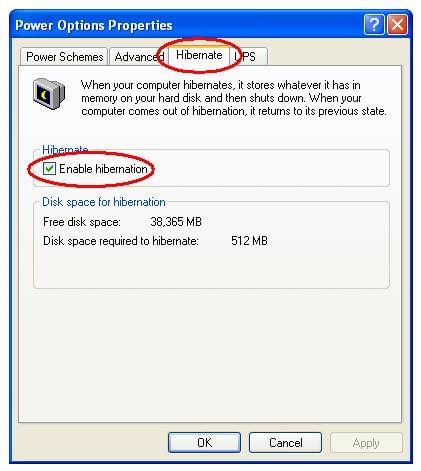 Note: Before turning on Hibernate in Windows XP, you need to know whether your computer is supported by ACPI implementation or not.
How to determine whether your Windows XP is using ACPI?
The full name of ACPI is Advanced Configuration and Power Interface. Hibernation requires a system BIOS (Basic Input / Output System) that supports ACPI.
Step1: Click "Start", type devmgmt.msc in the command box and then click "Enter" button in keyboard to run.
Step2: After few seconds, the Device Manager window pops up.
Step3: Expand Computer in the Device Manager window as the following picture.
If the ACPI PC option is displayed, your computer is using ACPI features and vice versa.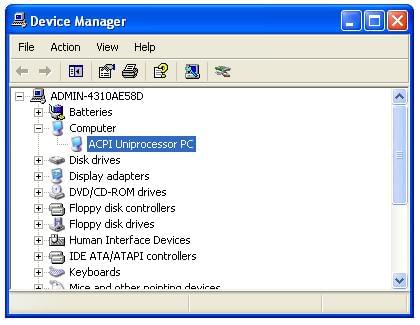 After enabling Hibernate in your Windows XP, you can directly press and hold down the "Shift" button to use Hibernate in the "Turn Off computer" window. The "Stand By" option will turn change to "Hibernate".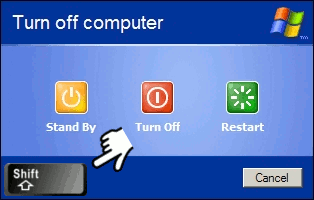 Or you can use a third-party program – Windows Shutdown Assistant to make Hibernate easily.
How to use Hibernate function in Windows Shutdown Assistant?
It is easy and convenient for you to use Hibernate function with Windows Shutdown Assistant.
The simple instructions to use Hibernate as follows:
Step1: Set the Hibernate time in the "Time Schedule" option.
Step2: Select Hibernate as your action in "Action"> option.
Step3: Click "Start" button to set about Hibernation.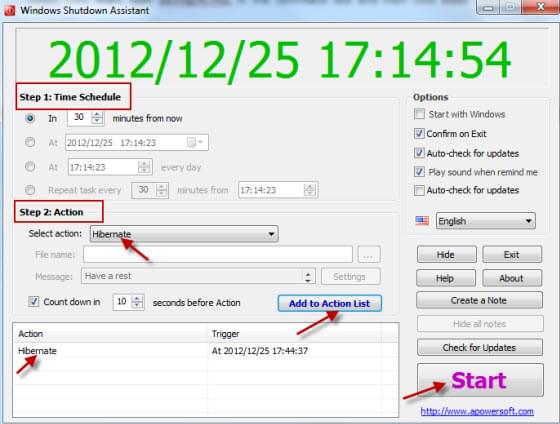 Windows Shutdown Assistant is a multifunctional Windows manager. It can not only hibernate your computer, but also shutdown Windows, run file and program, display a message, create notes and many others.