FLV – Description
FLV is commonly used in online streams for sharing. It is a container file format originally developed by Macromedia. Following Macromedia, Adobe system further developed FLV making it popular in delivering video, audio, and text data over the internet. Due to its lightweight file size, FLV files have been widely used as the format for embedded video on the web like YouTube, Hulu, Google video, etc. Also, this type of file is viewable on most operating systems (Windows, Mac and Linux) via Adobe Flash Player and web browser plugin.
Benefiting from the increasing popularity of FLV, it becomes the conventional standard for web-based streaming video over RTMP (Real Time Messaging Protocol). Plus, FLV file format contains material encoded with codecs following the Sorenson Spark (video encoding technology that reduces bandwidth requirements while preserving the highest quality) or VP6 video compression formats (competitor to DVD).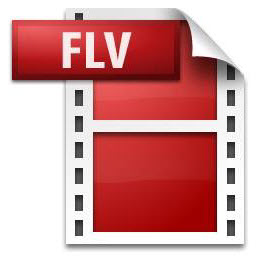 File Extension: FLV, F4V, F4P, F4A
Category: Multimedia File
Popularity: Popular in video sharing sites
Developer: Adobe Systems (Originally developed by Macromedia)
FLV – Advantages
i
FLV file can be easily viewed by most of web visitors via Adobe Flash Player, web plugin and some other third party programs.
ii
Online presentation, video clips, banner advertisements often embed FLV files on webpage.
iii
FLV format usually takes little disk space, which can be viewed and downloaded easily even on old computer with poor network.
Extension formats for FLV
F4V: In order to cater for the era of high definition, Adobe developed F4V file as the newer generation flash video format based on the format specified by IOS/IEC 14496-12: IOS base media file format. Besides, some other extension formats are also available.
F4P: Protected Media for Adobe Flash Player
F4A: Audio for Adobe Flash Player.
F4B: Audio Book for Adobe Flash Player.
Differences between FLV and F4V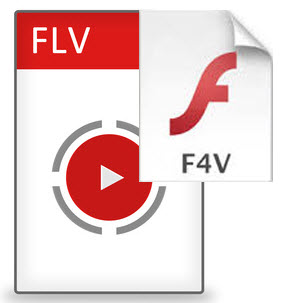 Comparing with FLV file, F4V features smaller file size and better quality which empower it transmit all over the web much more easily. Therefore, F4V is a potential substitution for FLV. In addition, the FLV video is encoded with H.263 codecs, while F4V supports H.264 also known as MPEG-4AVC (Advanced Video Coding), which has improved the video quality while reducing bitrate.
How to enjoy FLV video
i
Play FLV online
For some users, they may be asked to install flash player when clicking up a webpage that presents online video. This is because that many online streams are kept in the format of FLV presently. The popular flash players include Adobe Flash Player, Unity Web Player, and Silverlight which can be downloaded from their official websites easily.
ii
Watch FLV offline
If you want to view FLV video on your computer, you may consider downloading a powerful media player like VLC. It's a famous video player that can work on both Window and Mac. In addition, it supports various multimedia formats including FLV.
iii
Play FLV on portable devices
Since many portable devices are not compatible with FLV, you have to do conversion before exporting. There's an efficient tool called Apowersoft Free Online Converter that can help you turn FLV format to other popular video types, such as MP4, AVI, WMV, etc. This tool is a web-based program that can save you from downloading other software. This method is workable to play FLV on Android and iOS devices.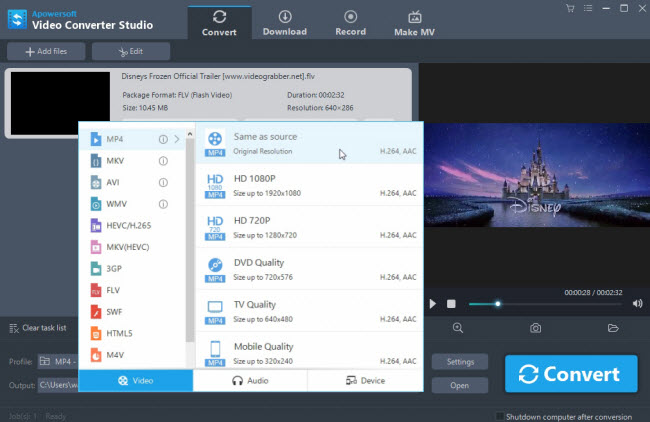 How to convert video to FLV files
Convert video to FLV online – Since FLV features small file size and nice quality, it becomes popular to deliver multimedia data. It's often be used as webpage embedded video or shared with others via email, Dropbox, etc. If you need to convert video to FLV, you can do this job with online converter. This program allows users to convert video to any desired format online.
Convert URL to FLV video – There're some moments that you may want to keep the online video in your local drive and then enjoy it offline. This task can be easily done within couple of clicks on online downloader. The program is capable of converting any URLs to your local video in the format of FLV, MP4, AVI, WMV and many more.
Convert MP4 to FLV video – Presently, MP4 is also a popular video format in different platforms like media player and portable playing devices. Comparing with MP4, FLV takes smaller space on disk and performs smoother when playing. It's feasible to convert MP4 to FLV by using some reliable applications.
Convert WMV to FLV video – Converting WMV to FLV will reduce original WMV files to a small size for better delivery via the Internet. If you have WMV files for sharing to social networks like Facebook, Twitter or some websites for other use, WMV to FLV file conversion is a nice solution for you.