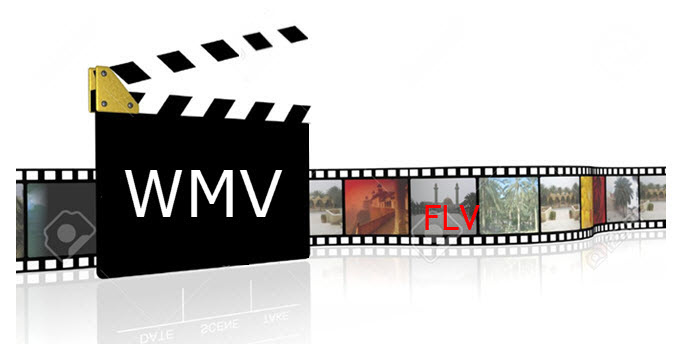 Microsoft designed WMV or Windows Media Video in 2003 originally for the Internet streaming applications as well as the competitor to RealVideo. After it being standardized by the SMPTE (Society of Motion Picture and Television Engineers), WMV has become a widely-used format for compressing video data. Despite the fact that it has the ability to reduce large files to a relatively smaller file size without discarding video quality, its larger file volume and poorer compatibility are the bottlenecks for video delivery over the Internet as compared to the specific Flash files FLV. FLV is extremely popular due to its versatility, which can be used for movies, banner ads, internet animations, online presentations, short clips and many more. If you are intended to share your WMV video to the web, it is high time to convert WMV to FLV. Check out recommended methods below to easily convert WMV files into FLV format.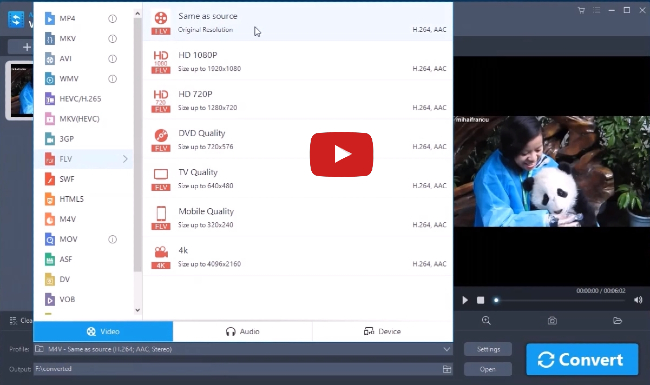 3 Best Tools for Converting WMV to FLV
i
Apowersoft Free Online Video Converter
If you don't want to install additional software on your PC, one of the best methods to modify WMV into FLV is to use online converters. One great application worth to try is the Apowersoft Free Online Video Converter. This tool doesn't have file size or time limitations for users to use. And it comes absolutely free with no memberships or even sign-ups required. The best of it is it can convert both video and audio files into various formats at a blazing fast speed. Moreover, there are extra affiliated features, for example, allowing HD/lossless conversion, enhancing video effects, specifying output file size, etc. To use this convenient WMV to FLV converter, just:
Visit Apowersoft Free Online Video Converter website and click the "Browse" button.
Wait for the launcher to automatically start and upload the WMV file that needs to be converted.
Select FLV as the output format and adjust video settings as well as resolution if necessary.
Press "Convert" button and wait until the process completes.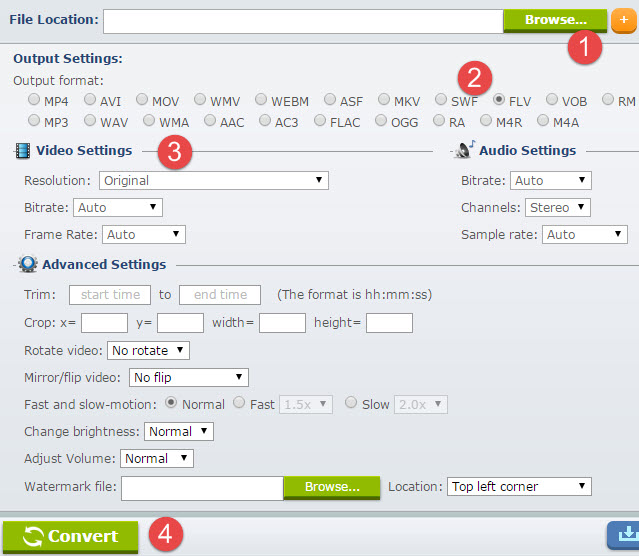 Pros:
No limitations or restrictions.
Easy to use, no installation needed.
Comes with Video Editor function.
Cons:
Internet dependent.
Takes time to convert big files.
ii
Zamzar
Another way to convert WMV to FLV online is to use the application called Zamzar. It can convert videos, music, pictures, documents, eBooks, cad and many more. Similar to the aforementioned app, Zamzar is a free to use file converter and does not need people to create accounts on the website for the purpose of using its services.
To convert WMV to FLV with Zamzar, simply:
Click "Choose Files" and upload the WMV file you want to convert.
Select FLV from the drop down menu as the output format.
Enter a valid email address where you can download the converted file.
Click "Convert" and wait until you receive the link to download the converted file in your email.

Pros:
Very easy to use and no installation needed.
Support for a variety of files.
Cons:
Free version only supports up to 100MB file size.
Monthly payment is needed to eliminate the file size limitation.
No option to directly save the converted file.
iii
Video Converter Studio
If on the other hand you don't want to convert WMV to FLV online, but rather prefer to use a desktop program, the Video Converter Studio is the perfect solution. This software can convert all video and audio files into popular formats and devices with a fairly fast speed. And it has a bulk mode that allows its users to convert batch files simultaneously. The friendly user interface is very simple to let people know how to use all its functions.
Using this WMV to FLV converter is very easy, all you need to do is:
Download and install Video Converter Studio on your PC.Download
Open the program, click "Add files" and upload the WMV file.
Select the desired FLV format for the output file, then adjust video settings if needed.
Specify the output path and press "Convert" when everything is ready.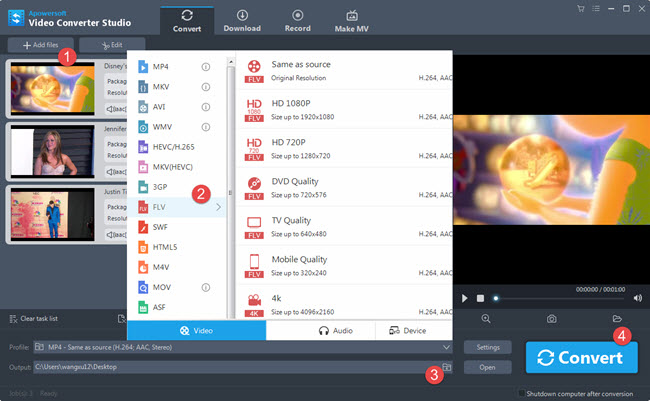 Pros:
Wide variety of supported formats.
Superfast conversion speed.
Complete video editing functions: trim, crop, split, rotate, adjust effect, add watermark and subtitle.
Comes with Video Downloader, Screen Recorder and MV Maker.
Cons:
Paid software with trial version.
Conclusion
Indeed, there are many ways to modify WMV to FLV. For converting small files, it is advised to use online converters but for modifying huge video files, utilizing Video Converter Studio is the best way to go. It is more feature-filled and it can provide ultra-fast file conversion whilst preserving video quality.