Originally founded in Stockholm, Sweden, SoundCloud is an extremely popular online audio distribution website. Today, this highly enjoyed platform has millions of users from all around the world. It allows users to upload, record, promote and share their originally created music which makes it perfect for emerging artists and neophyte singers. Although, bear in mind that it's not that easy to upload songs to SoundCloud.
Unlike other music sharing websites, this site permits users to embed and share uploaded files easily. However, this humungous music sharing platform has its own share of loop holes and limitations. For example, its only supports some of common formats. If you want to overcome these difficulties, reading this article further will help you most.
Concrete Guide for Uploading Music to SoundCloud
Stage 1: Prepare the Audio File
First, you need to prepare the audio file that needs to be uploaded. Remember that not all audio files are accepted by SoundCloud. You should either own the copyright of the songs or being authorized to publish it. This is surely not a problem for veteran, but for aspiring singers with no equipment and right tools at hand, creating your own audio file is a big challenge. Luckily, you can use the built-in recording function of SoundCloud to create your own audio file, though the sad thing about is that it only works for recording microphone voice.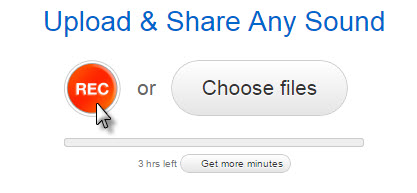 If you want an easy and efficient sound recorder that you can use to upload music on SoundCloud, check out this free tool – Apowersoft Free Online Audio Recorder. This free app enables you to record any sound playing on your computer. You can use it to record both system sound and microphone with such ease as well as comfort. It needs not to be installed, just launch it on your browser with Windows or Mac computer, then follow the detailed steps to record audio:
Visit webpage of free audio recording tool and click the "Start recording" button to launch the application.
A Java window will pop up and make sure to click "Allow".
The application will appear on the desktop soon. On the main interface, click the "Audio Input" button and select the audio source.
Prepare the audio file that needs to be recorded and click "Start" button to record.
Click "Pause" when it's needed and "Stop" once done.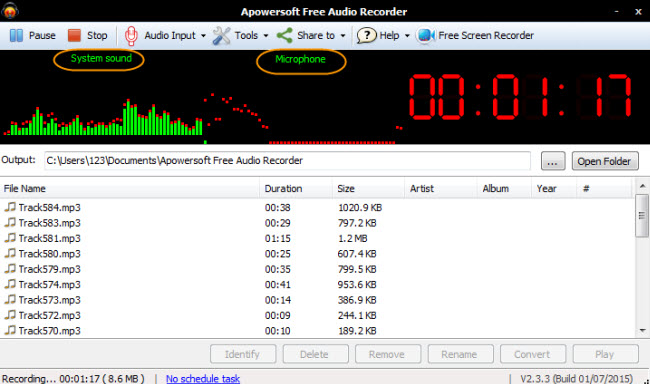 After recording, the file will be automatically saved in the destination directory. Now that you have successfully created a sound file, then move on to step 2 to upload it to SoundCloud.
Stage 2: Upload Music to SoundCloud
Make sure that you have an active and confirmed SoundCloud account, log in it and following the below steps.
Click the "Upload" button on the top right header.
Select "Choose file to upload" since you already have a prepared audio file. You can equally drag and drop sound tracks on the box.
While waiting for your file to be uploaded, fill up the basic information table.
The same thing goes for the "metadata", "availability" and "permission" tabs.
Once everything is set, click "Save" and your track should be up and ready by this time.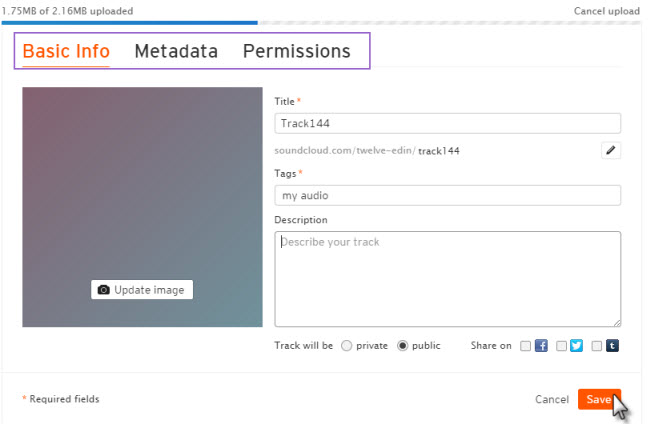 That's how simple it is to upload songs to SoundCloud. However, please be aware of the limitations on file size and format requirements.
SoundCloud does not support all audio formats, they only support the audio formats include AIFF, WAVE, FLAC, ALAC, OGG, MP2, MP3, AAC, AMR and WMA.
The maximum file size you can upload is 5GB.
The allowed length of audio file is 6 hours and 45 minutes. If you need to upload a large number of files, the duration is not enough.
Since your audio file may be rejected by the SoundCloud if you fail to fulfill the above requirements on length and size. Or in the situations that your audio format is not supported, check for the extreme tips on how to solve it.
Extreme Tips – Convert Audio Files to SoundCloud Compatible formats
From here you will definitely need a file conversion software. This is where the Apowersoft Free Online Audio Converter comes really handy. It is a free converter robust enough to convert audio formats with no additional cost. All you need to do is to open the application, click "Browse" to upload the file which needs to be converted, then choose your desired audio format, bitrate, channels, and sample rate. Finally, click the "Convert" button below and wait for the conversion process completed.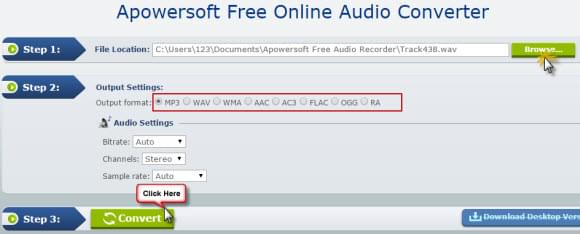 Conclusion
Sure that there are many ways on how to upload music to SoundCloud, the process turns out to be simple as long as you have found the right audio recorder and converter. If you don't have money to spare but need a great tool to help you upload files on SoundCloud, no need to worry just check into the premium solutions as we shared in this article.