Today is a big day to all of us, because Apowersoft Streaming Audio Recorder 2.7.0 is released at last. Based on the main functions, the new version fixes some bugs and improves its stability. In addition, it adds some other features that will make you excited. You may update to the version 2.7.0 now and start the journey of exploring new Streaming Audio Recorder.
Download Streaming Audio Recorder 2.7
New features of Streaming Audio Recorder 2.7.0
Directly download mp3 from online video
Except downloading music via searching keywords, Streaming Audio Recorder 2.7.0 supports to download online video to MP3 or other audio formats, including WMA, WAV, OGG and AAC. Only if you paste the video URL into the address bar, like YouTube, MySpace, Dailymotion, Vimeo, Last.fm and more, choose the output audio format and quality, you are able to download MP3 at your will. Or you can save the video and audio file meantime.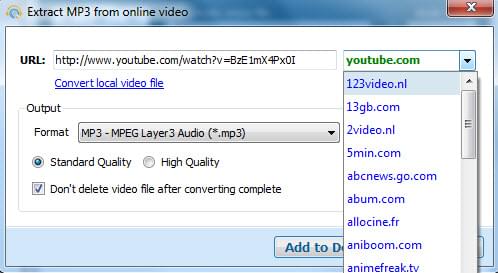 Add multilingual interface
To use more convenient, it adds several popular foreign language interfaces. It contains English, Deutsch, Portuguese, Italian, Japanese, Spanish, Turkish and Chinese.
Support to download music in high definition
The embedded music search engine enhances its power to search music in high definition. Once it searched, you'll see a mark of HD in the left of the song. Then you can download the music in great quality.

Advanced search for your desired radio
Sometimes, it's hard to find the radio you like from a variety of radio stations. So the advanced radio search tabs, including Select Genre, Select language and Select country/region, will help you choose the most appropriate one.
Improvements of Streaming Audio Recorder 2.7.0
Fixed various bugs and improved the stability
We have always been working hard on making a perfect product. Streaming Audio Recorder 2.7.0 is the best one by now, as it fixed various bugs when you use it and greatly improved its stability while recording audio. Now, you use this software more flexible and smooth. In a word, the new Streaming Audio Recorder will bring you a new experience to record audio, download music and listen to the radio. I can't help trying the new one, how about you?