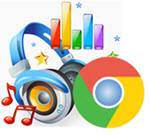 Google Chrome browser is the most popular browser that is being used by a large number of people, and it even surpassed Microsoft's Internet Explorer to achieve larger use base in the year 2014. This possibly because of the fact that Google Chrome is simpler, faster and easier to use as compared with the other browsers. With the popularity of it, a lot of people are asking if there is any audio recorder for Chrome that they can use. There're times you may want to record a song when surfing webpages or music stations. Also, the background music of a video you stream on browser may sound appealing which attracts you to record it. With the need of this kind of audio recorder, below is a quick list for the worth-trying products.
Simple Review for Best Chrome Audio Recorder
I have handpicked five programs which can be used for recording audio on Chrome, they include online program, standalone desktop software and Mac utility.
1
Apowersoft Free Online Audio Recorder
Apowersoft Free Online Audio Recorder is a web-based application that is safe and flexible to utilize. Its main function is to record audio from music platforms, music videos, radios, online courses, voice chats and many more. Better still, it supports to record and save recorded file in a wide range of formats such as MP3, AAC, WMA, WMV, M4A and etc. It is ready to use online, here is how to get it to work.
Launch your Chrome browser, and forward to the page of audio recording tool.
Click the "Start Recording" button, the Java notification will pop up. Enable it, then the recorder will be loaded.
Once you see the tool, click "Audio Input" – "System Sound". Hit "Record" button to start recording, and make sure that the audio that you want to record is playing.
After that, click on "Stop" button to end recording.
Later, you can play your recorded file by clicking the "Play" button, or locate it on your hard drive by clicking "Open Folder".
Check tutorial video below to learn how to use this application.
Pros:
It is free and does not require installation.
The operations are quite simple.
It is able to record audio from Chrome on Windows and Mac.
Cons:
You can't use the app if haven't installed the latest version of Java on browser.
2
Ondesoft Audio Recorder
Another audio recorder for Chrome is Ondesoft Audio Recorder – a Mac shareware which is made to record sounds from any websites whether you're on Chrome browser or the likes. According to your need, you can set the output quality as high, standard and low. As compared with other sound recorder, this one is a little techy. Here is how you can use it.
Download the application and install it on Mac.
Launch the application and then select "Chrome" as the audio source on the main window.
Click the "Start" button to activate Chrome, then play the music in Chrome. The software will begin recording at the same time.
Click the square-shaped red icon to stop recording when it's done.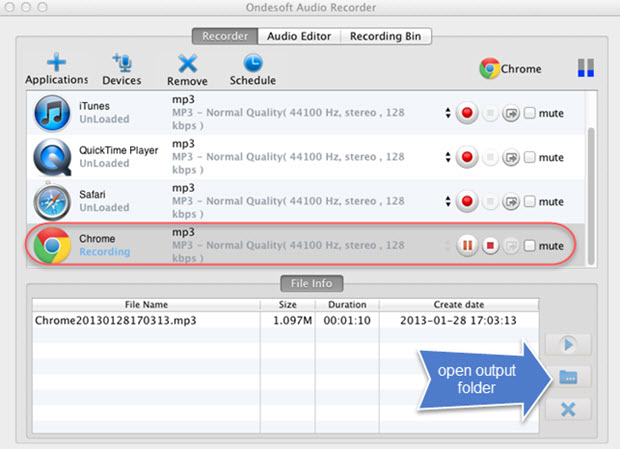 Pros:
It records audio in high quality.
Dispite recording from Chrome, it could record from iTunes and QuickTime simultaneously.
Cons:
It is a little confusing for newbie.
Long duration recording may lead to software crashes.
3
Voice Recorder
This is an extension which you can find in Chrome store and add to your browser. The default audio source of this Chrome sound recorder is Microphone, but you can record other audio source by installing extra provided virtual sound card. Its interface just shows two icons, the red one is for controlling over the record process, while the green one is for playing file after recording. Once recording completed, the tool will ask you to save the audio in Google Drive account. However, if you don't have the account or just wish to save it on local folder for listenting offline conveniently, you can just choose an output folder on PC for saving it.

Pros:
The extension is very light.
No limit on audio recording time.
Cons:
It doesn't allow users to pause during recording.
It only can record audio in MP3.
4
Free Sound Recorder
The forth option we would like to mention here is Free Sound Recorder. This tool has a very simple interface allowing users to easily handle audio recording process. It saves any audio recordings into MP3, WMA or WAV files. For your information, this tool has a free and paid version.
Download and launch this Chrome audio recorder on the desktop.
If you come across any interesting audio while browsing through Chrome, activate the Free Sound Recorder and click the "Start" button.
The recording status like duration, size and quality will show on the main Window. Click "Stop" once finished, it will then save audio files to PC.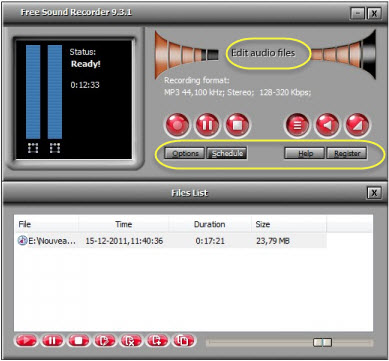 Pros:
It works stably when recording audio online.
Comes with additional edit function.
Cons:
Schedule recording is not available to free users.
Not compatible with Windows 10.
5
Weeny Audio Recorder
Weeny Audio Recorder is another nice application which enables users to record audio from any browsers include Chrome, IE, Safari, Firefox and IE. It is also free but needs to be installed. To conduct audio recording, you can either utilize the buttons on interface or the keyboard shortcut. The hotkeys bring you great convenience for saving your efforts on opening the interface and click every time when you need to carry out an operation. Thus, you are advised to enter "Options" to set "Hotkey" before recording.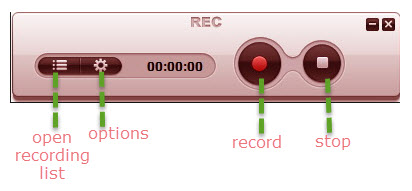 Pros:
It is 100% free to record sound.
Totally clean without virus or ads.
Cons:
Startup time is a little slow.
Large installation package which occupies more space on hard drive.
Above are the tools that you can use to record audio from Chrome. Which one do you prefer or you have better tool would like to share with us? Please leave a reply without hesitation.