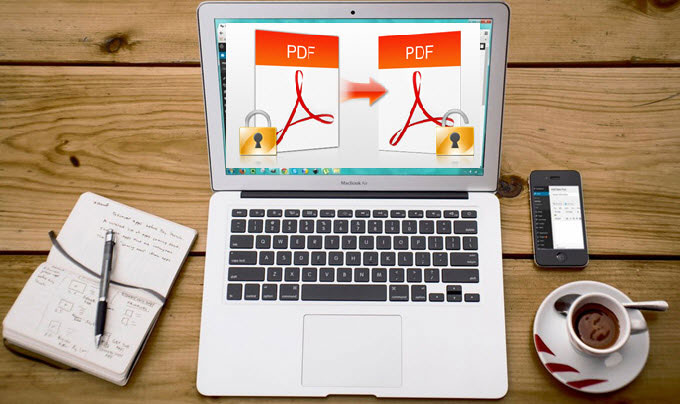 Portable Document Format, which is also known as PDF, is one of the commonly used file type across the Globe. It can be used to encapsulate nearly all the important information including text, graphics, forms, etc into a document with a fixed-layout. Usually, users would like to use it to store and transfer important or confidential contents. In order to keep the PDF document safe or private, the owner of it may lock it with password. If you need to view or edit a locked PDF file urgently, how can you do that? Here are the easy ways to unlock PDF files.
Unlock a PDF file with the online tools
Supposing that you have the desire to open a secured PDF file, but you don't like to download any third-party applications, you can try these web-based tools. There is only a little difference between the two tools we discussed below. So you can choose either of them depending on your needs.
PDF UNLOCK
PDF UNLOCK is an online service which has a not very decent interface. This tool is compatible with Windows, Mac OS and Linux operating systems. No registration or installation required. All you need to do is to click on "My computer", "Dropbox" or "Google Drive" to load your file. After selecting your file from your hard disk, then click on "Unlock" button. It will start to help you process it soon. Then you will see a prompt which requires you enter the password of the protected file. Simply enter the password into the box and click on "Unlock" button again. Though it seems to be very simple to use the service to unlock PDF documents, there are some limitations of using it.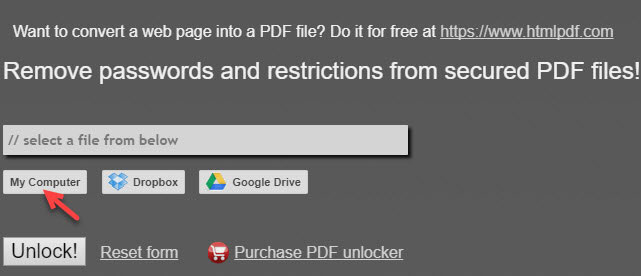 Cons of it:
If your file size is more than 5MB, you are not allowed to use the tool for unlocking it. Otherwise, you need to pay $2.99 one time for downloading the unlocked copy of your file.
You may be annoyed by the advertisements while using the service.
FreeMyPDF
FreeMyPDF is another free online PDF unlocker that you can use to unlock PDF file. Just like the first one, it is also powered by internet. And the good thing about this tool is that it can handle as big as 400MB file maximum, which is awesome. To unlock a PDF file you can simply click on "Choose File" to import the file you want to process. Once selected, click on "Do it!" button and you are ready to go. Before you are going to test it, please pay attention to its cons.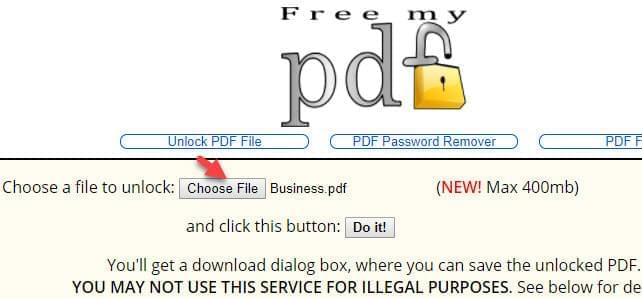 Cons of it:
It is only available to handle the PDFs that can be opened without using any third-party plugins.
The service can't help you unlock the PDF that is encrypted by password.
Use the efficient shareware to unlock PDF documents
In an event that you did't want to use the two applications to unlock PDF file online due to the flaws they have, then it is advisable to use the PDF password remover to do it. It has the most interactive and simple-to-use graphic user interface. It has the ability to unlock your PDF file much faster than the online services. Here is the step-by-step guide of using it:
Download and install it on your computer.
Run it and click on "File" > "Open" or simply press "Ctrl+O" on your keyboard to import your file. If the file you are trying to unlock is protected by password, please enter the password for opening it. Then click on "OK".
Hit the "Protection" tab on the top of its interface and click on "Remove Security" > "OK". Click "File" > "Save as" to save it. Now the restriction of the PDF file is removed successfully.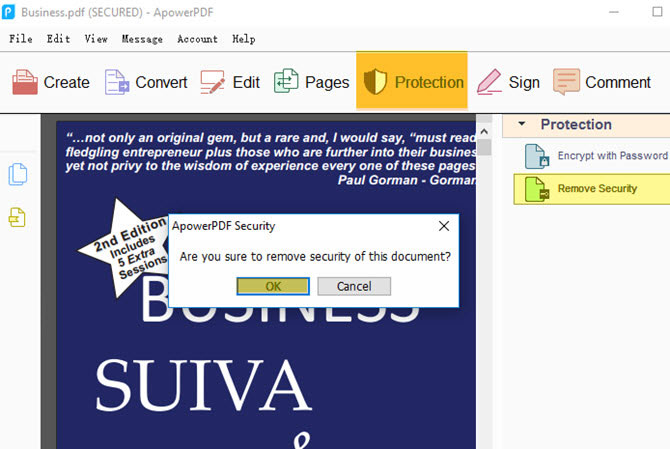 That's so easy to use this shareware to unlock password protected PDF. Moreover, it comes with many other useful PDF editing functions which you might need to use for handling your PDF files.
It provides you many kinds of modes for viewing your PDF file such as one page, two page, two page scrolling, marquee zoom, fit width, fit height, and so on.
It allows you to edit PDF contents by adjusting the texts format, flipping or rotating the images and adding new pictures.
You can annotate your file by adding sticky notes, drawing markups or plain texts.
It offers you many options for organizing your PDF pages including splitting, combining, rotating, cropping, extracting, etc.
It can help you secure your file by setting password or sign it with special signature.
Comparison
All the 3 methods we have discussed above can help you unlock PDF files well. If you have a small PDF file with less than 5MB, it is feasible to use PDF UNLOCK. In other situation, if your PDF file is encrypted by the password, you couldn't unlock it by using FreeMyPDF. So the optimal choice for unlocking your PDF is to use the PDF password remover, because it can handle a large PDF file at once and unlock the document whether encrypted by password or not. And its powerful functions for reading, editing, annotating, converting PDF will help you a lot for managing PDF files in your daily life.