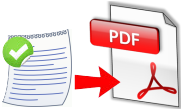 PDF format is universally accepted and can be shared among different users. However, just like any other documents there is always need to edit, delete or format the PDF document to make some changes. A few reasons why people may need to add pages to PDF include the following.
To add a previously omitted page.
To make some relevant changes to the document.
To correct some errors in the pages already present in the PDF document.
Therefore, if you need to insert pages into PDF, here are some foolproof ways to aid you in the procedure.
It is a web based service which allows users to merge two different PDF files, insert pages in PDF online, and many more manipulative actions to an already created PDF file. Being a freely available web based application there is no need for download or installation which makes it easy to use even for amateurs. With the simple user interface, all you need to do is upload the files you need to merge and simply follow the instructions and manipulate your PDF document accordingly.

Although Sejda Merge PDF is quite advantageous especially to PC users without enough space to download and install PDF editing software on their devices, it has limited storage space of 50 MB for every user.
Using PDFill you can add pages to PDF file by following the procedure outlined below.
1
On the menu bar, choose "document option" and scroll down to "insert pages" on the pop-up dialog box. Alternatively, you could also click "insert pages" on the document toolbar.
2
Choose the PDF document with the new pages to be inserted. A dialog box titled "insert pages from another PDF" pops up. Under the "New Pages option" indicate the range of pages to be inserted. Next specify the specific location where the new pages should be inserted under the option "position in the current document".
3
Once you have completed the pages, Click "OK" and the newly inserted pages will immediately be displayed using PDFill.
PDFill is freely available and easy to use therefore amateurs can also use this application to add a page to a PDF.
After downloading this tool onto your PC, you can immediately launch it to add your specific pages into PDF document and insert blank page in PDF. Using the software, you can either choose to manipulate all the pages in your PDF document or just a few selected pages to make the document better. Basically, you can add, delete, extract, crop or rotate pages effortlessly using this editor.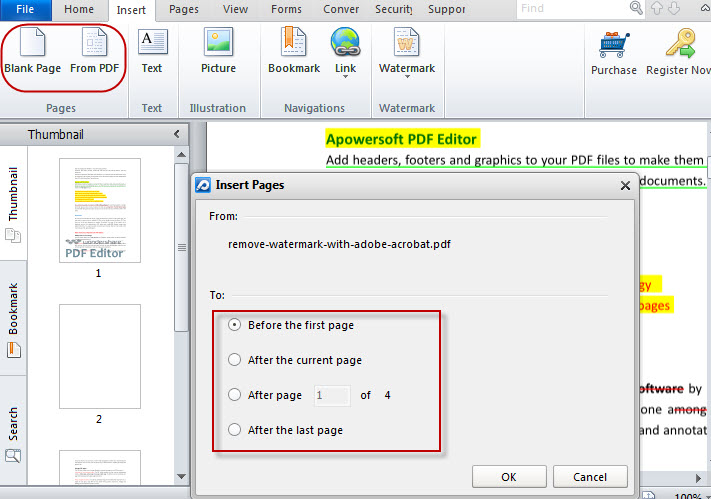 Additionally, you can manipulate the length, the width or any other relevant page orientations to your PDF document. It also allows you to split or merge documents, add footers, headers or watermarks to allow easy identification of the documents with one glance meanwhile making it more professional.
Compared to other PDF Editors as the Sejda Merge PDF and the PDFill, Apowersoft PDF Editor commands superiority particularly because of the following extra functions.
With it, you can modify the text or images. For instance, you can delete, crop or extract text from the PDF files and manipulate any images present in the document. With the help of OCR technology, the Editor gives you access to text found in images, scanned or otherwise.
Using this editor, you can easily convert PDF files to and from other formats such as Excel, Word etc.
The software provides you with the needed protection for your PDF documents by creating passwords and other security measures.