Have you ever spotted conspicuous mistakes when you view the content of a PDF file? Do you know that you can actually correcting them by editing the text?
PDF documents are capable of preserving original formatting of the file as well as protecting the content. Many users prefer PDF files as they can be used across different operating systems. However, sometimes it's inevitable to type wrong or inaccurate texts in a PDF. In this case, you may want to change the content by adding or removing certain parts. So, how can you edit text in PDF exactly? The following tips will help you.
Solutions to Edit PDF Text Easily
With ApowerPDF
ApowerPDF offers you plenty of basic and advanced editing functions. You can use it to create PDF from various files such as PowerPoint, Word, Excel, images, etc or blank document. It provides you a set of tools for editing your PDF files as easily as possible.
The simple process of using it to edit text in PDF:
Before you start to use it, you need to download and install it on your computer. Hit the "Download" button to get it.
Load your file to the tool by clicking on "File" > "Open" button.
Your file will be loaded soon. Click on the "Edit" tab and select "Edit Text & Images". Now the cursor will changed into editable status. Select the texts you would like to edit by using your cursor or locate the cursor to the text area, and then start to edit it by tying on your keyboard. You can adjust the formats of the text as you like to.

Once done, click "File" > "Save as" to save the edited PDF file.
Apart from editing PDF text, here are several other useful features of this efficient editor:
Managing PDF Pages – This special tool lets you manage any page in your PDF document using many kinds of editing page modes which include deleting, extracting, cropping, rotating and so on. You can also easily merge or split documents. Moreover, it enables you add headers, footers or watermarks for quick document identification.
Securing and Signing PDF Docs – It allows you to secure and sign any PDF file. By using a password, protecting the document is guaranteed. You can also use digital signatures or create and add approval stamps.
Customizing PDFs – With the software's interactive fields and exporting/importing modes, you can fill out, design and customize PDF forms easily. Direct importation/exportation between PDF files is also like a breeze.
Converting PDF to image Formats – It's simple to convert PDF to Office formats and other widely-used images formats including JPG, PNG, GIF, TIFF and Bitmap.
With PDFescape
PDFescape can be used as a PDF reader, PDF text editor, form designer and filler. Now it offers you two versions: PDFescape Online PDF Editor and PDFescape Editor for Windows.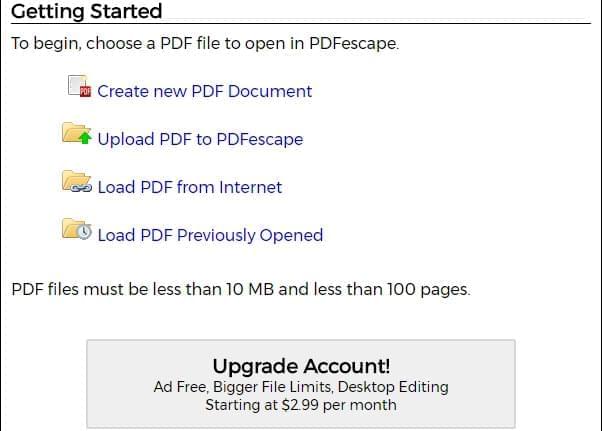 Its online version has the ability to help you edit text in PDF as well as doing the following jobs:
Crop, adjust, delete and insert PDF pages.
Add texts, images and shapes to PDF files.
Add links to web content or other PDF documents.
Annotate the PDF file with circle, line, checkmark, rectangle, etc.
Comparison
If you're wondering which PDF text editor you should choose, simply check out the comparisons between them at first.
Though PDFescape is claimed as a free PDF tool on its official website, it has many restrictions. For example, you cannot upload a PDF which is larger than 10 MB or has more than 100 pages and you will get lots of annoying ads white using it. You will always see a prompt for signing up on its webpage. Comparatively, ApowerPDF comes with a more intuitive and user-friendly interface that makes navigating through the menu effortless. It features PDF reading, PDF editing, page management, PDF protection, PDF signature, etc.
Overall, it allows you to make extensive editing in your PDF file simply. On the whole, between the two, PDFescape only offers basic editing functions whereas ApowerPDF offers advanced features and more. Everything that PDFescape can do, ApowerPDF can also provide but in a much better and easier way. If you're looking for the better option to edit text on PDF file, ApowerPDF is certainly worth checking out.