Wondering how to add a signature to PDF? There are various reasons why people may need to sign a PDF document:
Clients are thousands of miles away, so electronic signature in a PDF file is a good way to save the time and money for negotiation team to go to another city or place for signing contracts.
A digital signature helps secure and authenticate documents.
If you're looking for the easiest ways to add signatures to PDF without printing and scanning a document, check out these three handy tools.
Solutions to Add Digital Signature to PDF
Method 1: Use ApowerPDF
ApowerPDF is a versatile PDF program which works perfectly for editing PDF and managing PDF pages. In ApowerPDF, it provides professional signature tool, which can help you sign a PDF as well as protect your PDF file from being modified by others. Now, let's add electronic signature to PDF with ApowerPDF.
Download ApowerPDF by clicking the button below.
Open the file you want to sign with ApowerPDF.
Go to the "Sign" tab – click "Sign" – "Sign Document" – Choose "Draw New Signature Rectangle".

Drag a rectangle on the PDF and then a window may come out. Beside "Sign As", click the drop-down window and create a new ID.

Choose "A new digital ID I want to create now" – "Next", and follow its instructions to fill out the information and then you could finish the steps and add a digital signature to PDF successfully.
Method 2: Use Adobe Acrobat DC
Adobe Acrobat DC is a well-known PDF program as its company came out PDF file format. Adobe's program for PDF also updated many versions. Now it is a clean-interface and easy-to-use PDF program. It offers two solutions to help people add digital signature to PDF – Fill & Sign and Certificates.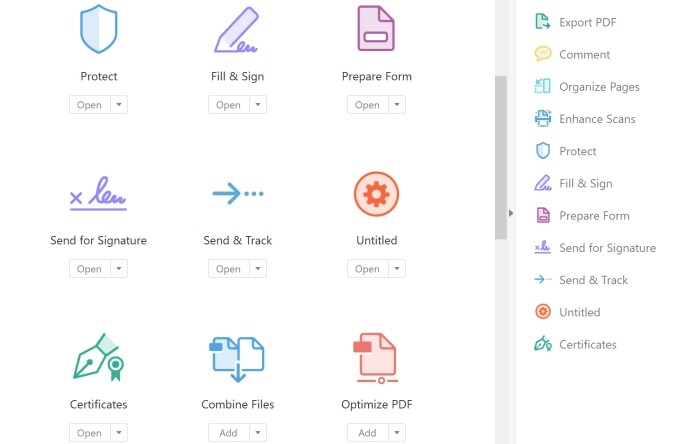 "Fill & Sign" allows people to type, add image certificate or use pen to draw a signature. While "Certificates" is a more secure way to add an electronic signature to a PDF, just like what ApowerPDF works.
Moreover, Adobe enables users to send the file to others to sign, which is a good solution for businessmen and people who need to work a file collaborating with others.
Method 3: Use Smallpdf
Smallpdf is an online solution which people can add signature to a PDF. It is very easy to use – just upload the file, you can choose whether to sign a document directly or request others to sign the PDF file.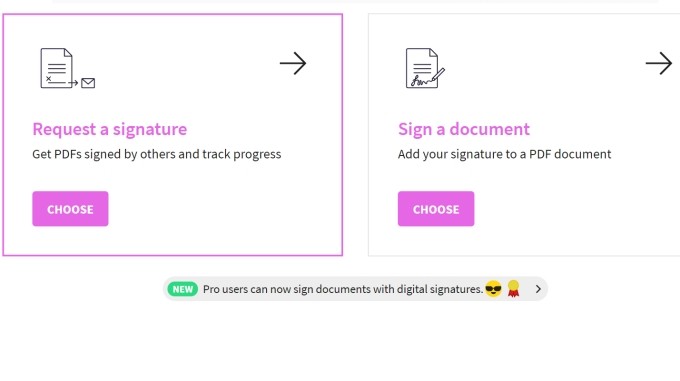 If the former, you need to complete the information of you and the recipient(s). You can also leave a message to the one(s) who will receive the request. If the latter, you just need to add text or digital signature to PDF and then get the signed document on your device.
Comparing the Three Methods
The solutions are all good to insert signature into PDF. To help you better determine which one to choose, you can first refer to the table below:
| | | | |
| --- | --- | --- | --- |
| | ApowerPDF | Adobe Acrobat | Smallpdf |
| Work Offline | Yes | Yes | No |
| Whether Supports Certificate Signature | Yes | Yes | No |
| Whether Supports Draw Signature | No | Yes | Yes |
| Whether Supports Sending Email inside the App | No | Yes | Yes |
According to the table, you can easily tell that Adobe Acrobat is still the best solution for you. However, if you think the price for Adobe is a little bit high, you can consider ApowerPDF for certificate signature or Smallpdf for drawing electronic signature to PDF.