Ways to Annotate PDF Documents
There are various applications that you can use for annotating on PDF files. They offer different features so it's best to learn more about them to weigh your options and select which one is the best tool for you.
It is a powerful application that you can use for annotating PDF. Though it requires downloading and installation, it offers more features than online programs. The options are straightforward so you will not have a hard time learning how to annotate PDF documents with it.
Open the PDF file that you would like to work on with ApowerPDF.
Go to "Comment" tab, click "Annotations" and find highlight, comment and other features.
If you want to highlight a PDF document, click the first button under the "Annotations" options, and then draw highlight to the text.
If you want to make comments to PDF, then, click the last three buttons according to your specific needs.
Once done, click the save button to save the changes.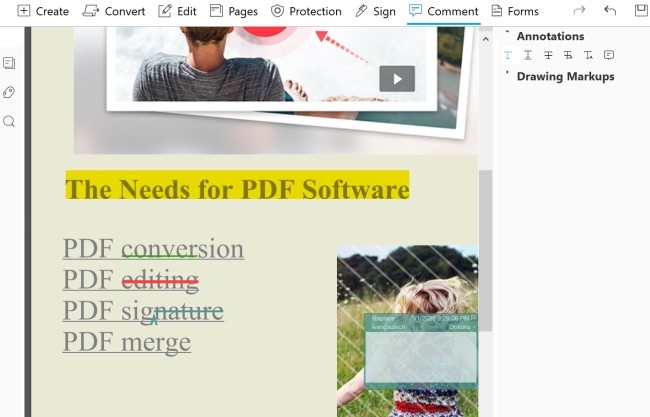 This program does not only let you annotate, you can also sign PDF documents, create or fill PDF forms, edit image based or scanned files, as well as convert files between PDF and other formats including Excel, Word and PowerPoint.
PDFescape
This is an online and free program that you can use to annotate a PDF file. If you do not want the hassle of downloading and installing a program, then this one is a good choice. It supports popular browsers including Internet Explorer, Mozilla Firefox, Chrome, Safari and Opera.
It's easy to use though it only offers two options for annotations and they are sticky notes and highlight. Sticky notes let you write some notes if you need to, while highlight, as the term suggests, would highlight the specific part you wish to be highlighted. If you want to try this program, go to its home page and click Edit Your PDF Now. Upload or load your PDF document and start annotating by clicking on the Annotate tab.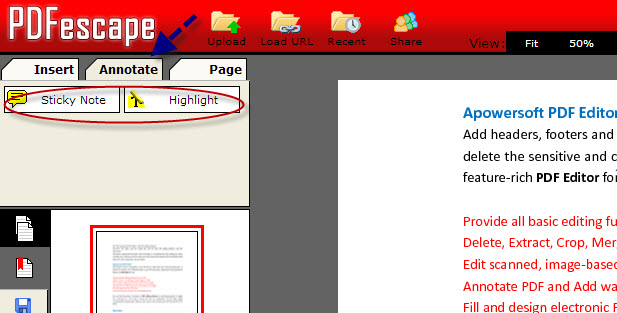 PDFOnlineReader
This program can also be accessed online and is available for free. You may go to this site to start using it to annotate on PDF. Upload the PDF file you wish to use and at the bottom of the window, you will see a green button that you need to select in order to add a text annotation on the PDF file. You can then click on the area where you wish to place your note.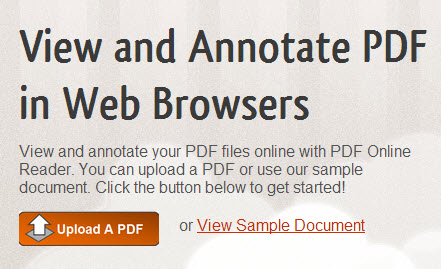 You can choose the font size, font color, as well as the background color of the text. If you wish to delete a text annotation, you may click on the text and hit the delete key on your keyboard. To move to the next page, click the down arrow on the upper left side of the window.
If you are looking for basic annotation features, then any of the online free PDF annotator can be used. However, if you want an application that gives you all the annotation tools you need and even more including editing of PDF files, as well as scanned and image based files, the best choice is ApowerPDF. Plus, you do not have to be online to use it.