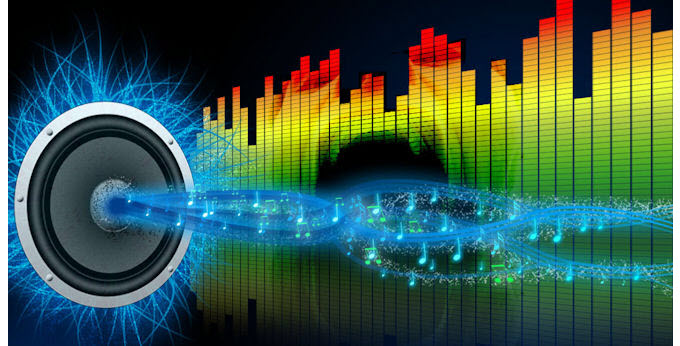 People trim audio files for a lot of reasons, for example, removing silent and unnecessary parts of a long audio file, creating elaborate ringtones for different contacts, splitting audiobooks into digestable chapters, composing no-skip music files, etc. Whatever the reason is, the basic requirement for an audio trimmer must be the quality assurance. Anyway, no one wanna lose the speaking clarity after the file being processed. Then the factors that will be taken into consideration should be the accessibility, functionality and practicability of the software. Suppose you are one of the people that prefer to struggle a bit rather than proceed with an app in a hurry to do an audio cutting job, the following five must-have tools will be a part of your success.
5 Undeniable Audio Cutters for Splitting an Audio
3. iTunes
5. Audacity
Apowersoft Video Converter Studio
By the first glance at the software, I was attracted by its silently brilliant interface. Truly, it gives people a very clean impression and trimming an audio file couldn't be easier with it even for first-time users. You just "Add files" to the software, click "Edit" to enable the built-in video editor, go to "Trim" the audio, select a popular output format, press "Convert" button and off you go. But the very first step is to download it to your computer. The best part of it is you can even visualize the areas to trim while you are playing the file and it doesn't restrict the number of files you can cut. The batch mode makes it very easy to use.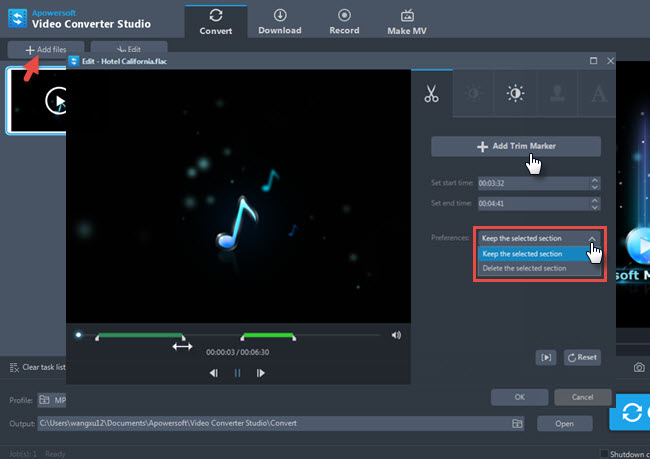 Available as an audio cutter, Video Converter Studio also offers advanced features. Once you download it, you'll be able to download files from 10,000+ video sites worldwide, record any screen and audio activity on the computer, create gorgeous slideshow with your personal photos and music, render your audio or video to be more eye-catching, and even play files in any type. No more codecs or utilities need to be downloaded in order to accomplish different tasks to the video or audio. It is indeed a tool that can let you kill N birds with one stone.
Windows Live Movie Maker
If you are more comfortable with Windows original software, there is Windows live movie maker which is very accessible to cut audio. It's prepackaged in the Windows Essentials makes it a very nice choice to try for users who run Windows OS. You can upload files with different extensions like MP3, WAV, WMA, and export the file in a new WMA file. To split an audio, just drag common files (in the any of these formats) to the timeline and use the "Split" or "Trim" function. Rearrangement of audio orders is very helpful for people who want to generate their individualized music. The file will be saved as a WMA file after you hit "Publish Movie". If you mind the WMA file extension, you can use an audio converter.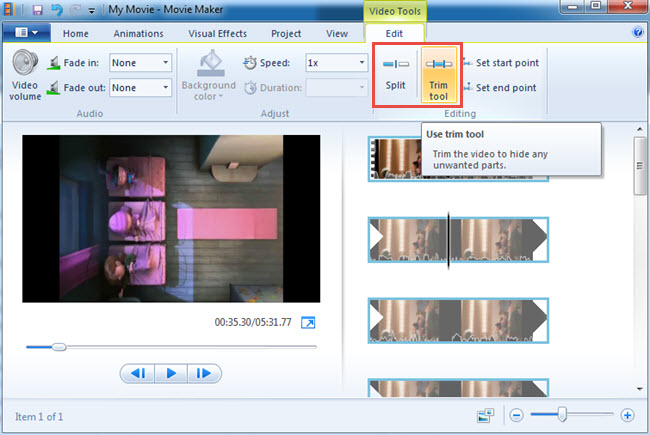 iTunes
iTunes can be used to trim audio files if you discovered this hidden feature. The Get Info Window has an option from there you can specify at what point you want the audio file to start and end. Import the audio track to iTunes by selecting Add File to Library from the File menu. iTunes supports most audio formats (MP3, WAV and audio CD files). "Play" the audio in iTunes, right click the song title then "Get Info" > Options tab in the Info window, tick "Start" and "Stop" check boxes and enter the new time, click "OK" to save changes, right click the song you've trimmed and choose "Create New Version" and hit "Create AAC Version", a copy of the file in M4A format will be created next to the original version in your iTunes library.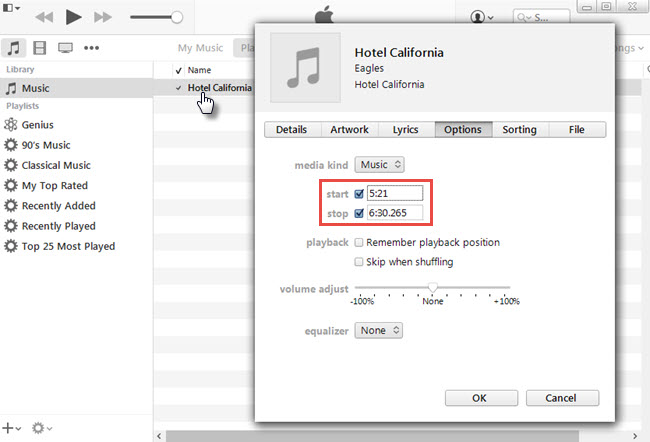 VLC Media Player
VLC is an open-source and cross-platform utility that includes many features beside as an audio/video player, such as cutter, converter, screen capture, etc. With VLC, you can import any audio file to be trimmed. There are no limits for input files formats. To use VLC as a free audio cutter, you need "Play" audio in VLC, go to "View" > "Advanced Controls", hit red button to start/stop record at the bottom, forward to "Libraries" > "Music" to save audio files.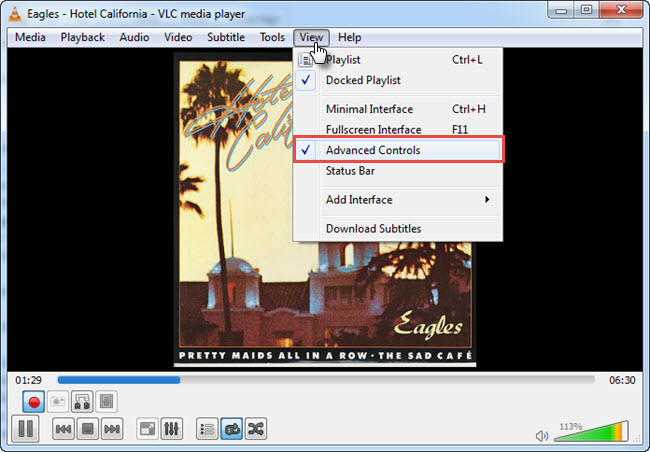 Audacity
Audacity is an audio editor available on cross platforms including Windows, Mac, Linux and other operating systems. Using Audacity to trim audio files is pretty simple. Hit "File" > "Import" to upload the file in Audacity, drop down "Edit" > "Remove Audio and Labels" > "Cut" to split the audio file into two parts, duplicate the steps to cut out the parts you want to delete, select the unwanted part then hold Ctrl and press X to delete it, save the edited file by exporting them.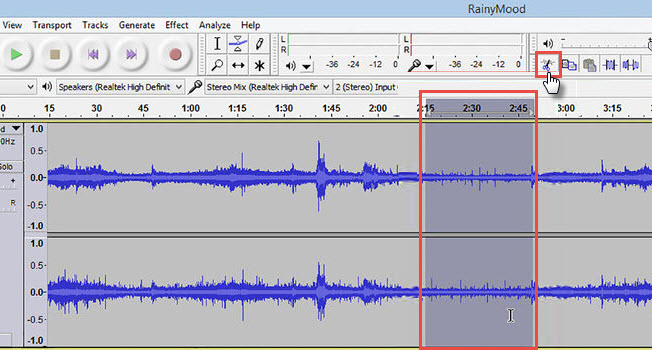 Which one do you like most? Feel free to recommend other ways to us if you have available ideas. Based on the whole content we discovered, in my opinion I would advise Apowersoft Video Converter Studio as the best one for its multifunctional features.