Although Apple has claimed to add support to WAV file format in its iTunes, there're still times when you cannot load WAV sound files to iTunes for audio playback. Or even though iTunes is workable with your WAV files, it is not a good choice to transfer WAV files to your iPhone, iPod and iPad for music enjoyment. Most common WAV sound files are lossless compressed and all lossless formats result in big files. It is preferable to convert it to the M4A format rather than store the original large WAV files. On the one hand, M4A is a friendly audio format with all Apple applications and devices; on the other hand, compared to other lossy audio formats, M4A format can retain the origin quality in the WAV file with the least file size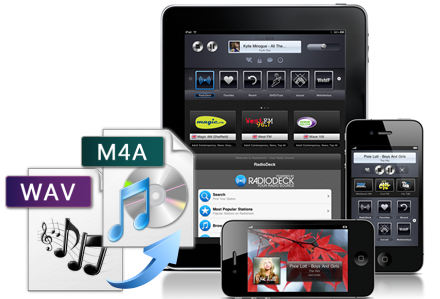 How to Convert WAV to M4A (Windows & Mac)?
Not all people tend to download third-party programs to fulfil their video conversion needs. Here we will go through three best web apps one after another. See which option works best for you.
1
Apowersoft Free Online Video Converter
This tool is one of the best online applications for basic video and audio conversion. The user interface is pretty intuitive so you would immediately know how to use it even if it's the first time visiting this page. It can be used to convert both audio and video files. It also packs another function: video editor which can let us polish videos online including trim, split, crop, adjust video effects, speed up or slow down the video, etc.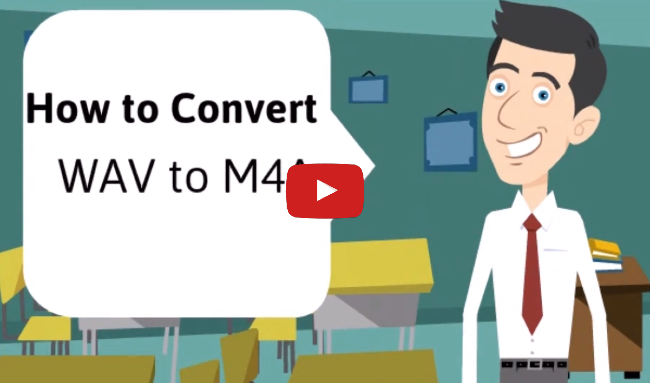 To convert WAV to M4A using Apowersoft Free Online Video Converter, just visit the page, click the green "Browse" button and locate one or more WAV files that you wish to convert. Under "Output Settings", click "M4A" as the format for the output file. You can also make some adjustments on the bitrate, channels and sample rate under "audio settings" at your will. If you're not sure what settings to choose, just keep the default settings granted by the tool which will provide the most appropriate parameters for your files. Finally, click "Convert", and the file will be soon completed.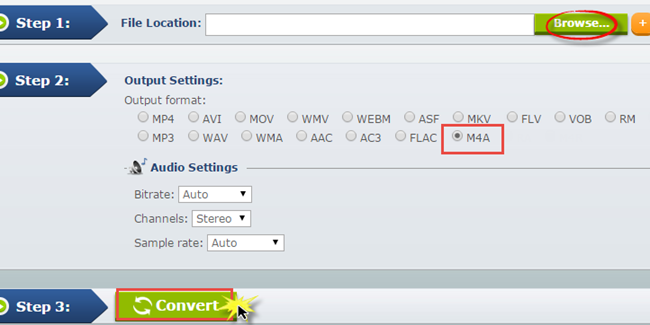 The whole conversion process takes place on the web and the output file will be directly saved to the computer. The promptness in conversion is very efficient for urgent use.
2
Cloud Convert
Cloud Convert is another online tool that that can be used as a WAV to M4A converter. As its name implies, the entire file conversion occurs in the cloud. It allows users to select files from their Dropbox, Google Drive OneDrive or Box account. Or one can directly drag the files into the page from desktop. One can add several files ready for conversion, but it would not automatically convert them all at a time. Once you have chosen the output format, your task will be added in queue and you will receive an email with link to download the converted file later.

It also has few additional features, such as its advanced editor function. But this function can only help to trim audio and change audio codecs.
3
Clip Converter
ClipConverter is another one that is able to make WAV to M4A conversion. It is primarily designed for downloading and converting YouTube videos to other accessible video formats like MP4, AAC, 3GP, etc. And now, it can also let us add local files from PC to convert. Copy the URL of the audio file that you wish to convert, paste it into the field under "Media URL to Download" and click "continue". Under "conversion format", select "M4A" then click "start" at the bottom of the page. The conversion will start and once done, you'll get a page where you can download the file.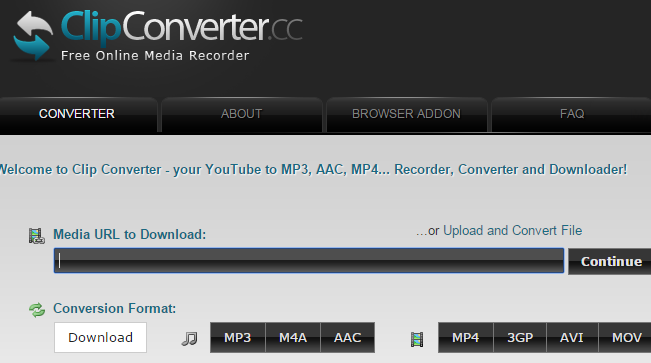 This site doesn't allow much customization on video and audio files. And the conversion options are limited to few formats.
Those are the online conversion tools that can tackle WAV to M4A conversion. It is a common sense that all web-based applications are network oriented. If you are in bad network together with large file size, the conversion will be very time-consuming. And the desktop software is a must-have alternative. Give a look at the following standout desktop video conversion software.
Standalone Audio Conversion Software (Windows 10 included)
Video Converter Studio is a user friendly program that converts files at a high speed. The quality of the converted files remains that of the source file so you wouldn't really see much difference between the original file and converted file visually. Here's how to convert WAV to M4A using this software. It's so simple that you wouldn't have difficulties with it.
Download the tool and install it in your computer.Download
Launch Video Converter Studio.
Click "Add Files" to import WAV files to the program.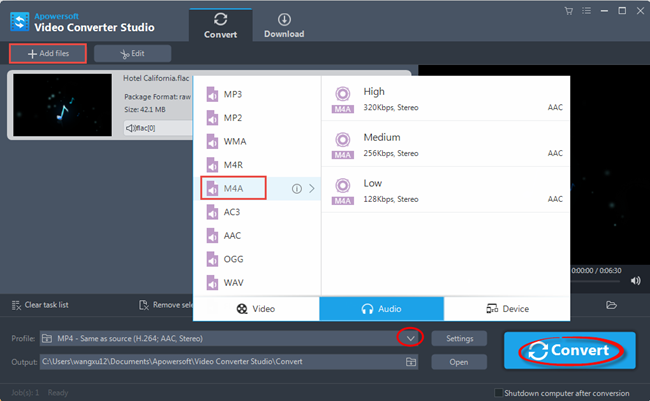 Click the drop down arrow next to "profile", select "audio" and choose "M4A".
Click the "convert" button and the file will be automatically saved on your PC once conversion is complete.
It also comes with other great features: video downloader, video editor, video player, MV maker.
Summary
These are the tools that can help you change WAV files to M4A files. If you just want to make simple file conversion, the three online tools are enough. If you are looking into something else other than file conversion, for example, more options for output file format, conversion speed guarantee, advanced video editing functions, just try Video Converter Studio.