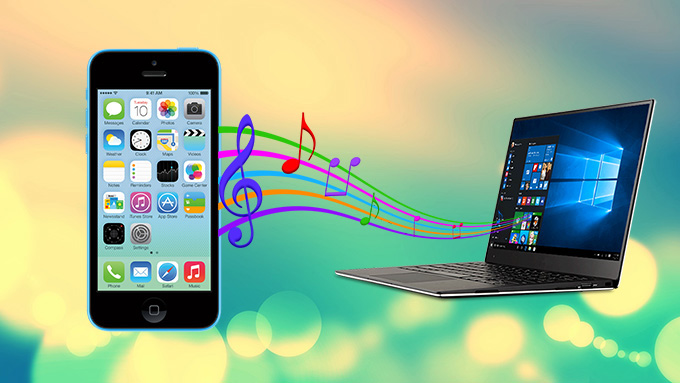 One of the widely used Apple products around the world is iPhone. Aside from SMS, chat, calls, email and browsing, it is also used to store music so you can play them even while on the go. One way to extract music from iPhone is by using iTunes. But if you want to copy iPhone music to PC, this is not an easy thing to do if you're relying on iTunes.
However, there are various ways to do this. Some of the tools that you can use are available for free online. Other programs require installation but offer more features. In this article, we will talk about three methods that you can choose from to transfer music from iPhone to computer.
How to Copy Songs from iPhone To PC
Method 1: Copy Music from iPhone to PC Free Online
The first application on the list is Apowersoft Free Online iPhone Transfer. This is an online tool that lets you copy songs from iPhone to Windows 8, as well as other operating systems including Windows XP, Windows 7, Windows 10, Windows Vista and Mac OS. Aside from iPhone, it also supports other iOS devices like iPad and iPod.
You can access this link above to start using this program. Since this is web based, it does not require installation. All you need is your computer, web browser and stable Internet connection to start transferring music from your device to your PC.
On the site, click the blue "Launch Application" button and the tool's window will appear. Make sure your device is connected via USB cable to access its content.
Click "Music" on the interface and your music will appear.
Click on the songs you wish to transfer and click "Export" to copy music from iPhone to computer.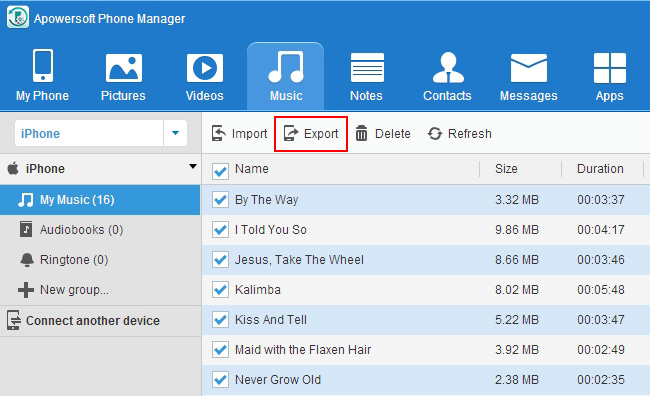 This is not the only feature that the tool offers as it also lets you easily transfer music to your device, backup files on iTunes, as well as manage files, applications and personal information.
Method 2: Copy Purchased Songs from iPhone to PC
The next method would make use of iTunes on your PC. If you purchased music on the App Store using your device, they are not automatically backed up on iTunes installed on your computer. You can always sync as you normally do. You also have the option to manually copy music to your computer. Here are the steps on how to do this.
Connect your device to your computer using the USB cable.
Launch iTunes on your PC, click the "Store", click "Sign In" and enter your Apple ID and password to log in.
Click the "Store" once more and select "Authorize This Computer".
Click "Files" tab. Under "Devices", select "Transfer Purchases from iPhone" to copy purchased music off iPhone to computer.
Method 3: Use the Professional Desktop Software
The last option on our list is Apowersoft Phone Manager. It needs to be installed on your computer but it doesn't require Internet connection to function, which is not possible with the online tool. If you are not connected to the Internet, Apowersoft Free Online iPhone Transfer would not work. Plus, transferring of files could be affected if connection is intermittent.
Apowersoft Phone Manager has a user friendly interface making it easy to use. It lets you copy all or selected music on your device to your computer. It doesn't matter if you don't know how to copy songs from iPhone to PC because you can quickly familiarize yourself with this application. After connecting your device to your computer, launch the software. Click on "Music" and then select the songs you wish to transfer. Click "Export" and choose where you wish to save. You can also transfer music from PC to iOS devices by clicking "Import".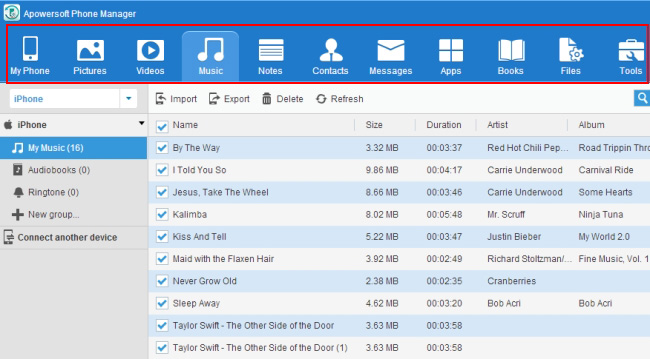 There are more features that you can enjoy using Apowersoft Phone Manager. You can import and export other files like photos, videos and contacts; detect and delete duplicate contacts, manage files and applications, and mirror iPhone screen to PC.
Conclusion
After discussing the three methods, we can now conclude that Apowersoft Phone Manager is the best option to copy iPhone 5S songs to new computer or transfer music from any iOS device to PC. While the first method is free, it requires Internet connectivity .The second option only transfers music purchased using your device. The third option can be used offline and it also gives more options and features.