When you're sitting in front of your computer and you get a text message, wouldn't it be much easier to use your PC to send a quick reply instead of constantly switching between your computer and phone? While your Android mobile device is connected to your PC, it's easier and faster to use your computer's keyboard to type text messages. Plus, you can also search messages in all folders, preview, edit, copy-paste, and print any texts. If you need to send a long and thoughtful message, you can do so more carefully on your PC where the message is displayed on a larger screen.
There are various apps specially designed to receive and send text messages from PC. Find out how to send SMS from PC to mobile with the use of two of the most popular apps listed below.
2. SMS Center
Apowersoft Phone Manager to send SMS to mobile from PC
Apowersoft Phone Manager is actually more than an SMS app that sends text messages from PC. It's a versatile, well-rounded utility that lets you manage all of your texts, phone contacts, pictures, and other media files. It's fully compatible with all Android mobile phones on your Windows PC.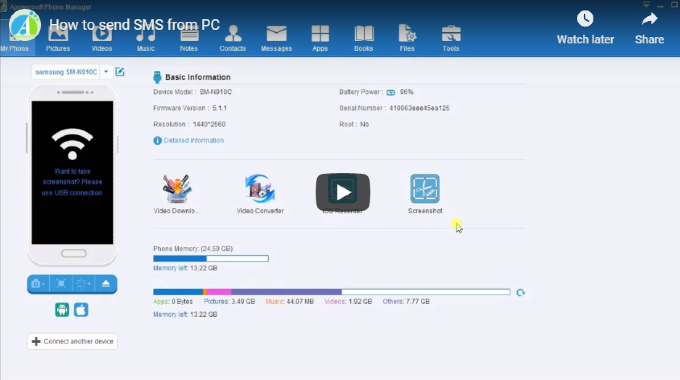 The simple steps of how to send text messages to mobile from PC by using the app:
Step 1: Download this software and connect your Android phone to computer via USB cable.
Step 2: Click "Messages" tab to enter into SMS windows.
Step 3: Click "Send messages", choose your contacts for sending SMS and then type your message content.
Step 4: Click "Send" button after finishing your messages. When you receive SMS from others, you can give a quick reply by clicking "Reply".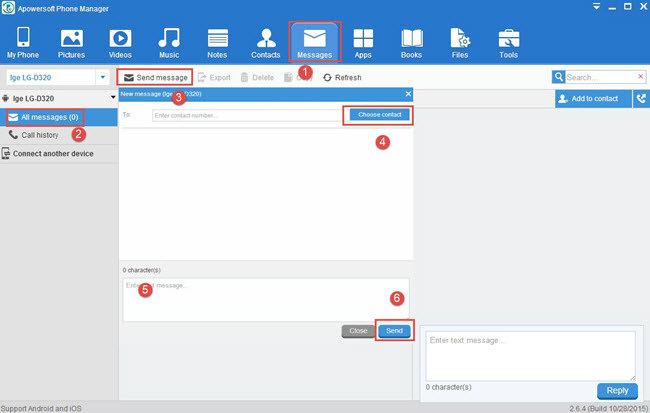 Below are some other key functions of this tool:
Send, receive, and manage SMS on your PC – It lets you manage all of your text messages on your desktop. You can also export and save important messages that you don't want to lose and receive SMS on computer.
Send bulk SMS from PC – An outstanding feature of this app is the bulk SMS function that lets you send a batch of messages to multiple contacts. This feature certainly saves you plenty of time and efforts.
Sync all media files – This software doesn't simply sync messages and contacts; it also syncs all of your media files including photos, songs, and videos which you can preview and play on your PC. With this feature, it's much easier and faster for you to organize and delete bulk files.
Organize contacts – The app helps you manage phone contacts by adding, grouping, deleting, editing, importing, and exporting contact entries. There's no need to worry about losing valuable contact information because the app backs up your data.
Manage call logs – Apowersoft Phone Manager allows you to check call logs and delete unnecessary items.
Control apps – With this app manager, you can install, uninstall, backup and export apps. You can also move them to an SD card.
Seeing the selection of features that it offers, Apowersoft Phone Manager is clearly a functional and useful app to send SMS from PC to phone, and to manage your Android apps and files on the whole. It's not buggy and unstable so it's a well-recommended app.
SMS Center – Send SMS from PC
SMS Center enables you to freely create, send, and receive texts from your PC via connected Android mobile phone. You can connect via USB cable, Wi-Fi, or Bluetooth. The application remains active in the task bar, which means you'll receive a notification and quick preview whenever there's a new SMS or call.
Here are the main features of this app:
Send SMS – The app lets you check your messages with its spell-checking function. You also have the option to receive texts simply as email messages, and you can create notes or appointments by right-clicking on the SMS item.
Synchronized folders – Once the desktop application connects with your phone, all of your SMS are automatically synchronized. You can manage SMS through PC.
Search, print, or export to archive – The app comes with a search function that lets you browse texts in various folders and print them. You may also export your messages to an XML file, or save a backup and add them to an archive.
Call function and phone profiles – The app lets you call any contact and switch between different profiles while your phone is connected.
SMS Center offers useful features to send text message from computer to cell phone. However, the main drawback is that the app tends to be buggy. Some users complain that the app frequently gets disconnected or rebooted. Other users find it hard to connect their Android phone with the desktop application, particularly through Wi-Fi and Bluetooth. It appears to be a good app but not guaranteed to work well on all types of Android devices.
Comparing SMS Center vs. Apowersoft Phone Manager
SMS Center has interesting features but the connection tends to be faulty and unstable. Apowersoft Phone Manager, on the other hand, offers a wider scope of features and it performs excellently. Between the two apps, Apowersoft is the better application to use to send SMS from computer to mobile phone.