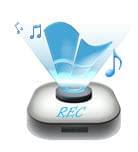 Audio recorder is indispensable for music lovers who want to enjoy their favorite music offline free of charge. With it, any music that can be found online is able to be recorded and saved as an audio file on your computer or other portable devices. However, there are too many options that many people to some extent face a dilemma as to which one they should pick up appropriately at the very beginning of recording.
How to record audio with the most suitable program? Luckily, for Windows users, the problem alike should not bother them as top two free Windows audio recording software have already been provided to help them record audio with ease.
Record Windows Audio with Sound Recorder
Sound Recorder, the Microsoft utility comes with operating system, is availability for all Windows users. You can open up the application by hitting the Start button, typing Sound Recorder in the search box, and hitting Sound Recorder from the list of results. Then, click Start Recording to have the app work out and Stop Recording to save the recorded audio file on your computer.

Basically, the app would meet your simple demand of record. But sometimes the limited and single function of the application did bring inconveniences for windows users. Amongst, it only outputs audio files in WMA format, which sometimes has to be converted before playing on portable devices such as iPhone, iTunes.
Use Apowersoft Online Audio Recorder to Record Audio on Windows 7/8/vista/XP
Likewise, Apowersoft Online Audio Recorder is a free Windows audio recorder that provides versatile functions on web-based services. Rather than simply free record audio for Windows, it has other practical features to satisfy users who have further requirements during the process of recording.
It records and saves audio files in various formats. Although the default format is MP3, you could go to Options under Tools tab to change it to other formats including OGG, WMA, WAV, and AAC before recording.
It allows you to record system sound and microphone sound respectively or simultaneously. Whichever audio input you choose, the audio quality is guaranteed to be clear without noise.
It supports you to create schedule tasks. That's to say, the app would automatically work out at a specified time as long as you have set the start time and stop time (the duration).
It has a built-in audio converter. You are allowed to convert recorded audio formats on various targets including WAV, MP3, FLAC and RA.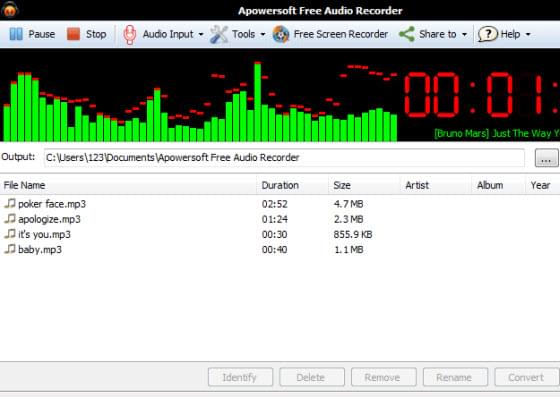 The application freely serves for professional grade audio. The only thing you need to do to access to the application is to open the link above and click Start Recording button. Hardly when java applet has initialized, the application works out without additional registration and downloading, completely safe and clean. With its concise interface, even a novice could have a clear idea on how to operate it and get what he or she wants.
The application keeps pace with the upgrade of Windows OS. Only if the network stabilization was not so bad, it would be the most appropriate software to record audio on Windows 7 or other editions of Windows OS.
To any Windows user, both applications works great to record Windows audio that can be online music, online radio or any other sound that you hear from your computer. And importantly, you are suggested to only record non-copyright audios. To use both, you need to install a sound card and speakers or microphone on your computer before starting record, and use a media player program on your computer to play the saved file after finishing it.