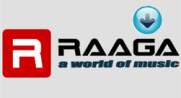 Online music providers are now making their entry to the mainstream, and one of these sites is Raaga.com. This melodic site is one of the leading music pages that provides top of the line Asian melodies like Hindi, Tamil, Telugu and Malayalam in particular. However, enjoying music from this site is only good as long as you are connected online while transferring to other devices is not applicable. This is also the reason why many music lovers find a way to download Raaga songs for enjoying offline. But what is the best way to do it?
Online solution – Apowersoft Free Online Audio Recorder
One of the best ways on how to download songs from ragaa is by utilizing an online application such as Apowersoft Free Online Audio Recorder. This fantastic web based application is powerful enough to capture any Raaga music that you wish without altering its quality. In addition, it has an easy to use interface, and has other interesting features such as task scheduler, a built-in converter. It also works perfectly with well-known internet browser across the web.
Here are the four simple steps to on how to download music from Raaga:
1
Open Apowersoft Free Online Audio Recorder and hit the "Start Recording" button. Just wait for few moments till the Java applet loads completely and a recording tool opens afterwards.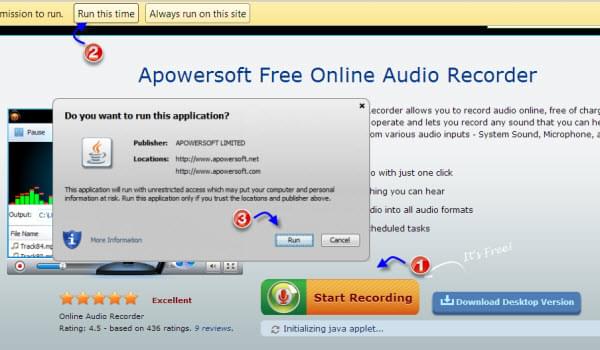 2
When the recording tool is open, you'll be given an option to choose which Audio Input you desire such as System Sound, Microphone, or both. For more advanced setting you can go to "Tools">"Options".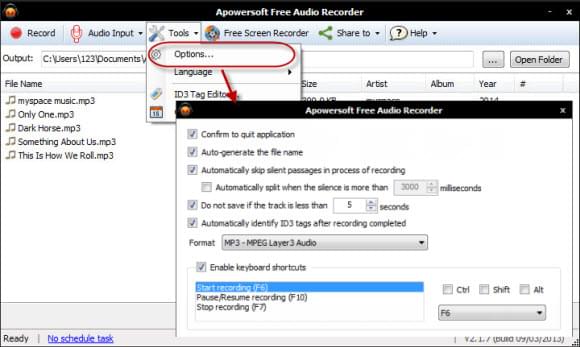 3
Now all you need to do is to hit the "Record" button. Then switch to the webpage of raaga.com and play the song you like. After that, a timer will pop out to give you and hint on how long your recording has been.
4
When you're done, simply click "Stop". You can also share it to various social media page as you want by hitting the "Share" tab.
Desktop program for Windows – Streaming Audio Recorder
On the other hand, if you prefer a more stable and well-rounded solution to download songs from Raaga, then a desktop program such as Streaming Audio Recorder is what you are eying for. After recording, this prolific program produces a high quality recorded output. Aside from the essential capability of grabbing music from sites like Raaga, Streaming Audio Recorder also has rich features that are beneficial for any music enthusiast. For example, it allows for easily searching and downloading songs. Plus, it has the capability to detect music info through built-in ID3 tag which is perfect for music organizing.
For saving online track using Streaming Audio Recorder, you can follow the steps below:
Install this application on your computer.
To start the recording just click the "Record" button.
Play the audio clip that you selected in raaga.com.
Once it's done, simply click the "Stop" button and your downloaded audio will be available instantly.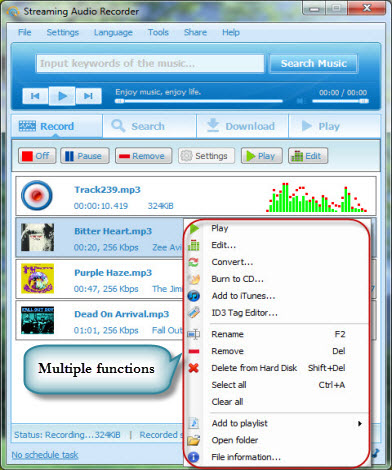 Moreover, after recording what you want, you will also have the options to convert recorded music to another audio format which is quite beneficial to them. You can also add it directly to their iTunes for better management. However, if you like to have hard copies then look for the "CD Burner" function. If you are not satisfied yet, then you can edit the music file by trimming, adding and mixing it via built-in editor.
Desktop program for Mac – Apowersoft Audio Recorder for Mac
Since the above deasktop program can only be used on Windows, so if want to download songs from raaga.com on Mac, then Apowersoft Audio Recorder for Mac would be your best choice. As the name described, this program meets all needs of Mac users on recording audio from anywhere. Furthermore, this compact tool supports wide range of audio formats, has a fantastic ID3 tag identification for labeling audio tracks and have more valuable functions for you to explorer.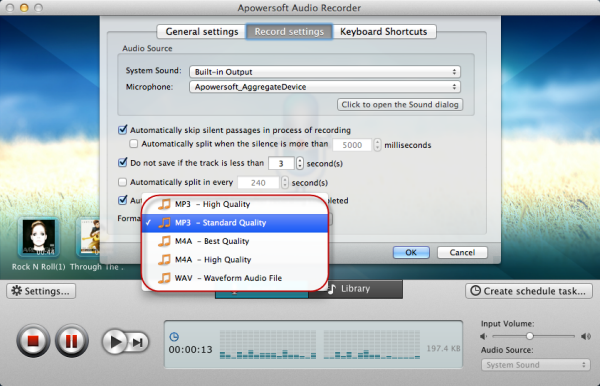 In recording audio file with this program you can start by launching the audio recorder. Then you can select the settings that you want for your audio output. Now choose from system sound, microphone or both as your audio source. Once done, you can begin recording by tapping the record button and click it again when your finish. Just take a download and give it a try!