YouTube-MP3.org is a popular online service that converts videos to MP3. As a platform-independent tool, it can be used on Windows, Linux, Mac and mobile devices. Thanks to its simple interface, it is intuitive and easy to use. You'll find the URL box at the center of the page, and below that is a short description of the service. You can also choose your desired language from the options below the description. Because of its user-friendliness, it's one of the best web-based applications to use, if you need to convert videos quickly and free. All you need to do is copy the YouTube video URL, paste it into the address field, and click "Convert Video". Then, the video will be converted to MP3 audio file.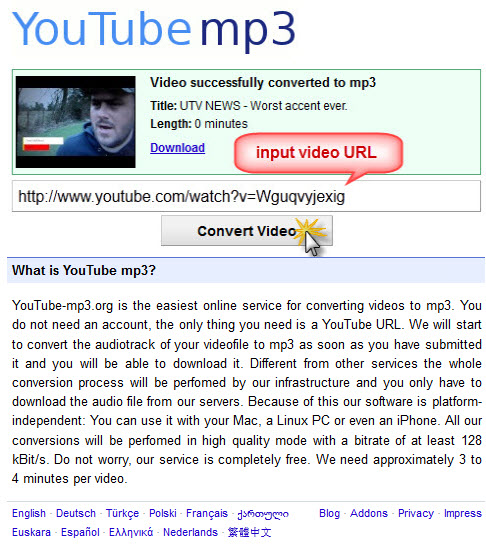 Still, the site has several downsides. The most common complaint of users is that the server is always busy, and it sometimes fails to work in attempting to convert YouTube to MP3 which can be frustrating. Also, Google warned the site, thus, the site no longer works on Google Chrome. Some users question its safety and stability because of this issue. Another disadvantage is that it outputs all MP3s in one quality standard.
After reading this short YouTube-MP3 review, surely you will learn more about the situation of this site. If you've already tried it and YouTube-MP3 not working for you, there are many other good websites like YouTube-MP3. Listed below are recommended video to mp3 converter applications that you can use.
Alternatives to YouTube-MP3
There are online services and desktop applications can work even better than YouTube-MP3. According to your needs, you can select the preferred one.
Best Website Like YouTube-MP3
Apowersoft Free Video to MP3 is a great solution to your problem. Like YouTube-MP3, this online service is easy to use, plus, it offers more features. Aside from converting videos from the web, the application also lets you convert videos from your PC. What's more, you can use keywords to search any streaming music videos for converting to MP3, and you also can play videos before downloading the MP3.

With Apowersoft Free Video to MP3, you can convert any online video into various output formats. It means that you are not limited to YouTube videos, but also can convert Vevo, Yahoo, Vimeo and Dailymotion video to all the audio formats. To save MP3, all you need to do is to bring video URL to assigned area and click "Convert" button, choose an output folder and download MP3 to computer. It also works well with all types of operating systems and web browsers. The site is completely clean and virus-free, and it doesn't require service subscriptions or plugin installations.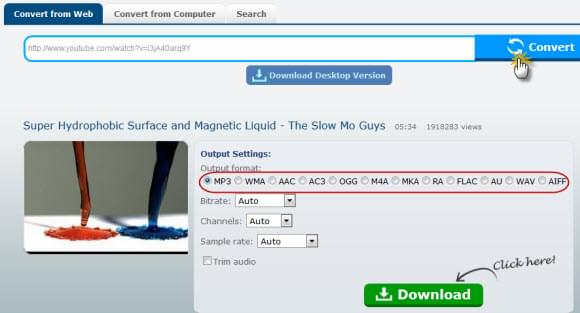 The only drawback is that the tool can't convert videos in batch, and the speed is limited since it works on the browser directly.
Best YouTube-MP3 Alternative Software
Streaming Audio Recorder is a program dedicated to record audio from your PC's sound card and microphone. It can record streaming audio and convert it into a wide selection of formats in fast speed. You can also search and download songs and edit audio files. The main advantage of this tool is that it offers a lot of functions and features for finding, recording, editing and converting high-quality songs. You can even convert videos to mp3 in batch, rather than one by one. In addition, the software is compatible with both Windows and Mac OS, which means you can use it as YouTube-MP3 for Mac.
Streaming Audio Recorder offers two methods to convert videos to MP3. The first one is by recording audio from your computer's sound card. Just stream your selected song while the program is open, and click "On", "Pause" or "Stop" buttons to control audio recording. You can also make the settings to save the audio to other formats like WAV, WMA, AAC and etc.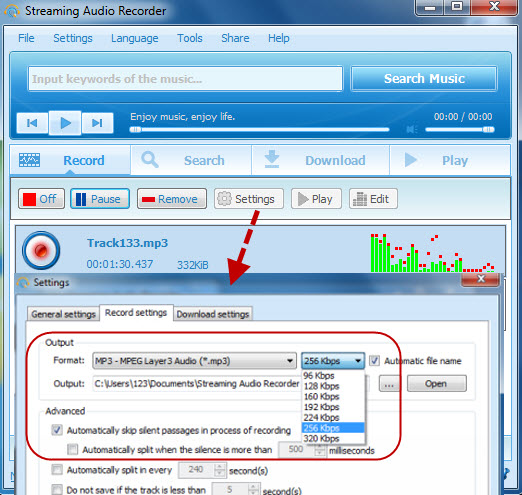 The second method to extract MP3 from Video is by utilizing "Video to MP3" function. Click "Tools" and choose "Video to MP3" item, then a window will pop up. Just copy and paste the video's URL into the link space of the window, and choose the target audio format. Click "Add to Download" to convert video to MP3. If you wish to convert several videos efficiently, just repeat the operation and add more videos to convert.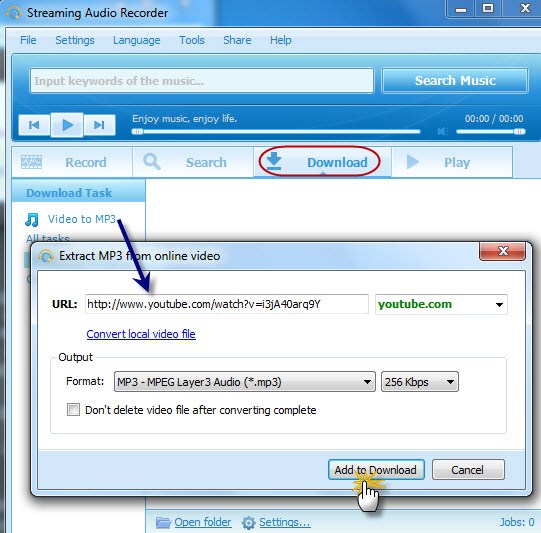 Above introduced tools are both safe, effective and reliable. Apowersoft Free Video to MP3 is one of the top sites like YouTube-MP3 since it is simple and powerful. The site offers basic functions like converting online videos and local files to MP3 and searching music. However, if you need more features like batch convert videos to MP3, recording and editing audio, then Streaming Audio Recorder is the choice to go. It's the perfect companion for audiophiles, as it provides plenty of useful functions.
About using YouTube MP3
FLV delivery sites like YouTube have strict copyright policies, so it's important to keep in mind that any MP3 that you download via online sites like YouTube MP3 should only be for personal use. You must not distribute downloaded MP3s, because it may be considered as copyright infringement. So long as you keep it for personal use only, you can use YouTube-MP3 similar sites and programs to get your desired MP3 songs.