With the sudden increase of portable media players and music-capable smartphones, the demand of downloading MP3s online has also risen up the top. Today, music streaming and downloading websites can be easily spotted on the internet. One website which particular offers high quality music with free downloadable audios is Dilandau. To know more about this website, read this Dilandau review below.
Dilandau houses a large music collection from popular singles to complete album of known artists. The website is very easy to use and all MP3s can be downloaded totally free of charge. The MP3s are collected from a variety of website, and each of them features important details such as complete name, source, size, and music quality. According to the need, users can stream music, download music or get the code to embed music on other forums or blogs. Besides, users are allowed to vote for their favorite artists, songs or music quality.

However, Dilandau is not the perfect MP3 website to visit if you want an adware free browsing. When streaming audios, you will be prompted to update your music player or install similar programs. Also, a rising number of users are reporting that this site suddenly stops working out of nowhere. The worst thing is that, depending on the country you live in, Dilandau may not be accessible due to the geographical restriction. These problems push MP3 fanatics looking for other websites that function the same if not better than the former.
Part I: Top Dilandau similar sites
Part II: Best Dilandau alternative program
Part III: Smart mobile app like Dilandau
Top 3 Music Downloading Sites like Dilandau
1. Free Video to MP3
More accessible and globally available on all parts of the world, the Free Video to MP3 is a totally free music streaming and downloading website where you can find tons of songs. This site has perfectly integrated a music search engine and direct audio downloader together to enrich your music collections completely. You can search songs by entering related keywords such as title, artist, album and download them. Or, just switch to the "Get from Web Videos" function, input URL to extract music from online flash video.
Watch the video to get a better understanding of this app if you have interest.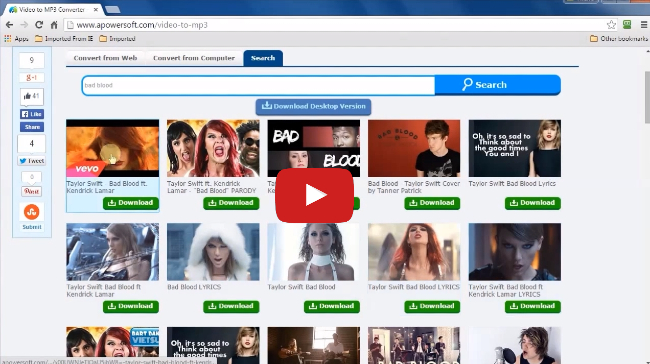 What's great about this Dilandau alternative is that there are no limits when it comes to music downloading. You won't be required to register or log in the site either. Moreover, Free MP3 Downloader is very safe to use with no viruses, malwares, spywares or even adwares.
2. Emp3 World
Another free and powerful music downloading site is the Emp3 World. Their website might not be visually attractive, but searching songs is easy. Just type keywords into the search bar and click "Search" button, you will then be presented with matching results. Then, all you need to do is to hit "Play" to stream contents online or "Download" to save the audio to your hard drive.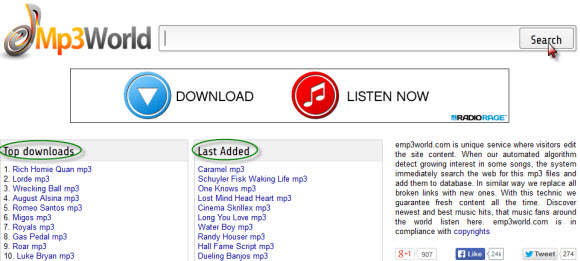 There is also an option to download the full album but better be warned that clicking the link will redirect you to another MP3 site. Categories like top downloads, lately added and trending now are similarly available on the right pane of the website.
3. Kohit
Tons of websites like Dilandau can be found online, and Kohit is a decent one among them. Kohit is not as popular as other music sites but it offers a pretty vast array of songs in different categories. Find a certain songs is nonetheless easy, you can use the search function or explore the menu category on the left. To download music from this site, you should right click on the songs title and choose "Save target as" from the popup menu. Then, specify the folder for placing the song.

What makes Kohit different from the others is that the site will provide lyrics for MP3. You can either click "Lyrics Archive" on the left or navigate to the bottom page in order to find your wanted lyrics.
Powerful Dilandau Alternative Software
If you want an all-in-one program that beyond an essential music downloader, giving you extreme functions of music downloading, audio recording, ID3 tag, file conversion, music edit and CD burning, you're in good hands with Streaming Audio Recorder. You can utilize this software to download high quality MP3s within its built-in music engine or record sounds playing from your computer or microphone. Additionally, the program is able to extract MP3s out from online videos. It supports YouTube, Dailymotion, MySpace, Vimeo, Yahoo Music, and all others.
Streaming Audio Recorder is super simple to use, just follow the steps:
Download and install the software.
Run it, then you will see a search bar on the top of the interface. Enter related keywords in it and hit "Search Music".
Choose your desired song on the results page by ticking the box.
Click "Download" button to save the song.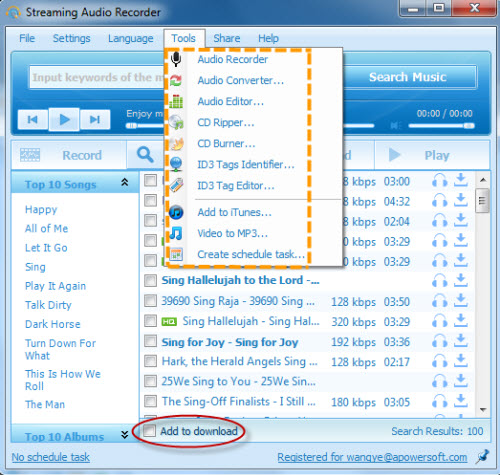 Better than sites like Dilandau, the software lets users download music in batch. After downloading, you can play the songs with the built-in audio player. Or, you can transfer the audio files to iPhone, iPad, iPod with the "Add to iTunes" function.
Best Dilandau Similar Mobile App
With an installation size of just 866K, Bearshare Music MP3 is not a website for downloading music but an android application meant to save audio contents from web to your mobile. It requires android versions 2.2 and up with an overall score of 4.3 stars. The app is freely available on Google Play Store.
With Bearshare Music MP3, you can search, play and download music straightly on your device. An option to save contents on your SD card for offline playing is available. And downloaded audio can be set as ringtone easily.