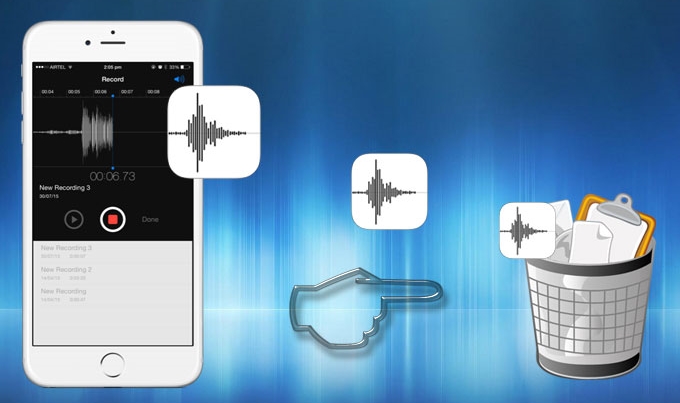 There is no doubt that iPhone is one of the bestselling smartphones of all time. It is technologically advanced, powerful, complete, sleek, beautiful and filled with convenient features. One feature of iPhone that many users love is the voice memo. This handy digital voice recorder can be used in many ways. You can use it to record lectures, interviews, songs, playing music, your own voice, as a quick reminder and all others. And depending on your iPhone's memory, you can save literally thousands of voice memos.
Though, saving hundreds of voice memos on your phone takes a huge space on memory. Additionally, low memory of iPhone can cause lags, hiccups and operating bugs. If you want to delete a couple of voice memos on your iPhone, you can do it so without problems. But if you have tons of them, you cannot delete all voice memos from iPhone at once. You will need a special tool or equipment to make mass deletion of voice memos possible. Know more about them after the jump.
Solution 1: Delete A Voice Memo on iPhone manually
Those who need to delete a limited number of voice memos on their phone, say 20 below, you can manually erase them as easy as counting 1-2-3. All you need to do is:
Open the Voice Recorder App by tapping it on the main menu.
Locate "Options" then tap "saved memos".
Individually tap the "saved memos" you want to erase.
Option window will appear and click "Delete" on the bottom part.
When the message is prompted, tap "Delete Voice Memo" once again.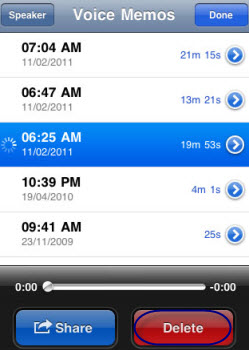 Bear in mind that you need to do this whole process over and over again to be able to delete all your saved memos. But what if you have hundreds of voice memos – clearly this will eat up all your time, energy and patience.
Solution 2: Delete All Voice Memos from iPhone by using iFunBox
For those wanting to delete considerable amounts of voice memos saved on their iPhone, you can use the iFunBox to make things easier. iFunBox is an app installer and file manager,which is freely available for downloads on both Windows and Mac platforms. What makes the iFunBox indeed practical to use is that it supports all iOS devices jailbroken or not.
To remove voice memos from iPhone all at once, simply:
Download and install iFunBox on your Windows computer or Mac.
Connect your iPhone to PC using USB cable.
Open iFunBox and on the left side, go to "Voice Memos".
Select all the files (not inside the Sync folder) that need to be removed.
Right click on the item and click "Delete".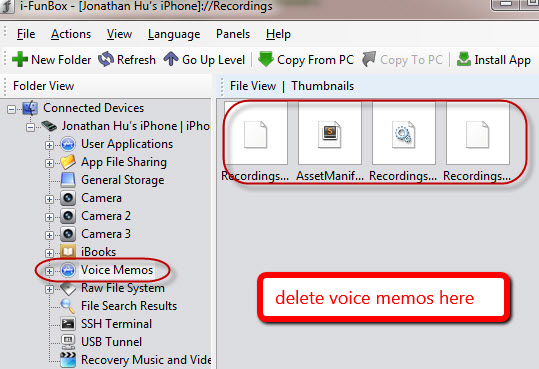 You can also do this on iTunes to ensure all memos are deleted whether on your device or on the cloud. iFunBox is very easy to use – it comes absolutely free and works well on iOS devices. However, this application doesn't remove voice memos forever, there's a chance that they can still be recovered. Please move on to next solution to have a better solution on it.
Solution 3: Permanently Remove Voice Memos from iPhone
With the help of iPhone data cleaner, you don't need to worry about how to delete voice memos from iPhone even if there're hundreds of them. Rather than an ordinary data eraser, it deeply cleans your iPhone to avoid privacy leaks and to eliminate data recovery. This iPhone Data Cleaner works with iPhone, iPad and iPod. Moreover, it runs from carrier locked to jail broken iOS gadgets.
With iPhone Data Cleaner, you can erase not just voice memos but also pictures, videos, SMS, messages, contacts, call logs, emails, notes, reminders, saved IDs, account info, passwords, system settings, financial data and more. The iPhone Data Cleaner offers two erasing modes with three data erasing levels – low for fast wiping off of data, medium to overwrite both existing and deleted files, high to remove passwords and other personal info.
Follow these steps below to erase voice memos on iPhone:
Download this desktop program on your computer.
Connect your iPhone to PC using USB cable and run the program.
Choose the right data erasing mode and data erasing level.
Click the "Start" button and wait until wiping process completes.
Hit "Done" to safely remove your device.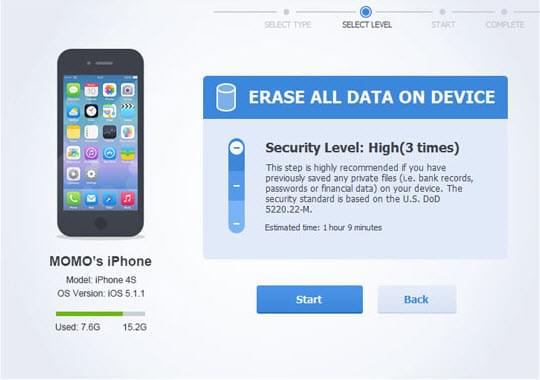 With this tool, how to delete voice memos from iPhone does not only come easy but moreover secure. This tool offers zero possibility of recovery, making sure that your sensitive memos are completely removed upon deletion.
Whether you want to delete a voice memo or hundreds of saved recordings on iPhone, you can use the above tricks to make the whole process easy. Although, keep in mind that iPhone does not guarantee of utmost safeness in deletion. Users with very private as well as super sensitive files are advised to use a professional data cleaner.