Ask
I am a big fan of WhatsApp because it allows me to continuously communicate with friends and families while saving tons of cash without sending messages by text plans. However, my iphone's memory is occupied by chat records quickly and I want to remove old WhatsApp chat history and messages to save some space. Is there an easy way to delete WhatsApp messages from iPhone?
Answer
WhatsApp is an instant messaging system that can send and receive messages, photos, videos, stickers, emoticons and all others straight on your phone. It's like the usual SMS and MMS but the only difference is that it lets you send messages without text plan, instead it send messages by connecting to the internet via Wi-Fi or data plan. WhatsApp is free to download and use, making it a worldwide hit to many iPhone users.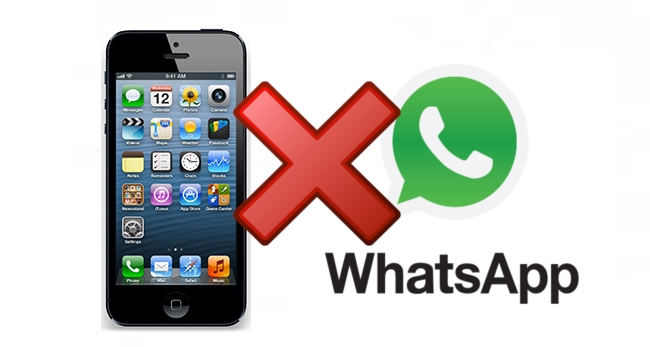 However, using WhatsApp for a long time can occupy a huge amount of space on your iPhone. Do note that archived messages and long conversations are directly stored on your device. If you want to save some space, protect your privacy, clean up your phone and prevent others from checking out your conversations, you can safely delete all chat history in WhatsApp on iPhone. Here's how.
Solution 1: Delete Messages or Chats and Account in WhatsApp on your iPhone
Removing a single message in a conversation
If you only wish to delete a single message from a conversation or group chat, all you need to do is:
Open the conversation or group chat containing the said messages.
Scroll up until you find the "Edit" button, tap it.
Select the message you want to remove by clicking it.
On the bottom page of the screen, tap the "Trash icon" to safely remove the message from your device.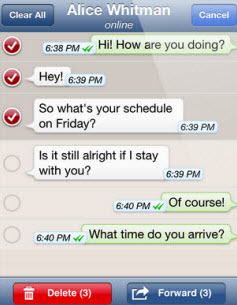 Clean an entire conversation on iPhone
For those who wants to remove an entire conversation or group chat in WhatsApp, simply:
Open the application on your phone and head on to the "Chats" section.
Slide your finger across the chat or conversation you want to erase from right to left.
A delete button will appear and tap it to completely erase the conversation.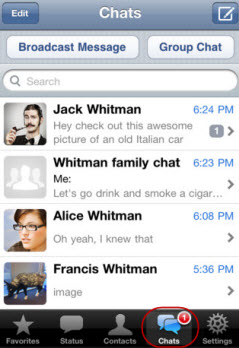 Delete all chat history in WhatsApp
You can also delete all chat history in WhatsApp on iPhone by following these steps:
Open WhatsApp on your iPhone then go to "Settings".
Scroll to the bottom of the page until you find "Clear all conversations".
Tap it to delete all your chat history.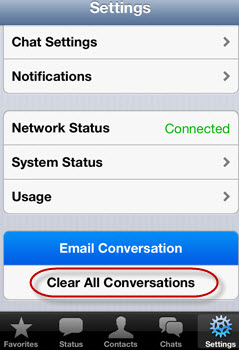 Delete your WhatsApp Account on iPhone
If you're no longer using WhatsApp's service, you can remove the account directly, so all messages will gone with it as well. That's to say, deleting your account means removing you and your friends list, deleting all your WhatsApp groups, erasing all your saved messages, deleting archived conversations as well as chat histories, and deleting service payment information. This way saves you lots of time.
To remove your WhatsApp account, you need to:
Make sure that you have the latest version of WhatsApp running on your iPhone.
Open WhatsApp then go to "Settings".
Head on to "Account" then "Delete My Account".
Enter your mobile number in full international format.
Finally tap "Delete My Account".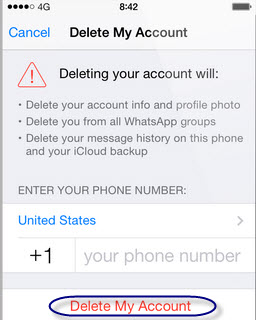 Although there is a disclaimer that deleting saved WhatsApp messages and account totally removes them from your device, there's still a chance to recover them with a third-party tool. If you want to safely delete WhatsApp messages from iPhone, especially your chat history and conversations, using a professional iOS data cleaner will help you most.
Solution 2: Permanently Delete WhatsApp from iPhone
The iPhone Data Cleaner can permanently remove different mobile stuffs easily and effectively. It can delete WhatsApp messages, pictures, contacts, system setting, bookmarks, account info, text messages and all others. This application works with all versions of iPhone, iPad and iPod Touch including carrier locked and jailbroken devices.
With this professional tool, you can choose from two erasing modes with three data erasing levels. Choose "Low" level if you want to delete files quickly, and "Medium" level if you need to overwrite existing and deleted files. The "High" level is for removing sensitive data such as account info or passwords. How to delete WhatsApp from iPhone using this application is very easy, you only need a few scrolls and clicks.
Download and run this program on your computer.
Connect your iPhone to PC using the supplied USB cable.
After your iPhone recognized automatically, choose the appropriate data erasing mode from the main interface.
To delete WhatsApp messages, select "Erase deleted files".

Data erasing window will appear and you can choose from low, medium or high.
Click the "Start" button and wait until wiping process completes.
Indeed, the iPhone Data Cleaner is one of the best tools you could ever use if you want to permanently delete WhatsApp from iPhone because it offers zero possibility of recovery. This only means that once data is deleted, it is forever erased from your phone with no chance of retrieval.
There are many ways on how to delete WhatsApp from iPhone. You can erase single messages, group chats or even remove your WhatsApp account. To give you utmost peace of mind and spot-on security, you can get a smooth, easy and safe deletion of WhatsApp data with the professional iOS data cleaning application.