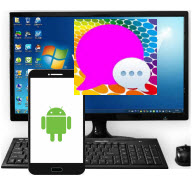 Have you ever been distracted by the SMS notification sound when you are absorbed in your PC screen? Have you ever been too indulged in your computer to forget replying to an important message? There are so many cases in the daily life where it requires us well dealing with the text messages. Are there any good solutions helping us receive text messages on computer? Yes, the following information makes a summary of top methods used to receive Android messages on computer, so that you can free from the distress brought by SMS.
Three Best Ways to Receive Text Messages on Computer
One of advantages that Android phones have is the ability to receive your messages on PC web browsers. Despite versatile iPhones, it does not enjoy such functionality itself. For Android users, as long as you trust your SMS to a third party app, you will read incoming messages on desktop even when your phone remains in your bag or pocket. Users have tried different programs which can get SMS on PC and the following three ones are reported to ranks top among other apps.
ApowerManager – Simplest way on how to receive SMS on PC
ApowerManager, as one of the best phone management software available on the market, is famous for its utility to receive messages on the computer. It is so multi-functional that it can transfer, delete, restore, backup mobile files including photos, videos, music, contacts, apps, bookmarks, call logs, wallpapers, etc on computer. If you often communicate with your families, friends or colleagues through text messages, then finding a good way to manage your messages is of big necessity. This phone manager will exactly satisfy your demand to manage your text messages. To get text messages on computer, you can take the following steps.
1
Download this phone manager from the internet and install it on PC.
2
Connect your Android to computer via USB cable after opening the USB debug mode. Or you can also connect Android via Wi-Fi. Before connecting, you need install Phone Manager App on your phone. Next you can connect by scanning QR code or entering verification code.
3
After you have successfully linked your smartphone with computer, as long as the phone receives SMS on computer, the phone manager will pop up a dialog box which shows the incoming messages.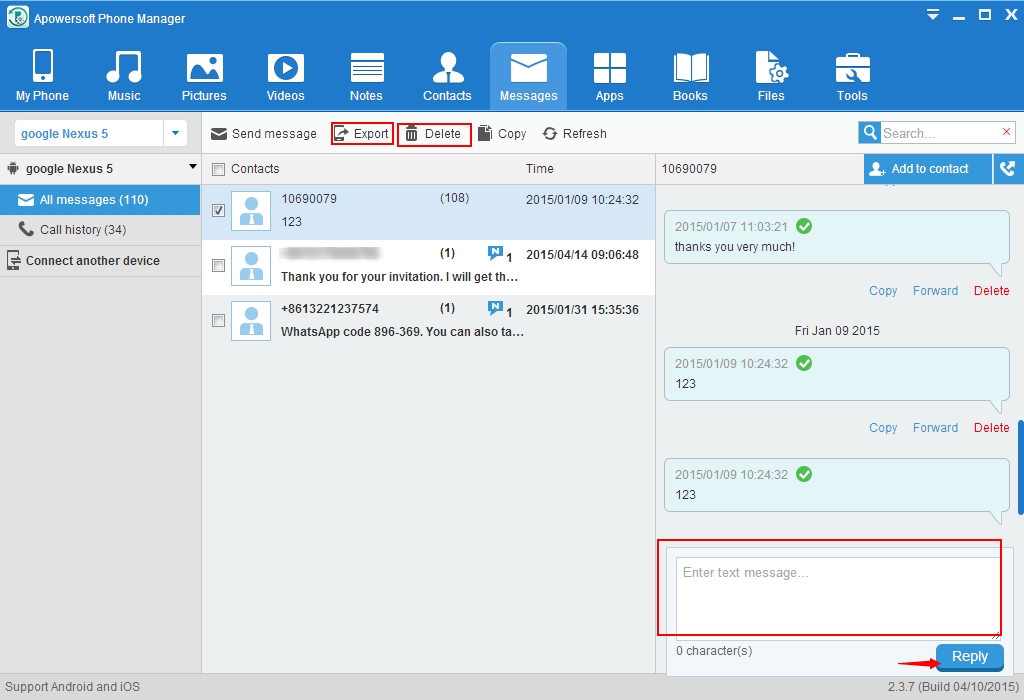 4
Disconnect your Android to PC by clicking "Disconnect" button.
You can watch this dynamic demo to learn how to receive text messages on computer.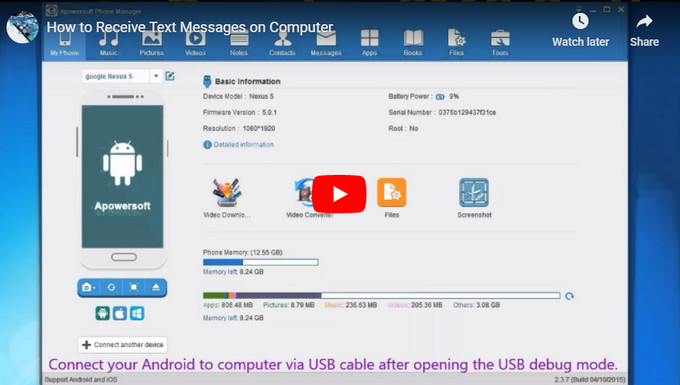 Pros: This magic tool is not limited to receiving SMS. You can text messages on PC and send it out without typing on your phone's tiny keyboard. With this program, you can send SMS from PC to Android Mobile. As above mentioned, this tool makes good message management, which can be used to delete unwanted text messages or backup them to computer in .xls or .xml formats.
Google Voice – Novel way to get text messages on computer
Google Voice provides users the option to choose a brand new number, free of charge or use your existing mobile number. If you import your number to Google Voice or sign up for a Google Voice number, you will have messages received both on the phone and Google voice. If you enable the option in your Voice settings, you can even receive messages as emails and reply it via email. With it, you can archive and search the whole SMS history.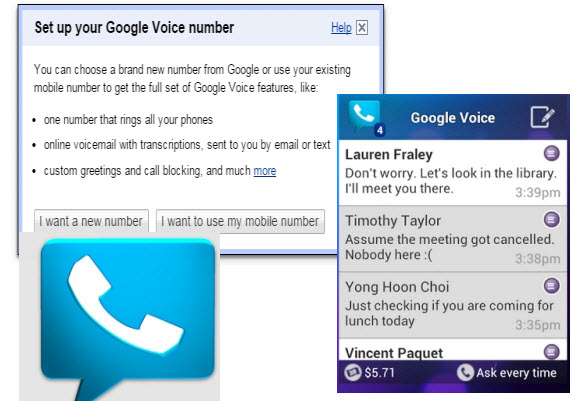 Cons: Google Voice brings us convenience as well as in convenience. It only enables phone numbers in the U.S. and Canada to receive text messages on computer. It generates strange "second numbers" for contacts with unfamiliar area codes, which probably creeps into the contacts. If you want to trade many picture messages, please note only those who port numbers from Sprint or T-Mobile can have SMS sent using Google Voice.
MightyText –Fancy way to receive SMS on computer
MightyText is another app which can make you receive SMS or MMS from your current Android phone number on your computer. It keeps synced with your phone's SMS inbox. It inserts notifications function which lets you never miss the text messages or messages from apps like WhatsApp, Snapchat and Instagram.
Install the MightyText on your Android phone and Google's Chrome browser. Choose a Google account and then click "Complete Setup" button. Tap on the newly-created icon in the top-right corner of the browser and then sign in with your Google account.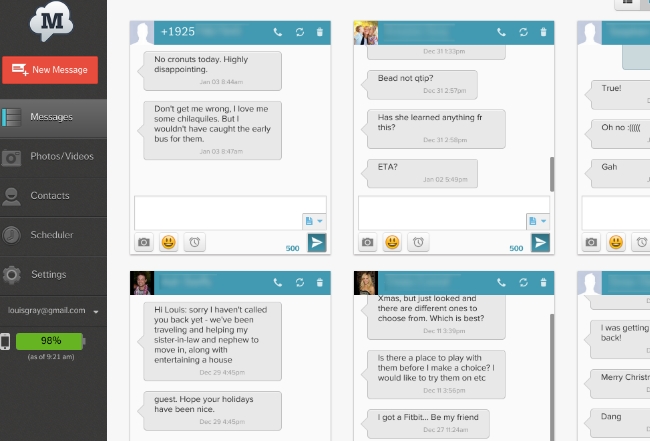 Cons: MightyText can store messages for up to six months, but it will not show the whole text messaging history. Besides, there's still a waiting period to get into the beta for the moment.
Text messages as a communication media play a vital important role in exchanging information among people. In order to keep synced with our messages, it indeed has a big necessity to learn how to receive text messages on computer. Of course, there are many other ways available on the internet to touching upon this issue. If you have interest in it, you can add more good methods for Android users.