Are you in need of automatically run specific programs and computer tasks at a given time, sounds convenient and indeed time saving right? While this might look like a very futuristic approach towards computers, this can be possibly done with the help of certain programs. If you want to run program automatically work related applications do system check-ups and backups etc, you can do it so by simply using task schedulers.
Task schedulers are small applications meant to run or do certain computer tasks at a given time. It is targeted for busy individuals who often spend tons of time in front of computer doing repetitive things. Depending on the application, you can use it to shut down or restart the system, open websites, open files, run programs, create pop-up memos, etc. For example, you can open the GoTo Meeting app and prompt you to join the meeting on time. Discover more about running program automatically by reading below.
Hassle Free Ways to Automatically Run Programs
Windows Shutdown Assistant
Don't be confused with its name because aside from shutting down your computer, Windows Shutdown Assistant can automatically log off, restart, hibernate system. Equally, it can run programs, open URLs, execute commands and open files at specified times. On top of it, you can use it to create visual reminders as well as personalized notes.
With this software, you don't need to be an expert on scripts or commands and schedule program to run, it is so easy to handle that even novice users won't get let anything hinder them in scheduling tasks.
After installing Windows Shutdown Assistant on your computer, you need to take the following steps:
Specify the time schedule in "Trigger" section.
Select the appropriate task as "Run File or Program" in "Actions". Click the button beside the "File Name", browse your PC and select executive file of a program.
Click the "Add to action list" button.
Create as many tasks as you want by simply repeating the steps above.
Click the "Start" button on the right to carry out the selected tasks.
When time is up, the certain program will be activated. You can leave your computer to work according the schedules.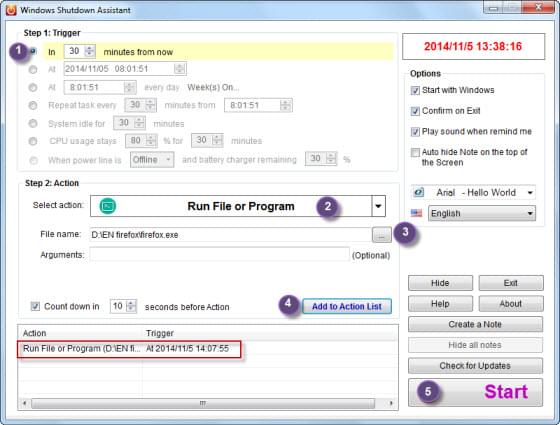 Aside from the fact that Windows Shutdown Assistant can schedule programs to run automatically, it is similarly equipped with other useful features you would truly enjoy. This software not only schedules time to activate a program, but also terminates the program as desired. At the same time, it is possible to add images to the visual break reminder, edit colors and fonts of notes, and many more. It comes fully compatible to all versions of Windows, from Windows XP to the newer Windows 8. In the same way, it has a multi-language interface for a more customary usage. Watch the demo to learn more about it.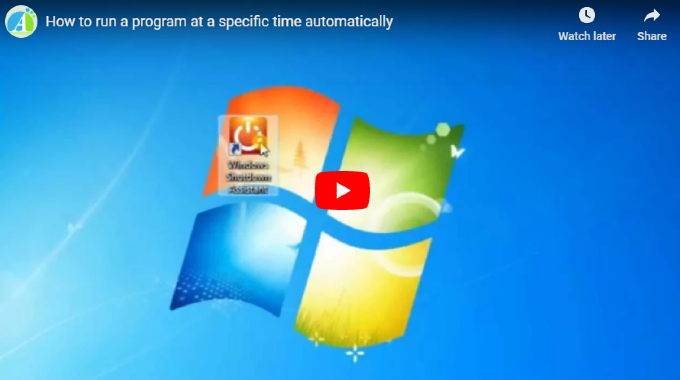 Windows Task Scheduler
First introduced on Windows 95, Windows Task Scheduler is a built-in feature of all Microsoft Windows Operating Systems. Being a native application, this tool needs not to be installed. You can use it immediately given that you have the Windows Service Pack already installed on your system. This nifty tool from Microsoft can automatically run programs such as notepad, email, or close running applications, display messages and shut down the system at user specified times.
Below is a simple tutorial about how to use it:
Click the "Start" button and on the search bar type in "Task Scheduler".
Open the application and on the right pane click "Create basic task".
Just follow the wizard and select the appropriate trigger and action. "Action" is the desired task that needs to be automated while "Trigger" is the specified time or event you wish the action to be activated.
Click the "Finish" button once everything is set.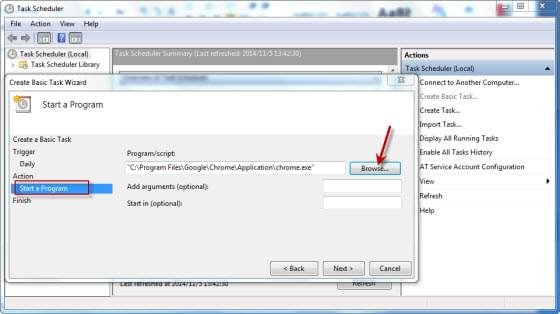 Albeit the fact that you don't need to install other applications or pay certain programs just to start tasks automatically on your computer, the Windows Task Scheduler has its own share of loopholes. First is that it can only offer a handful of actions, and the features and available triggers are limited. Additionally, running it consumes too much memory as well as resources, such drawbacks may cause frequent hangs, system errors, program freezing, bugs, error messages and all others.
Depending on your desires, there are many ways on how you can schedule programs to run automatically. For automating very basic tasks and programs, you can use the Windows Task Scheduler. But don't forget to check if you have the latest version of Windows Service Pack installed on your system. However if you need to automate particular programs to facilitate your works or need to open up webpages and files, using the Windows Shutdown Assistant will give you a flawless operation.