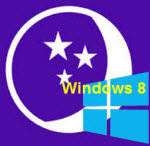 When it comes to power down a computer, Windows is very much known for its abundance of options. Depending on your needs, you can choose to shut down, sleep, lock, restart, or hibernate your PC. Amongst all, hibernate is indeed a popular choice for most users. This status of powering down saves the content of your PC while putting its hardware on a shutdown mode. In this way, you can save not only your laptop battery but electrical consumption as well without sacrificing the start-up response of your computer. It is easy to put a computer in hibernate mode, all you need to do is to press the shutdown button and select hibernate. However, how to enable hibernate in Windows 8 is yet another story.
With its new interface and tons of hidden options, users are having a hard time finding the hibernate option in Windows 8. Of course you can hibernate your Windows 8 PC but by default this option is not visible. You need to dig into the system deeper and change some factory settings to enable the hibernate option. Yet if you don't know how to make that power option visible, check out this easy tutorial below.
Enable Hibernate Option in Windows 8
How to bring out the hibernate option in Windows 8 is in fact easy, it doesn't require third party applications or special knowledge on Windows 8 operating system. Just hibernate Windows 8 by following the procedures:
Open up "Control panel" and click "Hardware and Sound".
A new list of options will appear and click "Power Options", tap "Change settings that are currently unavailable".
If prompted for user account control, click "Yes".
Scroll down to bottom and tick the "Hibernate" option checkbox.
Tap the "Save changes" icon to save your work.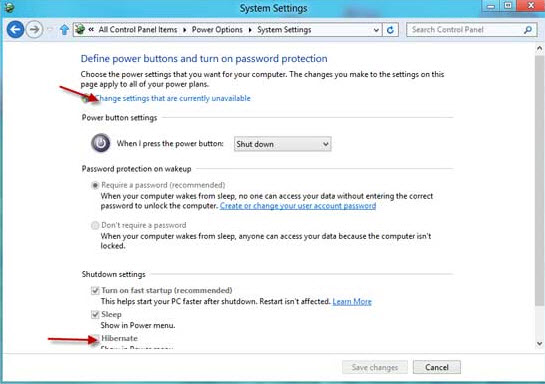 To access the hibernate option, open your "Charms bar" by swiping your home screen right down the edge or you can move the mouse pointer on the top right corner. From here you will see that the new option is now added.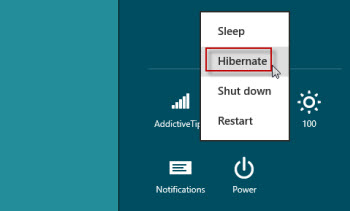 For on-the-go users and those with very little time tinkering their computers, there's an easy way around. See the next method.
Easy Way to Hibernate Windows 8 Computer
With Windows Shutdown Assistant, you don't need to tweak your computer's setting. This software can automatically hibernate your computer wherever you want. Depending on your desires, you can set your Windows 8 PC to hibernate at a given time or scenario like over heat, idle or no activity over a period of time. Furthermore, the software comes fully compatible not just on Windows 8 but to all versions of Windows from the old XP to the widely used Windows 7.
The Windows Shutdown Assistant is very easy to use, you can enable Windows 8 hibernate in two easy steps.
After downloading and installing it on your PC, open the application first, then:
Select the time in which you want your computer to hibernate.
Open the "Select Action" menu and choose "Hibernate".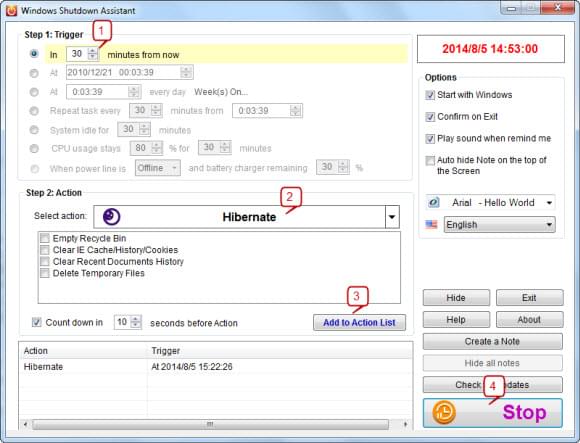 Do not forget to save the selected task by clicking "Add to action list" and "Start". Simultaneously you could also do other things such as automatically set your computer to shutdown, restart or sleep, select a certain program or application to run at a specific time, edit and personalize on-screen reminders and many more. Aside from the fact that you can easily hibernate Windows 8, you'll get to enjoy tons of other benefits from Windows Shutdown Assistant as well. It acts as your personal secretary which lets you automate many tasks with simple scrolls and click.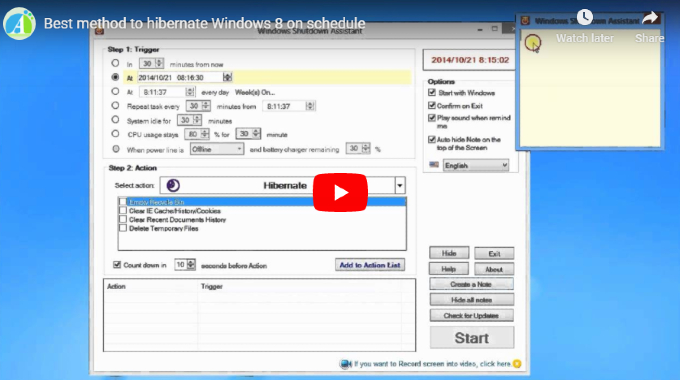 There are many ways to enable hibernate in Windows 8 and here shares the most commonly used methods. If you don't want to use third-party app, all you need to do is to configure the settings and add the hibernate option on computer. Yet for a more convenient and definitely feature-filled application, using Windows Shutdown Assistant will certainly make your computing experience highly expedient.