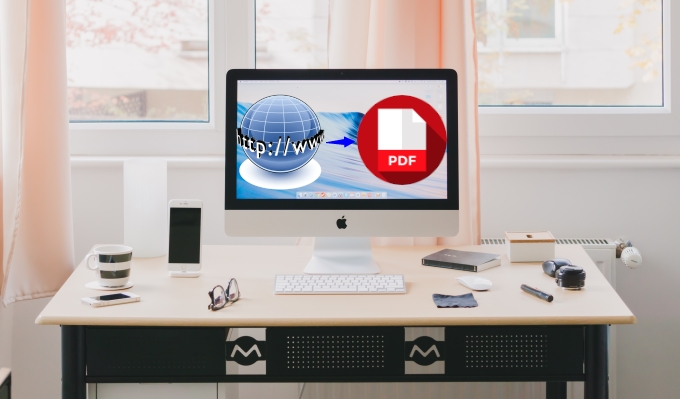 There are several occasions when you need to keep a copy of a certain webpage content that you can carry around and open it anytime you want to. To make this possible, all you need to do is to save webpage as PDF. However, not all of you are aware that it is rather feasible to actually finish this task. To shed light on this topic, here we are going to share the top 10 free ways with you.
Save webpage as PDF via browsers
Chrome
If you wish to save a webpage as a PDF document directly, then use Chrome. As we all know, Chrome is freeware internet browser developed by Google Inc. So far it is one of the most outstanding browsers that we have these days to browse the internet.
Moreover, this program also has the function to save a webpage and turn it into a PDF. By just replacing the destination of the page with "Save as PDF" and clicking on "Save", the program will instantly provide you with the PDF ready document that you can save onto your computer right away.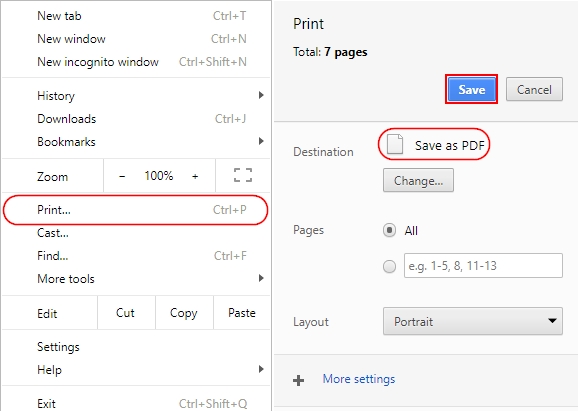 Internet Explorer
Another browser that you can use to save page as PDF is called Internet Explorer. This was the first browser that was released to the public in 1995. This browser was created by Microsoft and used to be a default internet browser for all computers that run on Windows OS.
To show how it can function as a PDF creator, simply click on "File" and then click on "Print". Now from the list of printers choose "Microsoft Print to PDF" and then click "Print". A window for saving the PDF file will pop up. It's a little bit tricky since this function is included in the list of Printer, but it works anyways.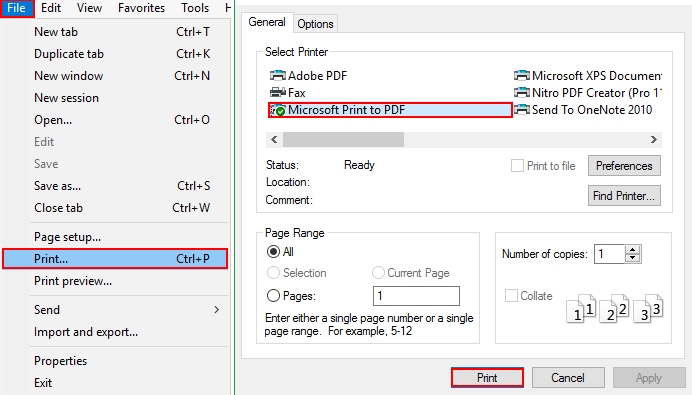 FireFox
If we talk of long-standing old timers, Mozilla Firefox or simply Firefox is one of them. This browser was created by the Mozilla Foundation and was released for public use 14 years ago. In addition to the basic functions that a browser provides, Firefox can also be used to convert your webpage into a PDF file. Just like the other browsers, the secret lies within the Print function. To do it, simply hit "Print" and click on "Microsoft Print to PDF" from the list of available printers.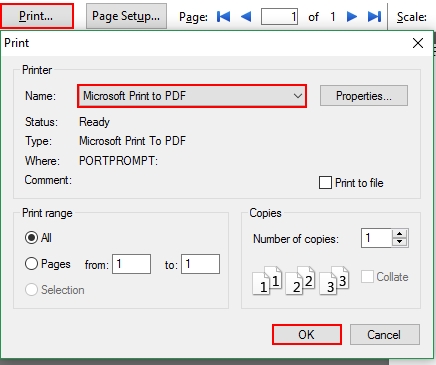 Microsoft Edge
If it happens to be that your PC runs Windows 10 OS then you might want to consider using the MS Edge to save a web page as a PDF. Many Microsoft fanatics are satisfied with this new browser since it has a more attractive look and runs faster than IE. Although the key functions are almost the same, including the function to save a page into a PDF file. The only difference is that with Edge you need to click on "More" and then choose "Print" and pick "Microsoft Print to PDF" from the list of printer. A PDF file will then be generated instantly. Afterwards all you need to do is to hit "Print" and then save the file into any folder that you prefer.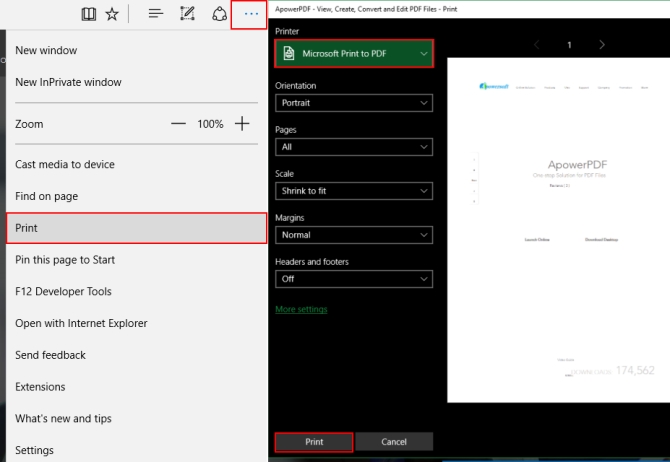 Save web page as PDF via online services
PDFy.net
If you don't like to use the browsers to convert webpage into PDF, then you can try one of the online applications. PDFy.net is a web-based program that offers various PDF converting functions such as WEB to PDF, HTML to PDF and JPG to PDF. To use the program, just click on the "WEB to PDF" function and paste the URL address of the page that you want to process and then click on "Convert". Wait for until the process is completed to download the file directly into your PC.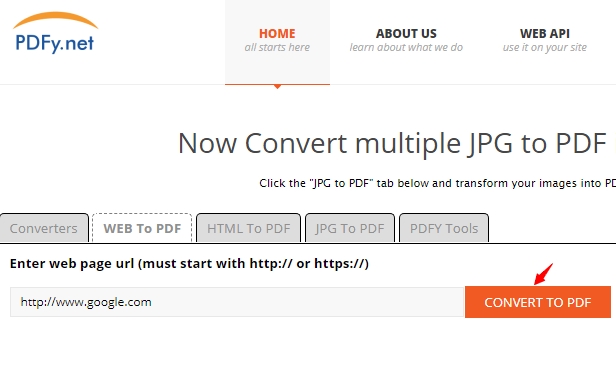 Web2PDF
Another online app on our list is Web2PDF. Its interface is very straightforward with just a URL box and a convert button. Anyone can use it without any hesitation or confusion, all they need to do is placing the copied URL address of the site to be converted on the box provided and then clicking on "Convert". In case of saving the converted file, you can keep it directly on your computer or upload it onto cloud storage.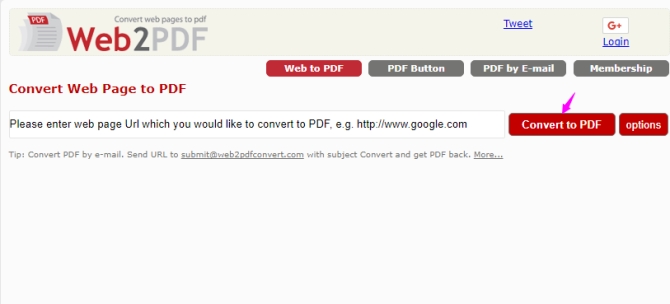 PDFmyURL
PDFmyURL is the next online application that will help you regarding how to save a webpage as a PDF. Since this tool has an option button that allows users to make all the necessary adjustments for the output file, your converted PDF file will surely look as customized as what you want it to be. Simply paste the page URL to be processed, click on "Convert", and it will immediately download the file into your PC as soon as the conversion is completed.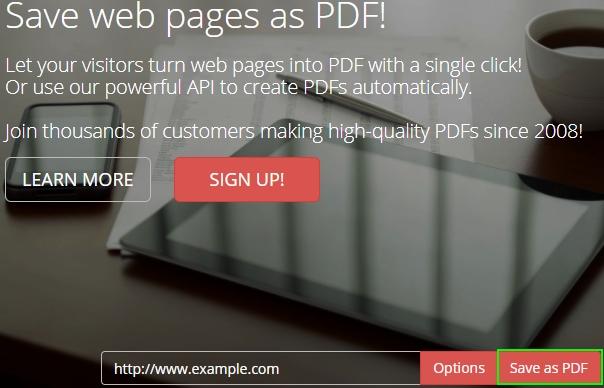 Webpage to PDF
This is a decent online application that only caters webpage to PDF conversion. The program's interface is very simple with white color all over the page which makes it neat. Within the webpage conversion, this program allows you to pick whether you want it to be in gray scale, landscape, low quality, or no background. To start the process, click on the "Convert" button and afterwards you're ready to go.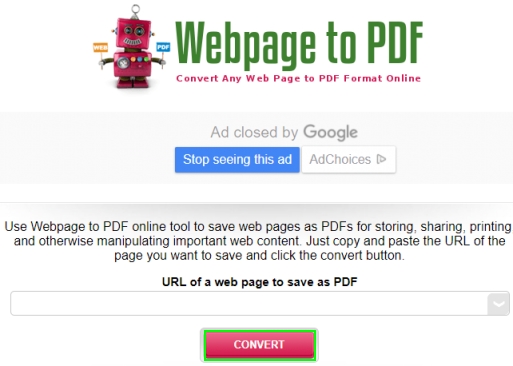 Printfriendly
The next application which works similarly to the previous webpage to PDF converters that we discussed. However, this tool is different from the others in the way that it provides a preview first and from there you can either have it printed or have it saved as a PDF file. The appearance of the site is very naturalistic with some tree design that goes along with its slogan which is to save paper and ink.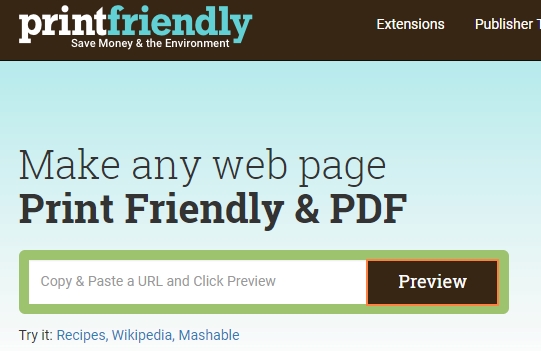 HTM2PDF
The last web app on our list to save a web page as a PDF is HTM2PDF. In order to do the conversion of a page that you need to convert, you can start the process by copying the URL and then pasting it into the box provided and then hitting the "Convert" button. Once the conversion is done, you can save the PDF file into your PC by clicking on the "Download" button. However, to use the other features that this program has such as PDF editing, purchasing a license is necessary.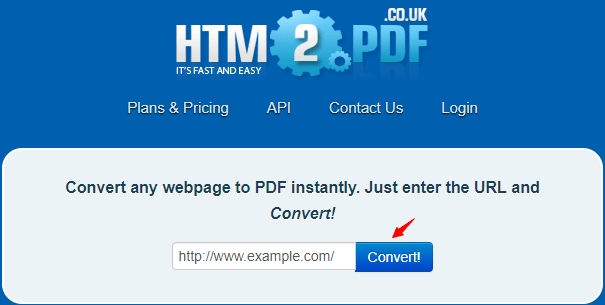 Edit saved PDF files via ApowerPDF
On the other hand, editing the PDF file that you have recently converted is inevitable since there are times that you need to add text, shapes, watermarks and insert images. In this case, all you need to have is a reliable PDF editing program such as ApowerPDF.
By using this program you will be given the privilege not only to edit but to create a new PDF from scratch, combine multiple PDFs into one, add password, signatures, as well as add highlights and comments. It is definitely an comprehensive PDF program that is worth trying.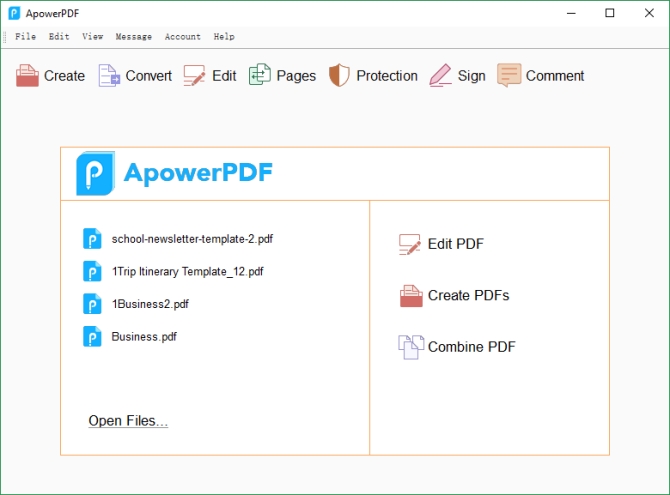 Conclusion
Those are the top 10 ways to save webpage as PDF document in an instant. There are a bunch of applications shown above and it's upon your decision on which way or program suites your desire. To grab a PDF file from a website right away, using the internet browsers has an edge due to their simplicity and quick availability. While if you need added features or you like a full pledge converter then there you can also have a look at the other 6 online webpage to PDF tools that you can choose from.