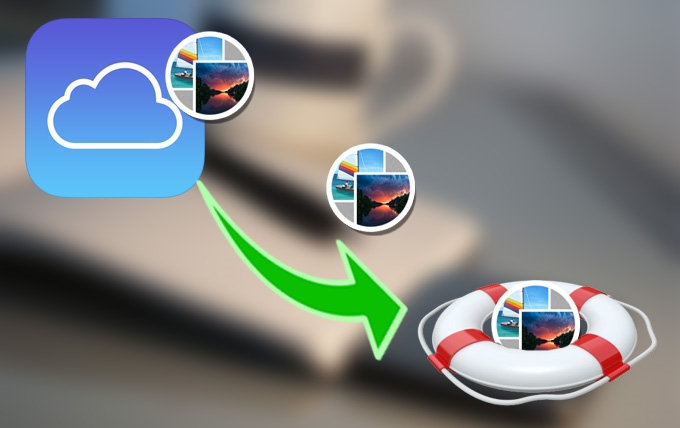 From iPods, iPads and iPhone, the technological advancement of all iOS devices is on the fast rise. With these devices, capturing a very special moment is now few clicks away. However, what if your gadget goes wrong and automatically needs a reformat? How about a damaged internal memory that all your files including photos are inaccessible? Worst, you had accidentally pressed the delete button and all your valued pictures are gone forever? Luckily, as long as you kept them before, you can still retrieve photos from iCloud backup. Retrieving pictures from iCloud backup is nearly impossible if you haven't created any backups, especially if you want to recover all your lost files. Also, the whole process is not as simple as connecting your iOS device into your computer and choosing folders. Though, retrieving photos from iCloud can be better. If you need a hassle-free way to recover all your deleted or lost photos, use a handy software that specializes will be more efficient than directly using iCould on your devices.
How to Retrieve Photos from iCloud
How to Restore Photos from iCloud
If you have recently deleted photos from your iCloud account, you can get them back by login to www.icloud.com. There you will find all your deleted photos. Below is the instruction of how to restore photos from iCloud.
Log in with your iCloud account.
Select Photos function and choose Albums at the top of the menu.
You will notice a file named "Recently Deleted."
Go to the "Recently Deleted" folder, check the photos you need and click the Recover" button.
How to Retrieve Photos with ApowerRescue
With ApowerRescue, you can do selective restoring of photos, contacts, messages, videos, notes, call history, calendars, voicemails, reminders, memos, bookmarks and all other documents. This only means that you can select what to restore and what not to recover thus avoiding duplicated contents as well as whole iOS data restoration. ApowerRescue can easily retrieve photo from together with 15 other file types. The main beauty of this software lies on its ability to preview contents. No more guessing with ApowerRescue because you can see the actual photo or file right before restoring it. This app is compatible with all models of iPhone and iPad. The latest iOS 12 is likewise supported. Using ApowerRescue to restore all your lost photos is easy, see below:
Download and install ApowerRescue on your PC.
Run it and go to the iTunes mode.
Chosoe a iTunes backup file it detected on your computer.

Wait for the software to scan your iTunes backup.
Choose the data you want to recover and then click "Recover to computer" to save them to your computer.
Must-to-Know Limitations of iCloud and Photo Managing Apps
Newer if not all smartphones of today are equipped with great cameras that we can use to capture precious moments on day to day basis. From basic cellphone to a more advanced gadget, all of which can take decent photos when you need it most. Along with this, photo managing apps and OEM programs are amongst the widely used applications of many photo lovers, believing that it will solely backup all their captured memories. But even given this, retrieving photos from iCloud is not 100% guaranteed due to major app limitations such as:
It can only backup the latest 1000 photos
After 30 days, photos automatically stored on your iCloud would be deleted
iCloud only offers up to 5GB of free "shared" storage
Videos are not included on automatic back-ups
True to its form, premium devices such as the iPad, iPod and iPhone do not only capture great photos but instead exceptional ones with life-like colors and brilliant images. They even offer automatic photo backup solution built-in on the device that may or may not work. To be safe rather than sorry, investing on this iPhone data recovery that can help you retrieve photos from iCloud backup without much of a hassle will take you miles away. This tool helps you retrieve deleted data even without using iCloud, but providing the download button.
Conclusion
Abve are the methods of how to retrieve photos from iCloud backup. You can directly find the deleted photos from your iCloud backup, however, if you have ituens backup, you can also use ApowerRescue to get the photos back.