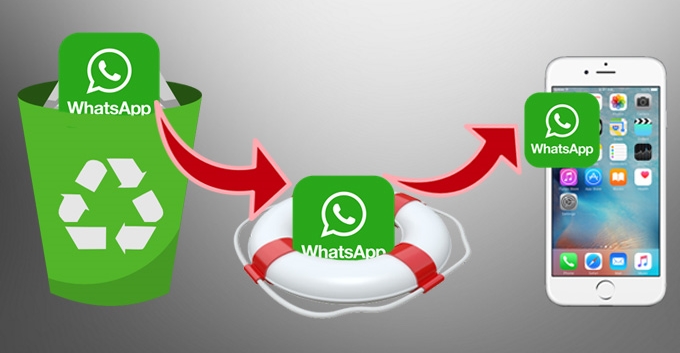 Founded by former Yahoo employees Brian Acton and Jan Koum, WhatsApp is a cross-platform instant messaging tool popular for its free, unique and fun way of sending and receiving messages. It is compatible to almost all smartphones including Android, Blackberry OS, Nokia OS, Symbian and of course Apple iOS. With over 190 million active users, WhatsApp is indeed one of the most downloaded if not the best mobile messaging applications available as of the moment.
Featured with the functions for a diverse messaging system where you can send text messages, photos, videos, locations, and even audio messages; WhatsApp is preferred by many iPhone fans instead of the built-in iOS messaging application. You can instantly send funny pictures, interesting videos, cute emoticons, sweet audio messages and all others in almost real time. However, deleting all your saved and existing WhatsApp messages can be done with a click of a button.
But what if your WhatsApp history contains vital information such as addresses, notes, reminders, appointments, documents, memos and the likes? How could you recover such valuable data? Easy because there are tools meant to recover WhatsApp messages on iPhone.
Method 1: How to Use iPhone Data Recovery to Recover WhatsApp
Said to be the goldmine of all iOS devices, it is the best WhatsApp chat history recovery for iPhone. From first generation iPad and iPod Touch to the latest iPhone 5s as well as 5c, the iPhone data recovery can bring back all those preciously saved data easily and efficiently. Even if you have a crashed device, formatted unit, physically broken iPhone or flashed phone, you can use this tool to restore not just WhatsApp history but also contacts, messages, call history, notes, reminder, bookmarks, camera roll, photo stream, voice memos, voicemail and app data.
Aside from the essential ability to restore data, the iPhone data recovery features three recovery modes for a sure hit every time you connect your phone. You can restore via iTunes backup, iCloud backup to restore lost files or even on your device without backup. Amazingly, this application brings you amazing function for preview and decide which to recover without spending time in guessing. All files that were previously visible on your device can be previewed by this way.
Recovering lost WhatsApp conversations on iPhone 5s or other iOS devices is very easy that even novice users would find it stress-free. See the guide below:
Download and install the iPhone data recovery on your PC.
Using the supplied USB cable, connect your iPhone and click "Start".
Depending on your iPhone model, wait until the program automatically detects your phone. If not, simply follow the on-screen instruction.
Scanning will start right after your iPhone is detected. Upon scan completion, check out the left pane and select WhatsApp.
WhatsApp chat history is all listed on the left pane.
Preview and select the files you need to retrieve.
Click "Recover" to automatically save them on your PC.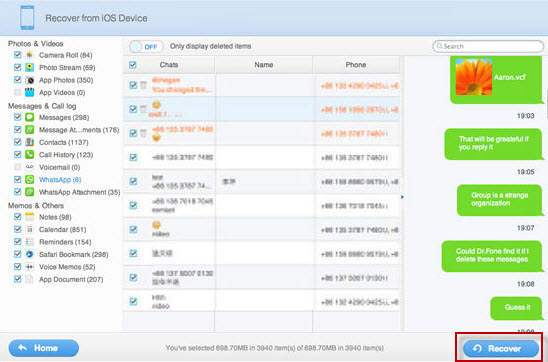 With this tool, how to recover WhatsApp chat history on iPhone is a lot easier, more efficient and time saving. On the other hand, there's another workable solution to bring back all your lost data. Check it out after the jump.
Method 2: How to recover WhatsApp Chat History on iPhone Using iCloud
WhatsApp doesn't store chat history on their server but you can use iCloud to recover deleted ones. Recovering WhatsApp history using iCloud requires you to have WhatsApp version 2.10.1 and later, iOS 5.1 or later, iCloud account. The most important thing amongst all – the documents and data settings on your iPhone should be turned "On". To retrieve deleted or accidentally lost WhatsApp conversations, follow this guide:
Make sure that you have a WhatsApp backup created through iCloud.
Delete WhatsApp on your iPhone.
Reinstall the application from the App Store.
Verify your phone number and follow on-screen prompts.
This should automatically restore your chat history.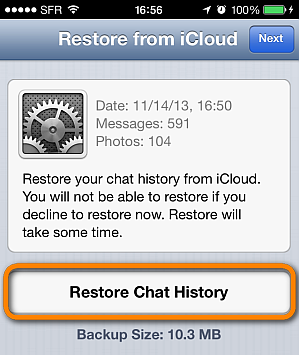 Using iCloud to recover deleted WhatsApp messages iPhone is very easy. Though, bear in mind that you need to use the same phone number when creating WhatsApp backups and restoration. Now this is very frustrating especially for those who had lost their passwords, usernames, accounts stolen etc. Unlike with iPhone data recovery tool, you don't need to have backups nor delete apps and latter for restoring them. Just use your iDevice, iTunes backup or iCloud backup to recover files with a few clicks.
Tips for keeping your data safe
Always manually backup your app by going to WhatsApp "Settings" > "Chat Settings" > "Chat Backup" > "Backup Now".
Automatic backups are however simpler, just tap the "Auto Backup" button and set frequency.
Emailing chat history is possible with WhatsApp. Hit the "Email conversation" icon located at the bottom and enter your email address before tapping send.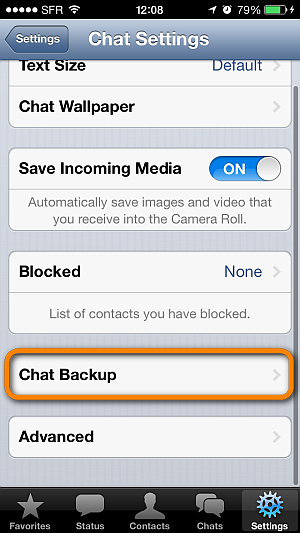 For recovering lost WhatsApp conversations iPhone 5s or to any other iOS device, iCloud is practical but you need to have backups for it to work smoothly. But it is extremely more simple, if you opt to use iPhone data recovery.