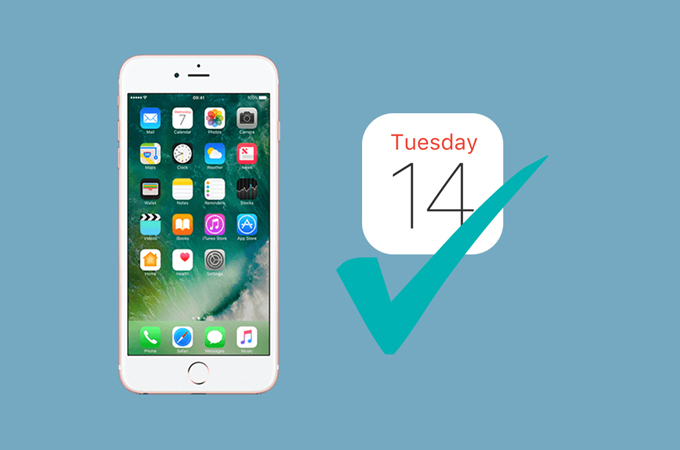 It is extremely convenient to use iPhone Calendar app to make notes. But you may lose your calendars due to various reasons. The best way to avoid losing your calendar and other data from your iPhone is to constantly back up your phone to your PC or Mac computer. However, if you've already lost the data, there are ways for iPhone calendar recovery and other data recovery methods. Various help articles are available in the internet for your perusal on how to recover your data. Most people simply restore them from the automatic backup files made by your device. However, if the data is beyond restoration, you may continue to employ alternative ways to recover your data.
Ways on how to recover calendar on iPhone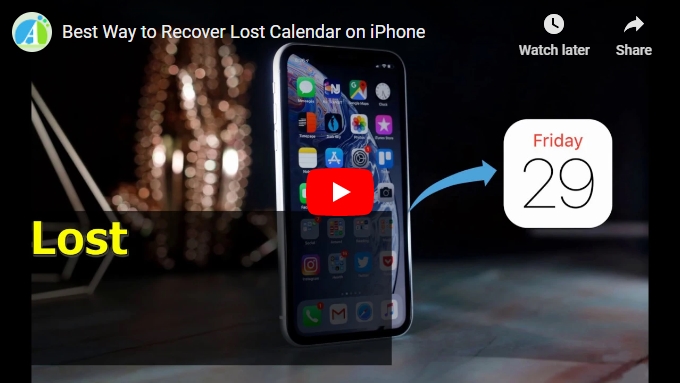 Directly Recover Delted Calendar from iPhone
One of the easiest ways to recover lost data from your iPhone is by using the ApowerRescue. It can recover deleted calendar from iPhone both from the iOS device and via iTunes backup. Aside from your calendar, it can restore various types of deleted files without the use of iTunes backup. The advantage of using ApowerRescue is that it works with all Apple devices. With this software, you can recover your deleted messages, contacts, notes and other files just by finishing several clicks. Regarding the case of losing iPhone calendar, you can recover lost iPhone calendars within this tool as well. It can perform a thorough scan on all data in your iPhone including calendars. After scanning of these applications, you will find a list with all lost files categorized with data types on interface. To see your lost calendars, click on the "Calendar" menu and you will find the lost calendars. Choose which of the calendars you want to recover and these can then be saved to your computer as backup. Below are the detailed steps for you to recover deleted calendar from iPhone:
Download and install ApowerRescue on your computer.Download
Connect your iPhone to your computer via the USB cable.
Choose "Calendar" on the interface and click "Start Scan".
Check the calendar you lost and click "Recover to computer".
Recover Delted Calendar from iTunes Backup
Another method to recover calendar events on iPhone is via the iTunes backup. You can click "Restore Backup" on iTunes to recover your lost data. However, this might be confusing for some less advanced users. An alternative would be downloading ApowerRescue to access your iTunes backup. It will scan your backup folder and enable you to access all the data in your iTunes backup. Select the "Calendars" category and you will be able to find the calendars that you have lost in your iTunes back up. If you have iTune backups, you can extact calendar from your iTunes Backup by following the steps below:
Download and install ApowerRescue on your computer.Download
Go to "Itunes" mode on the buttom of the software.
Choose a iTunes backup file and click "Start Scan".
Check the calendar file on the left side and click "Recover to computer".
Tips: Whatever method you choose to figure out how to recover calendar on iPhone, make sure that you follow instructions because you might brick your phone or cause further damage. In any case, constantly make accessible backups for yourself to avoid losing all the data on your phone.
Helpful Trick: Restoring the Missing Calendar Icon on Your iPhone
The Calendar app of the iPhone is built-in with the system; it comes along with your iPhone device regardless of the model. If you could not find the calendar icon on your iPhone screen, make sure that you check your phone carefully to avoid further tinkering, which can cause damage if not done properly. Here are steps that you should follow to solve your missing calendar icon problem.
Check your application folders in the iPhone. Apps can be arranged in the menu by grouping them together either by functionality or whatever classification system. Check thoroughly if you have not accidentally grouped your calendar with similar apps or grouped them with other apps. Use the search function of your iPhone to check as well.
Your missing calendar icon could be caused by a bug so restarting could help. Restart your iPhone or iDevice. As in the case of other electronic gadgets, restarting could go a long way. This process lets you get rid of bugs that might occur in your iPhone.
Resetting your iPhone Home Screen layout. If you have checked your application folders thoroughly, used the search function and reset your phone to no avail, you might need to reset your iPhone Home Screen layout. By doing so, the Home layout should restore to factory default settings and you will be able to see your calendar icon again. This is done by accessing the settings of your iPhone then proceed to the "General" option to "Reset" then select "Reset Home Screen Layout".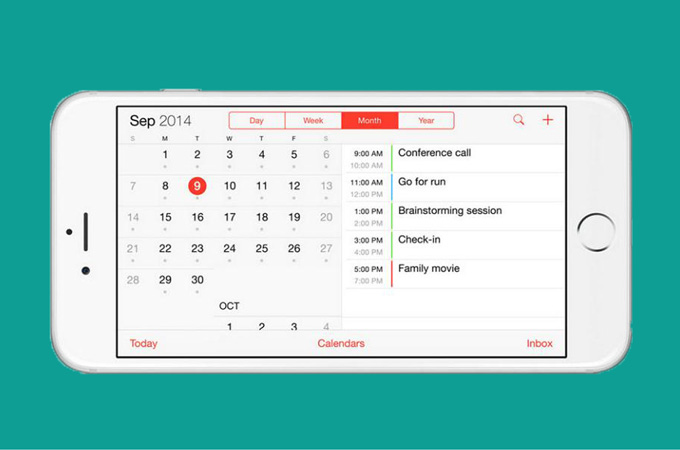 Conclusion
Above are the menthods we can use to recover calendar from iPhone. If you do not have the iTunes backup file, the best choice will be recovering calendar directly from iPhone with the help of ApowerRescue.