Ask
I'm a certified music enthusiast who loves to collect various music tracks, and I often surf on YouTube for the latest and finest songs. I usually download the music videos that I want, but the problem is that they occupy huge space of my hard drive. I think audio is much small than video in file size, therefore I am looking for a way to extract the pure audio from YouTube. Can anyone help me find a feasible way to record MP3 from YouTube?
Answer
Other than saving hard drive space, to record YouTube videos to MP3 can also benefit every user to save and play all of the MP3s anytime they want without a need of an internet connection. Moreover, it will also allow everyone to transfer their favorite music into any portable devices for listening. After getting so many MP3 resources, you have good opportunity to burn music tracks into a CD/DVD to add into your collection. Besides, many people love to use the track as a notification sound such as ringtone. However, if you are still looking for an appropriate way to rip MP3 from YouTube videos, then below are some of the finest ways that you can take a look at.
Solution 1: Utilize Online MP3 Recorder
Solution 2: Utilize Audacity
Solution 3: Utilize Desktop Audio Recorder
Best Ways to Record YouTube to MP3 Free
Apowersoft Free Online Audio Recorder (For Windows)
To successfully record YouTube audio, all you need is an effective and reliable tool such as the Apowersoft Free Online Audio Recorder. This online program is free and convenient to use, and is capable of ripping YouTube audio in high quality. As an additional feature to these interesting features is ID3 tag, it will automatically detect an appropriate detail for each song such as artist, genre, album, etc. To make use of this great YouTube MP3 recorder, here are the steps to remember.
Visit Apowersoft Free Online Audio Recorder site and click the "Start Recording" button. A window will pop up to let you run Java, click "OK" and wait for the recorder to load.
Once done, a recording tool will appear and you can configure the settings if necessary. Specify the input audio source as "System Sound", and choose output format as MP3 media type.
Go to your favorite YouTube video clip, open it and wait till it buffers completely. (Video buffering depends on internet connection).
Now you can click "Record" icon on the tool, and play the YouTube video that you will use to grab audio.
Hit "Stop" button to finish YouTube MP3 recording.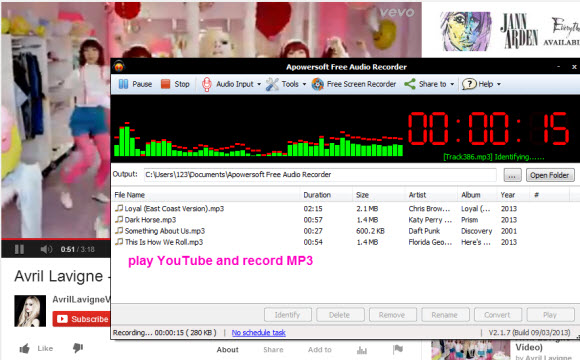 Now, your newly recorded MP3 is available, just click "Open Folder" to find it.
Audacity (For Win and Mac)
Another app that helps to record YouTube MP3 is Audacity. This is a known audio editor software that can record audio track as well. However, you should install Soundflower and Lame MP3 encoder for recording MP3 perfectly.
Open Soundflower, select "Built-in Output" in the Soundflower (2ch) menu.
Under "System Preferences" click "Sound", then select Soundflower (2ch) for both Input and Output.
Launch Audacity, open "Preferences" – "Device", specify Soundflower (2ch) as the Recording Device. Then go to "Libraries", click "Locate" button, browse your local directory and choose audacity/libMP3lame.dylib.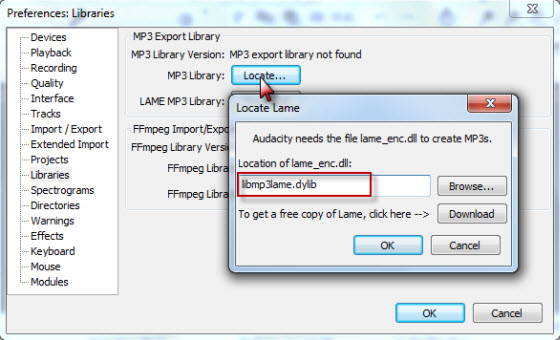 You can now begin to record YouTube. Hit the red circle button to record MP3, and end recording by clicking the yellow square button.
The last thing to do is to export the recorded audio and change to MP3 and you're done.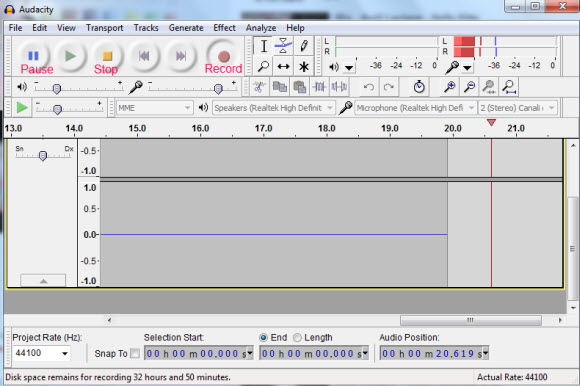 In spite of its effectiveness, many users find it too complicated to use Audacity due to number of settings to be done and it requires additional plugins which may consume a lot of time.
Record MP3 from YouTube with Desktop Program (For Win and Mac)
If you are looking for a more advanced shareware for your recording needs, then the Streaming Audio Recorder is the right program for you. This incredible recorder is compatible with all types of browsers and operating systems. Just get it by clicking the green button below.
One highlight of this tool is it comes with hotkey function which lets users record audio easier. In order to use the hotkeys, just click "Settings" in the function bar. Then, go to "General Settings", tick the box that says "Enable keyboard shortcuts". Now you can customize the hotkeys at your will. After that, play YouTube music video, press corresponding shortcut keys to control MP3 recording.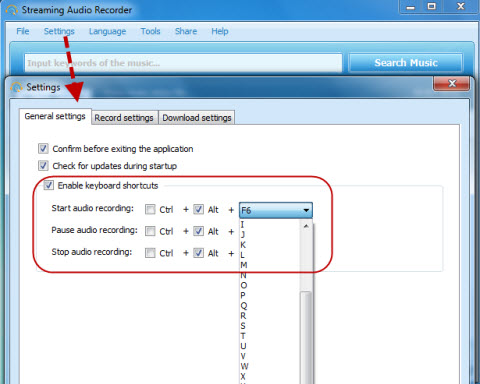 Moreover, there are still a bunch of features that you can get from this software. One of these is its embedded audio player which allows you to listen to the tracks that you recorded directly, and another is a MP3 to CD burning function which is perfect for saving audio as collection. It also has a built-in audio editor which can be used to cut, edit, merge, split and add effects to MP3 files.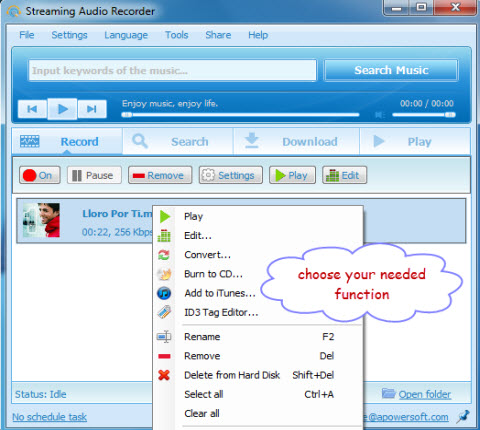 You can now record MP3 from YouTube on Mac and Windows if you stumble upon a beautiful song when watching videos easily. However, be aware of the copyright that some of the songs has and respect it. Just keep the MP3s and enjoy listening to them privately.