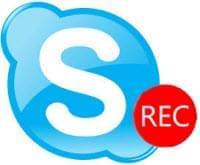 Skype is a VoIP software or in Leyman's term an application for free call via World Wide Web. It provides free voice call which is synchronized with a live webcam feedback. It provides various functions aside from video call which includes, message sending, teleconferencing, and a software that can be used in any modern portable devices. These features make Skype the most sought after application so far. Many individuals keep on patronizing this tool for it benefits them either with personal or business purposes. Aside from this, many of its users also tend to record Skype voice calls. This is basically done to preserve a copy of the conversation which can be utilized later on. But how can we do this recording?
How to Record Skype Voice on Windows, Mac and iPhone/iPad?
There are three simple ways on how to record Skype audio. Each of them has different approaches, but they do perform well in grabbing audio from a voice call. There is no need of any expertise in this process, because you can educate yourself by going through the brief introduction of the three ways which is elaborated below.
For all Windows users, the best way for you to record voice on Skype is by using a well-rounded tool such as Apowersoft Free Online Audio Recorder. With this tool, your voice conversation can be easily saved into an audio file without any installation and downloads necessary. All you need to do is to hit the Record button, and a recording tool will pop out. Make sure that you select System sound and Microphone from Audio Input option, and open the recording tool first before making a call.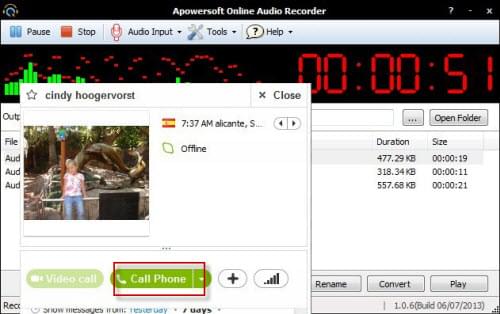 The good thing about this tool is that it is free of charge, no limitation, and it comes up with a built in file converter which is important in saving you recorded audio file. It also supports to save the recorded file into other audio formats, including WMA, WAV, OGG and AAC. With the help of this Skype voice recorder, you can now keep every significant conversation that might have without altering the quality of your conversation.
Another way is by making use of the freeware called Audacity, but this time this Skype voice recorder is specifically used for Mac OS X operating system. So you don't have to worry about any lags and incompatibility issues which are too annoying. Be sure that you prepare a good headset and mic for this recording. But the trouble is that you have to use LineIn and Soundflower if you want to record Skype with Audacity.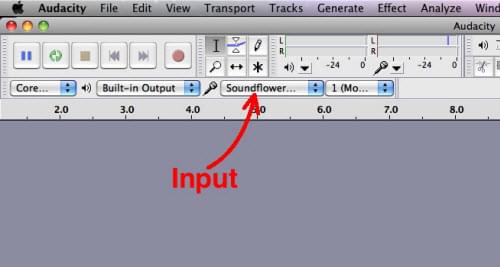 This next method is for Skype users that uses portable devices specifically iPhones and iPads. If you are using this kind of device you can record Skype voice by making use of an application which is called Quickvoice. It can be donwloaded from iTunes or App Store for free. Once installed, you can use it right away just hit the record button when your conversation starts. However, make sure that you are aware of the length of your conversation, because it is hard to export recorded files on iPhone or iPad if it exceeds 5mb. You can exceed beyond this size but it is trapped in your device for good.