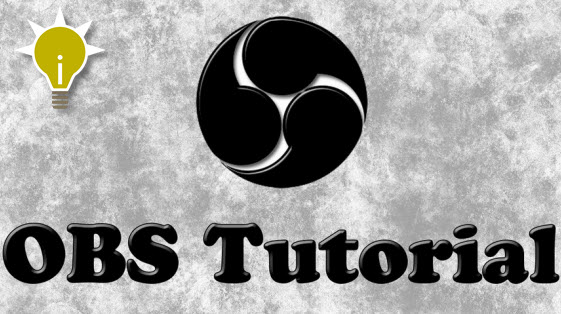 Open Broadcaster Software is an open source freeware created for recording desktop and streaming live video. It features flexible recording dimensions, H264 and ACC encodes. And it provides RTMP live streaming to popular sites like YouTube, Twitch, and the likes. Recording a gameplay through OBS can be tricky especially for beginners, since there are too many options that confused. In this case, a detailed guide on how to record games with OBS can help you resolve this problem.
How to Record Games with Open Broadcaster Software
1
Go to the OBS official page, look for the version that is compatible with your platform and download it. After that, install the program by running the OBS installer.
2
Once installed, modify the settings by clicking the "Settings" button located at the top portion of the tool. From here you can configure the "Encoding Settings". To achieve small file, set the max bitrate to 750 for video, and bitrate to 128 for audio. For the "Broadcast Settings", you can set the output folder that you prefer, together with the hotkeys. As for "Video and Audio Settings" they will be configured by default. When you're done click "Ok".

3
To know how to record using OBS perfectly, you also need to do further settings by going to "Scenes Box" right click, and then select "Add Scene". Now enter the name that you prefer for the scene. Next, add source by clicking the "Source Box", click "Add", and then select "Game Capture". At this point, select the certain game that you want to record. When you're done click "Ok".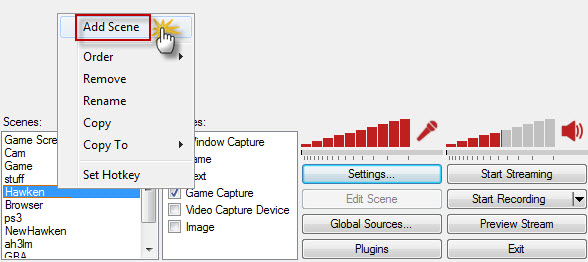 4
Now to check if you synced the right game, hit "Preview Stream". Now in order to record gameplay, exit "Preview Stream", and then click "Start Recording". The game that you chose will then pop up instantly as the recording begins.
5
To end the recording, simply click the "Stop Recording" button. The recorded video will then be saved on the output folder that you've set.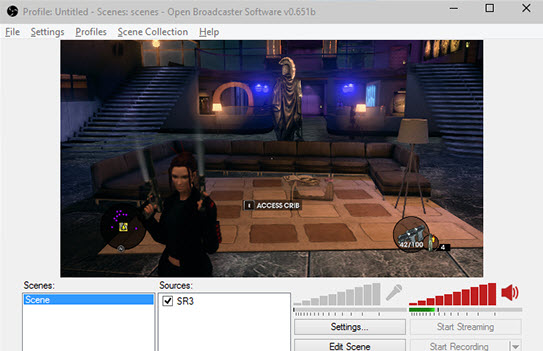 The good thing about this program is that it allows flexible recording dimension, has a GPU-based capture for high quality performance, supports H264 and ACC, and most of all it is free of charge. However, some users are not happy because the program only supports mp4 or flv formats. Plus, it requires constant recording modification with each recording. The program works well, but it's a little bit difficult for first users to figure out how to record screen with OBS.
Best Alternative to OBS for Recording
If you are looking for an OBS alternative that's easy to use and provides more functions, then you can use a jam packed recording application called Apowersoft Screen Recorder Pro. This recorder is capable of recording any screen activity in different modes including full screen, region, picture in picture video, etc. It also supports various audio inputs, like system sounds, microphone, or both. Unlike OBS, this program has an easy to use interface for recording, and provides high quality video output.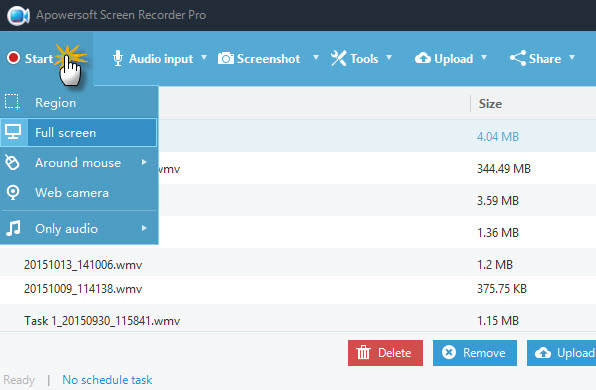 Here's how to capture game with this tool.
Get and install this app by clicking the download button.
Once it is installed, go to "Tools" then "Options", where you can make the necessary recording settings like hotkeys, output folder, and video format. You can also set your preferred audio source by hitting the "Audio Input".
Next, open and play the game that you want to record.
To start recording, back to the screen recorder and choose a recording mode such as "Region". Then drag the cross-hair along the portion to capture, release the mouse and then click "Ok". The recording will then begin automatically.
To end the recording, just click the stop button. The recorded file will be saved to the output folder that you've set, and it will also be included on the tool's media library.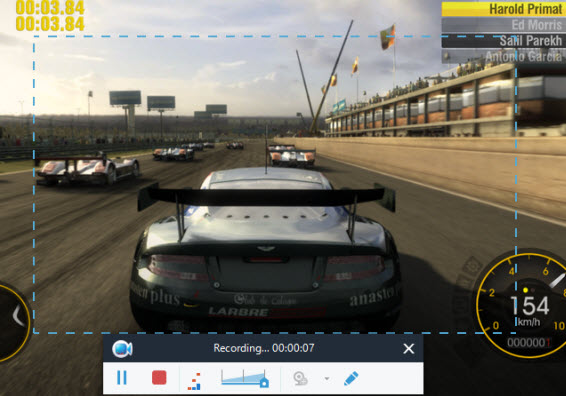 In case you want to share the captured video on YouTube or FTP, then you can do it easily using the app's Uploading function. These additional functions attribute makes this program a good alternative to OBS in recording gameplay. In addition, this screencast program also provides a efficient online version which does not requires you to install any apps. You can launch it from its page by clicking the "Start Recording" button. But note that the online version is not as stable and powerful as the Pro version.
That's how to use OBS and its alternative to record games in case you're having a hard time using OBS. The OBS is a well known app in recording gameplay, but it is also known for its complicated interface. That's why in recording your screen, it is recommended to use Apowersoft Screen Recorder Pro, since it's very easy to use and is equipped with other helpful functions.