The newest and most talked about operating system from Microsoft has just been released. Dubbed as Windows 10, this touch-friendly OS made its way on the hands of the consumers in July 2015. And contrary to their previous operating systems, Windows 10 comes as a free upgrade so users can install and use this OS totally free of charge for up to one year. Major changes seen on Windows 10 is the return of the start menu, addition of virtual desktop, release of new the browser called Microsoft Edge, removal of charms bar and many more. However along with these changes, don't expect all software to be right-on compatible with Windows 10. And this includes audio recorders.
If you are running Windows 10 and having troubles finding a compatible Windows 10 audio recorder, you're on the right track. This article aims to provide efficient audio recording programs that run smoothly on Windows 10 which supports you to record music, voice and radio without hassle.
Ultimate Methods to Record Audio on Windows 10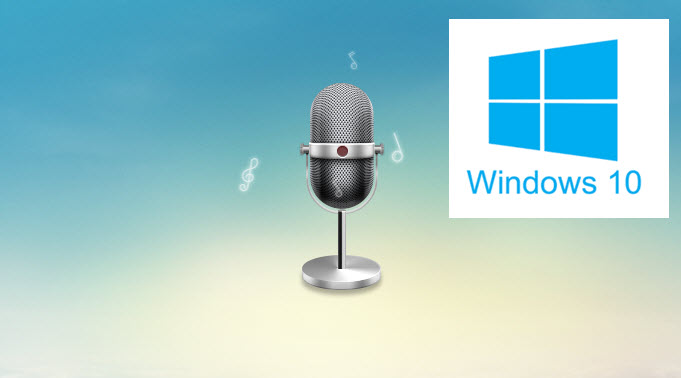 1. Streaming Audio Recorder
This software developed by Apowersoft is a one-stop audio recording program that supports high quality recording both from system sound or external sources such as microphone. Aside from being fully compatible with Windows 10, it is likewise filled with many features every user will truly enjoy. It comes with a built-in file converter, it can download music from video streaming websites, it can edit audio files, it hosts tons of radio stations, etc.
First, you can watch a short video to get a comprehensive understanding on it.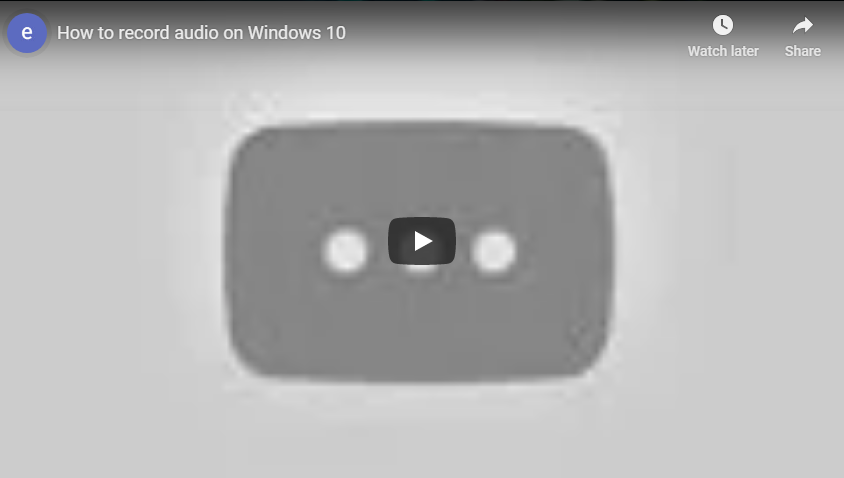 Though Streaming Audio Recorder equipped with a bunch of functions, you will also find it provides a convenient way to record Windows 10 audio. Here are the steps to follow:
Install the program on your Windows 10 PC.
Open the application and choose "Settings" in the gear-shaped menu. Make necessary adjustments, and make sure to specify the input audio source correctly.
Play the audio that you want to record or speak through Mic.
Click the "Record" button to start recording.
Click pause when needed or "Stop" to end the recording.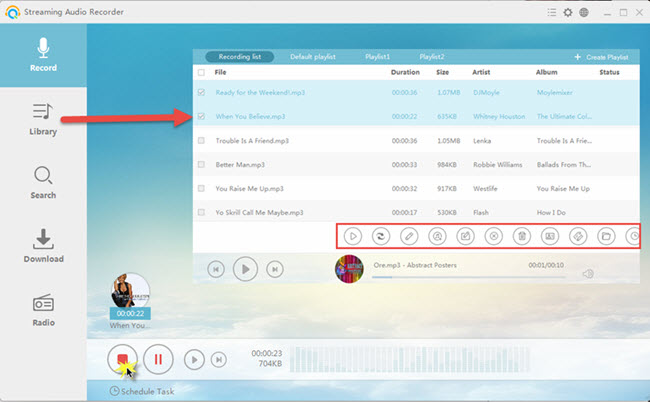 What makes this program even more interesting is that the newest version is packed with valuable functionalities such as ID3 identifier, sleek user interface and support for more output formats. Also, you can use it to download music with its intelligent music search engine and record audio from built-in radio stations.
2. Gilisoft Audio Recorder Pro
Developed by Gilisoft, the Audio Recorder Pro allows you to grab any sound playing from your computer. It can record your own voice, MP3s, streaming music, audio from plug-in device, CDs, phone lines, and many more. If you need a versatile tool that can record audio on Windows 10 in a variety of formats, you'll definitely find this program useful. This recorder supports AAC, AC3, AMR, FLAC, M4A, MP3, OGG, WAV and WMA. It is moreover equipped with auto record feature so you can conveniently set scheduled recordings at any given time.
Download and install the program.
Open it and make some settings, specify the output format and output directory.
Click the "Record" button to start recording and hit the "Stop" to end the process.
Open "Output directory" to locate the recorded audio.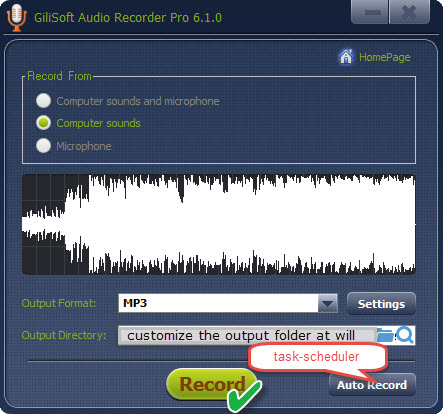 Although this software is very straight forward to use, downloading it on the official site is quite tricky. Because on some browsers, Gilisoft Audio Recorder Pro will be warned as dangerous, so its security is questioned by some users.
3. Replay Music 7
The last mentioned software here is Replay Music 7. This software can record high quality MP3s from popular websites, grab audios from players. Whenever you record a song track, it can automatically identify and tag songs. Besides, it supports cloud storage that enables to save space on your computer hard drive. Let's check the instructions on how to record sound on Windows 10 in detail:
After installation, run it from your desktop.
Play the local audio file or music, radio on the Internet.
On the home page of the interface, click the green "Record" button on the top.
Once done, hit "Stop" icon.
After which you can edit the recorded file, export it, or add artwork if you desire.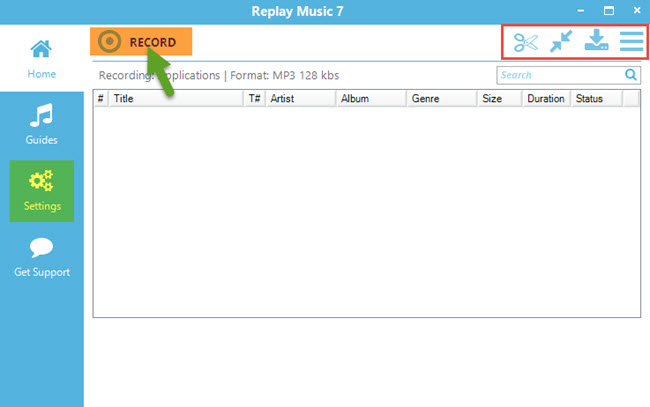 The most stellar feature of Replay Music 7 is its ability to add lyrics to music file which is somewhat unique when compared to other recorders. Yet, better be warned that this program comes with a bundled software which is the Replay Capture Suite. Some users find it helpful while others classify it as a bloatware.
Comparison of Audio Recorders for Windows 10
Now you probably understand the way to record the audio you want on Windows 10. For helping you choose a suitable option, you can check a comparison table here.
| | Streaming Audio Recorder | Gilisoft Audio Recorder | Replay Music 7 |
| --- | --- | --- | --- |
| Features | Can smoothly record Windows 10 audioProvides 1:1 recording quality | Easy to use interfaceFast recording with no hiccups | Convenient recording functionsAbility to add lyricsBuilt-in media guide |
| Extra Functions | Built-in file converterBuilt-in MP3 downloaderBuilt-in audio editor | Auto recording | Built-in ID3 taggerTrack splittingCloud storage support |
| Trial Limitation | 3-minute recording trial | 30-seconds recording | 25-song trial |
| Cons | Priciest amongst the three | Known for security issues | Comes with bundled software |
Which software do you prefer? Or you have better idea for recording Window 10 sound? If so, share with us immediately.