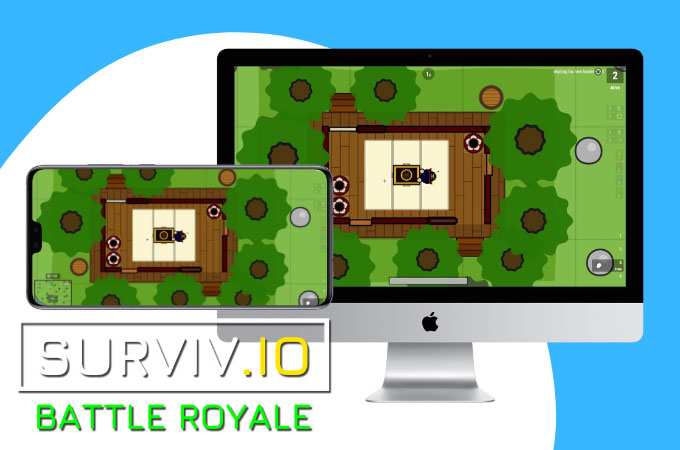 Survivor!.io is one of the most popular 2D multiplayer battle royale games that can be played on your mobile phone. Just like any other battle royale game, you play suvivor!.io by starting the game with nothing and leveling up with loots such as items and weapons. This is such an addictive game that you may want to play it on a much larger screen compared to your phone such as your Mac at home. Good thing is that you can now play Survivor!.io on Mac using the best screen mirroring tools available online and listed in this article.
Top 3 Ways to Play Survivor!.io on Mac
ApowerMirror
If you find yourself enjoying playing survivor!.io on your phone and you want to play on a much wider screen, you can use ApowerMirror to assist you on how to play Survivor!.io on Mac. This amazing screen mirroring tool offers an amazing mirroring ability with lots of useful features to help you enjoy playing Survivor!.io from your mobile phone to your screen. These features include screen capturing, video screen recording, and a whiteboard marker for annotation. Check these steps provided below to use ApowerMirror.
Get the app and install it on your Mac and mobile phone.
Link your phone to your Mac using a USB cable.

Enable the USB debugging then, just tap Start Now to connect.

You can now play Survivior!.io on your Mac
LetsView
If you are looking for a free tool that can match the best mirroring tools online to play Survivor!.io on Macbook, you can check LetsView. This is also one of the top screencasting tools that you can use to display everything on your phone's screen and even play mobile games from your phone and cast them on your Mac screen. It also offers extra features such as taking screenshots, screen video recording, and markers to help you enjoy the mirroring process more. To help you know more about LetsView, you can try it in actuality by just following the steps provided here:
Install the app on your Android phone and Mac.
Connect both phone and Mac to the same internet connection.

Tap your Mac's name once it appears on your screen and just hit Start Now to do the mirroring process.

You can now open Survivior!.io on your Mac and enjoy playing.
Memu
This article also includes an emulator that can also help you how to play Survivor!.io on Macbook Which is the Memu app. This emulator allows you to download, install, and operate Android OS on any platform such as Windows or Mac. Playing android games and using apps that are specifically designed for Android OS is now available on macOS with the help of this emulator. Try and see for yourself using the following steps provided below.
Download and install the emulator on your Mac.

Sign in to your account.

From the built-in Google Play Store, install the game and start playing.
Some tips:
Know where to loot and what weapons to get.
The best loots are mostly hidden on shelves and flowerpots.
Get the best scope you can.
Ambush by hiding in the bushes.
Put mines on doors and bushes.
Conclusion
These are 3 of the top screen mirroring tools that you can rely on for you to play Survivor!.io on your Macbook. You can check each tool to know what's best for your Android to help you mirror your phone screen to Mac. If you ate looking for a tool that does not require you to use your phone, you can use the Memu emulator. But if you are looking for a mirroring tool, try ApowerMirror and LetsView.