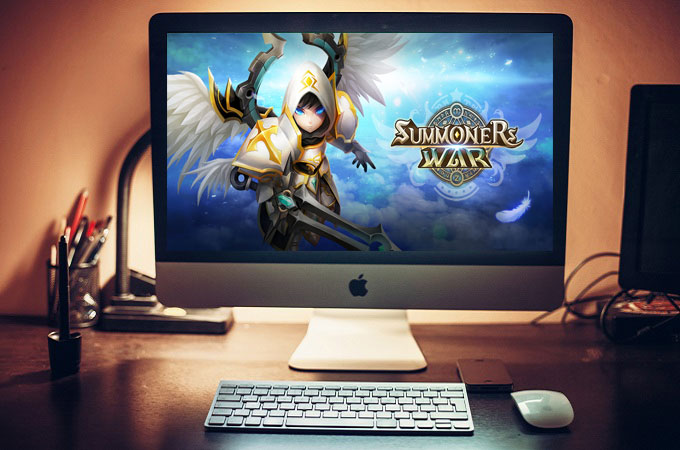 Are you ready for an action-packed fantasy game? Summoners War is here to satisfy your gaming experience with its exciting and thrilling gameplay. It is one of the most renowned RPGs which has garnered over 80 million users around the world. As you sign up for the game, you'll have to collect different kinds of monsters that will help you win the battle for the most vital resource—the Mana Crystals. This is only available on mobile devices but if you want to display your phone screen on computer, check out the possible way on how to play Summoners War on PC.
How to Play Summoners War on PC
ApowerMirror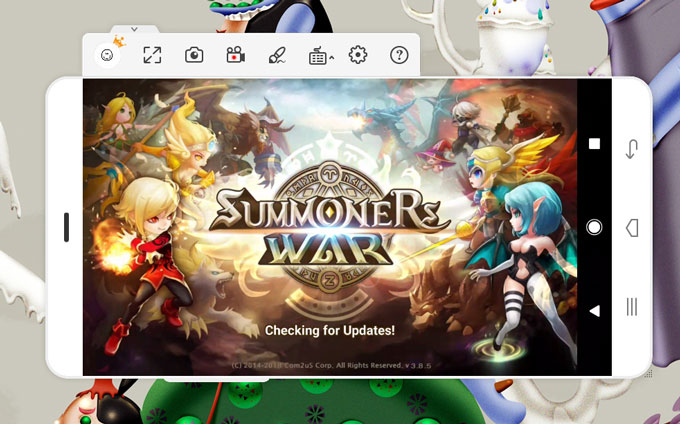 In order to connect your phone to a wider monitor, you have to use ApowerMirror. This is a professional mirroring application that allows you to stream Android and iOS devices on Windows and Mac computers. With this, you can watch videos, listen to music, preview pictures, and run games on PC. The app is loaded with different features which are useful for gamers. To make playing easy, the new version of ApowerMirror added a Game Keyboard function. This enables you to control your characters via certain keys on your keyboard. Furthermore, there is a built-in capturing tool that lets you take screenshots and record screen activities. And when you want to play in a full screen mode, you can do so. Without further ado, follow the steps below to play Summoners War on PC.
Download and install ApowerMirror on your computer and mobile phones.
Once installation is done, run the program and make sure that both devices are connected to the same Wi-Fi network.
Enable USB debugging on your phone and connect it to the computer with a USB cable. Tap on "Start Now" to mirror your phone.
Tip: You can also connect your phone wirelessly. Just open the mobile app and tap the M blue button to detect your computer.
After successfully connecting your phone, open Summoners War and tap the keyboard icon. Choose the control that you want to enable from the emerging buttons. You can select from joystick, key, aim, and fire. To change the default keys, simply tap inside the circle area containing the assigned letter and input the key that you want from your keyboard. Finally, hit the close icon from the emerging buttons and press "Save" to activate the controls.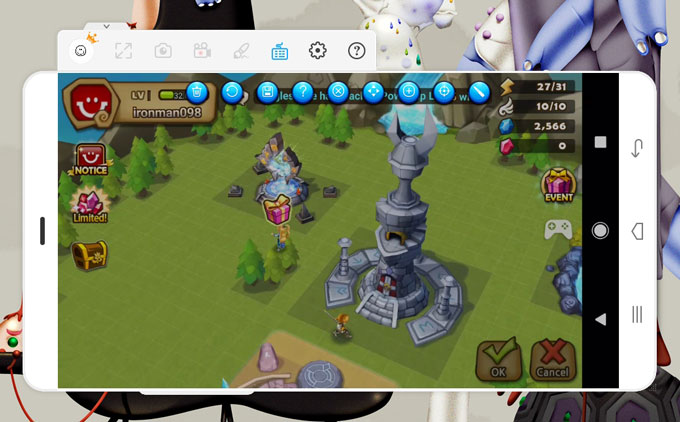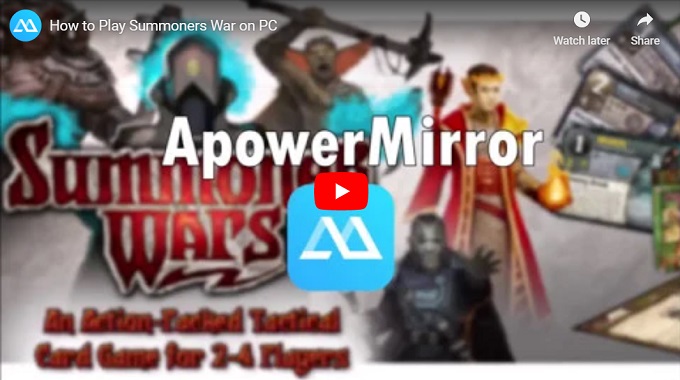 Guide for beginners
There are some elements in the game that might have confused you when you started playing Summoners War. If you want to fully enjoy the gameplay, here is some basic information that will guide you.
The Monsters
Monsters are grouped into five classifications: fire, water, wind, light, and dark. As your game progresses, you can level up them. Here are a few monsters that you can summon in the first stages.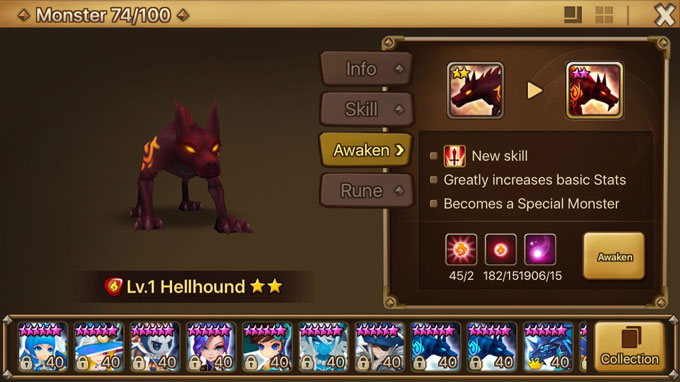 Sieq (Fire HellHound)
This type of monster is perfect when you're on the early stages of your game. It brings self-sustain with minimum skill, ample damage to enemies at skill 2, and a good 3-turn attack and critical rate buff once it reaches its maximum potential. Also, it is easier to skill up and awaken relative to other monsters.
Elucia (Water Fairy)
The first monster that will lead your group is Elucia. This is good for your defense as it breaks and slows down attacks that will affect your monsters. At level 1, there is a 20% chance of freezing your opponent for one turn and it increases by 40% at level 3. Her skills at level 2 can cleanse a single ally as well as recover their HP while when she's at max, Elucia can put an enemy to sleep for two turns.
The Buildings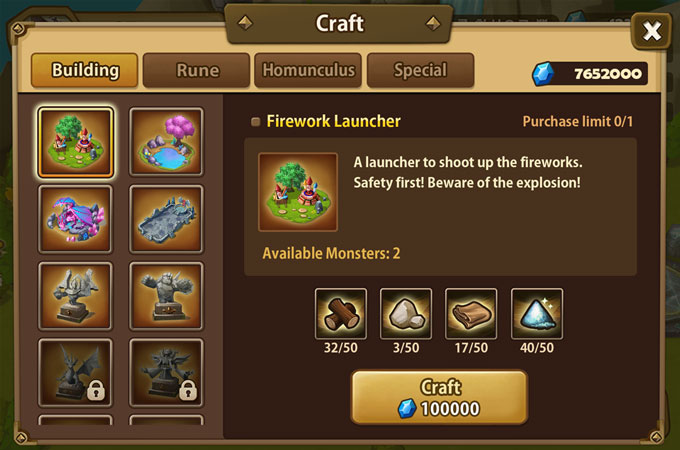 Aside from monsters, there are buildings within the surroundings that possess different capabilities and have various roles. There are 12 unique main buildings that have basic functions for every gamer. Other types of buildings are the Glory buildings, Experience buildings, Mana Stone buildings, and Crystal buildings. You can also find limited buildings when there are events. Let's list the important buildings that you need to acquire.
Summoner's Tower (Free) – sets up your Arena Defense and examines your Arena record
Summonhenge(Free) – allows you to summon monsters
Gateway (Free) – where battle takes place
Power-Up Circle (1000 Mana Stones) – for powering up or evolving monsters
Arcane Tower (1000 Mana Stones) – aids in dealing with damage done by opponents; activated inside the Arena Defense
Magic Shop (2000 Mana Stones) – place to shop runes, scrolls, and monsters
Temple of Wishes (3000 Mana Stones) – contains the spinning wheel that gives players random gifts
Transmogrification Building (3000 Mana Stones) – enables players to change their monster's appearance
Fuse Center (15000 Mana Stones) – allows fusing of lower tiered essences and turn it into higher ones
Fusion Hexagram (75000 Mana Stones) – helps in fusing monsters
Monster Storage (200000 Mana Stones) – stores monster outside the player's inventory which enables the storage limit to exceed beyond 100
Craft Building (120000 Mana Stones) – aids in crafting runes, homunculi, buildings, decorations, and other things
General Tips & Tricks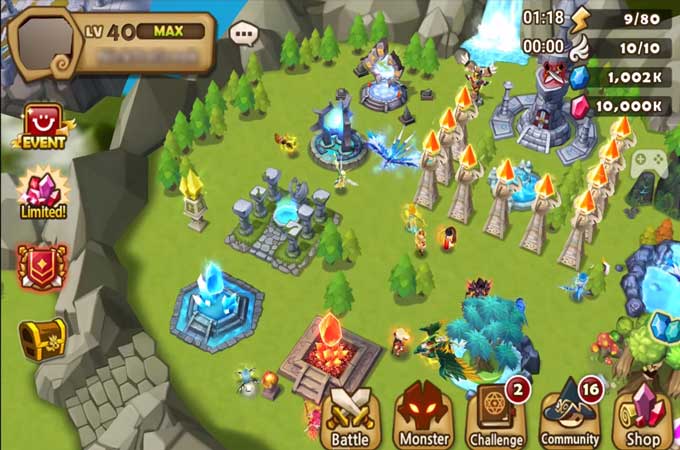 Play your daily mission and earn runes or crystals. Though it's not that simple to complete your daily missions, try to do so and you'll be surprised with how many freebies you can get.
Join the Guild Battles. Earning Guild Points can give you amazing rewards.
Take time to learn the power of your monsters. Having too many monsters do not guarantee that you will win the game. The best thing to do is to learn how your monsters work, their strengths and weaknesses. So, even if you only have three or five, you can take the battle heads up!
Level up your monsters! If you want to level up your monster quicker, take that monster to the level you completed already and replay that certain stage.
Play in the Arena and choose your enemies wisely. You should make it a habit to play in the arena to get great rewards. Also, select who to fight with. Competing with weak players can give you an advantage as your rewards depend on your ranking.
Conclusion
In general, playing Summoners War can bring up the fighting spirit in you. In case you're not satisfied with the small screen of your Android, you can always rely on ApowerMirror to help you play Summoners War on computer. And be ready to battle with other gamers all around the globe.