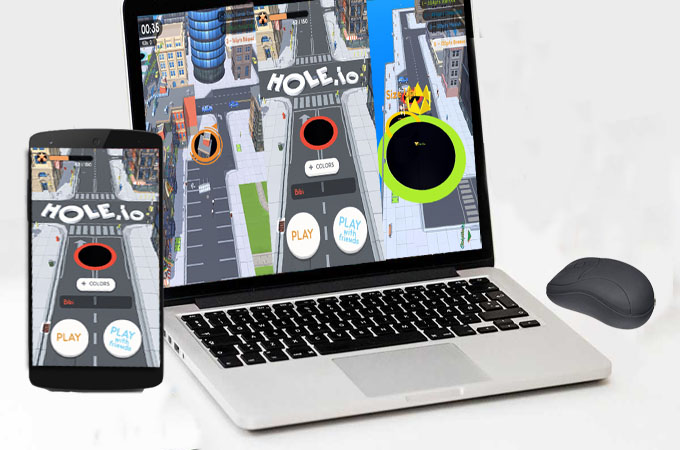 Voodoo is now making their comeback after the success of Helix Jump. Their new gameplay is called Hole.io. In this game, each player represents a black hole. Players need to eat any edible items like buildings, cars and humans as quickly as possible within two minutes. You can also eat other holes and gain more valuable points. It is a game that supports Android and iOS. Although playing on your mobile device is fun, it is still best if you play it on a bigger screen such as the PC's monitor. With that, you will need a screen mirroring apps to let you play the game and see your phone's screen on the computer. Being that said, here is one of the best screen mirroring app that you can utilize to play Hole.io on PC.
Best Way on How to Play Hole.io on Computer
Play Hole.io on PC Using ApowerMirror
ApowerMirror is an application that is made for the purpose of letting you mirror your phone's screen in the computer. Moreover, this tool comes with an easy-to-use interface. You just need to connect your phone to the computer and you are good to navigate your phone with mouse and keyboard. For Android, you can actually connect either via WiFi of USB cable. Meanwhile, for iOS users, you can connect via the "Screen Mirroring" function found in the Control Center. To use this app, see the steps below:
For Android
Download the application on your desktop and mobile device then install. After the installation process, make sure to turn on USB debugging on your Android device.
Next, connect your phone to PC via USB cable. The tool will prompt PC asking you to allow USB debugging, select "Allow from this computer" and proceed by pressing "OK" button.
Lastly, launch the program and another pop-up window will appear, then press "Start Now" on your phone and wait until your phone is mirrored to PC. You can now control your phone from PC by just using mouse.
To connect wirelessly
Install the application from Google Play on your Android.
Make sure that your phone and PC are connected on same wireless server.
Launch the program on the phone, on your phone click the mirror icon located at the bottom of the interface to enable searching. Then click your computer with initial name Apowersoft. Next, choose "Phone Screen Mirroring" and hit "Start Now".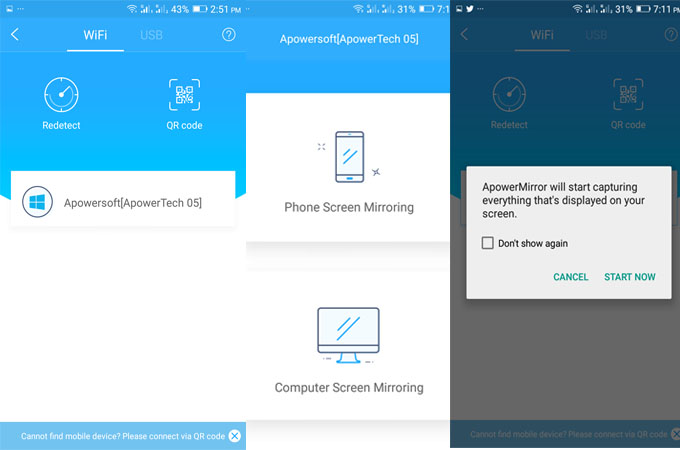 Note: The "Computer Screen Mirroring" function allows you to control PC from phone, as well as adding annotations.
For iOS via WiFi Connection
Make sure that both phone and PC are both connected to the WiFi server.
Launch ApowerMirror on PC and on your phone, scroll up Control Center.
Click on "Screen Mirroring" and then choose the name of your PC to connect.

You can now play Hole.io on computer.
Apart from mirroring the Android/iOS screen and controlling Android phone from PC, you can also record your gameplay by clicking the video camera icon on the right part of the tool. Furthermore, you can also take a screenshot of the game if you want to. All you need to do is to hit the camera icon.
Tips to Play the Game
Now that you know the best tool that you can use to play Hole.io on PC, below are some tips that you can remember in playing the addictive game.
Early Part of the Game
First you need to eat small objects as quickly as possible. After collecting 10 points, you will then grow in size 2.
Minimize going to the west side of the city when eating the benches, for they take time to be swallowed and worth 1 point only.
Eating cars, going to the park, eating trees will help you grow bigger in a timely manner. Thereafter, you will be able to eat buildings and gain more points.
Latter Part of the Game
Eat the other holes in the latter part of the game, this will help you gain enough points depending on their size, they usually range to 5-15 points. In that case, you will have a higher chance of ranking first on the leaderboard.
Take advantage of using the double points once you are killing back-to-back enemies in just a few seconds.
To escape from holes chasing you, duck through the buildings that are bigger than them.
Conclusion
That is how to play Hole.io on PC. The gameplay gets more exciting especially when other players are competitive and you want to consistently rank first on the leaderboard. Hence, by using ApowerMirror you will have an advantage among your opponents. You don't have to settle for small screen because you can easily ace the game with a bigger screen.