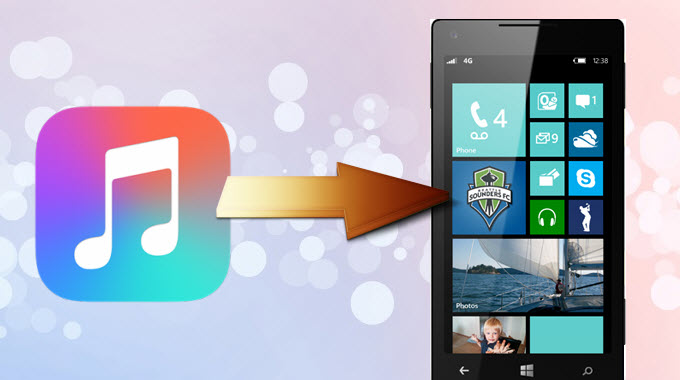 The most awaited music streaming service from Apple has just been released. This music platform promises more exciting features, larger music library, integrated Siri voice commands, flexible social media connect with artists. And all other functionalities every music fanatic would truly enjoy. People can access them on Windows and Mac with iTunes installed and updated to latest version. Also, Apple music is said to be available on the latest iOS 8.4 while Android can get a hold of it this year, specifically by autumn according to Apple. However, the bad news is that Windows Phone users are left out in the dark since there are no official news about the support of Windows smartphones.
So, is there any other solution that helps to play Apple Music with Windows mobile? The answer is yes as long as you could manage to download the songs onto your Mac or Windows PC. You can then transfer the music files to Windows phone with ease.
Save songs from Apple Music to Computer
1. Apple Music Recorder for Windows
To be able to record Apple Music on your PC, you will need a special audio recording tool such as the Streaming Audio Recorder. This program is an all-around audio recording software that can capture both system sound and the voice from external sources like microphone. The software can record sounds in 1: 1 quality. Plus, it comes with additional features such as audio converter, ID3 tagger, dedicated music search engine and many more.
If you want to play Apple Music on Windows phone, first you need to save the song on your PC by following the steps:
Download and install the program on your computer.
Open "Settings" windows in the gear-shaped icon menu and adjust the format, audio source and output directory.
Launch iTunes, go to Apple Music, and then click the recording button on the main interface.
Play the music of your choice, pause recording when needed and click the recording button once more when it is done.
You can now edit the file, convert it into different format, or edit ID3 tags if applicable.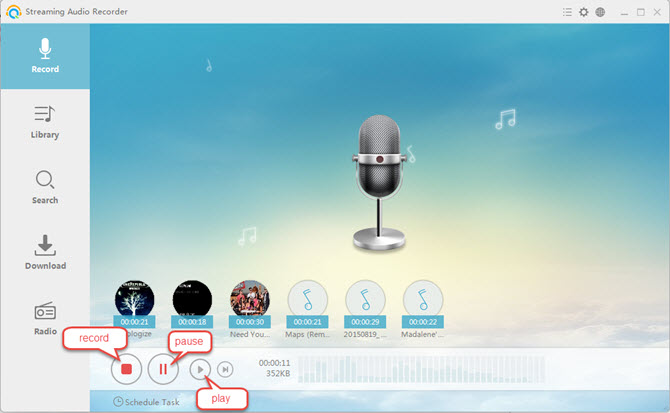 Note that Apple Music provides a live radio station (Beats 1) where exclusive contents will be aired from time to time. By using the scheduled recording function of the Streaming Audio Recorder, you can record important airing broadcasts even when you're not around.
2. Mac Program for Recording Apple Music
On the other hand if you own a Mac, there's an equivalent tool to record and listen to Apple Music on Windows phone. With the Apowersoft Audio Recorder for Mac, you can record songs without restriction. It records audio in the manner of retaining origin quality so you could get to enjoy high quality Apple Music even on Windows Phone.
Apowersoft Audio Recorder for Mac is compatible with all versions of Mac OS, just go through these steps to record audio:
Download the software on your Mac and adjust settings if needed.
Play a song or a playlist on Apple Music.
Click the red record button to activate recording and you will see the music notes flying on the interface. Hit the same button once done.
The file is then saved on your chosen PC location, you can click "Library" tab to find it.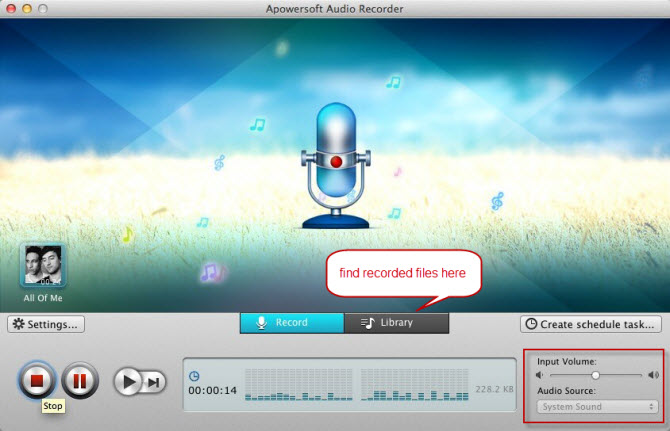 In case that the recorded file contains advertisements, dead spaces, unwanted intros or long endings, you can use the same software to edit out the file. Just choose "Audio Editor" from "Tools", load the audio then select the useless parts. By clicking "Delete select", the chosen portions will be removed, and you could click "Export" to save the edited file. Moreover, if the recorded file is not compatible with your device, you can use the software to convert the file into a WP compatible format such as MP3.
3. Free Tool for Recording Songs on Apple Music
Above are two paid programs for downloading Apple Music, then if you don't wish to pay, the free recorder could be the alternative choice. Apowersoft Free Online Audio Recorder, available for both Windows and Mac OS can be used on any browser instantly. It records audio in multiple formats like MP3 and M4A. To use it, the only premise is that you should install the latest Java and enable it on browser.
Open the product page and click "Start Recording".
When it reminds you to run launcher, simply permit the request, then the tool will be launched.
Click "Audio source" – "System Sound" on the interface.
Play the song, then hit "Start" to record Apple Music.
Click "Stop" when the music stops, then go to "Recording list" – "Open Folder" for locating the recorded file.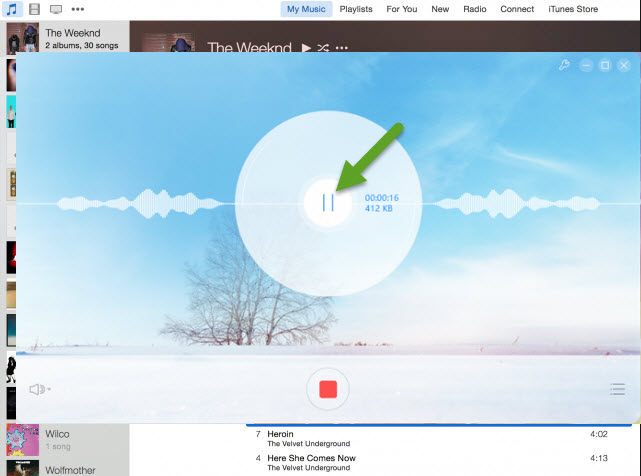 Transfer Songs for Playing Apple Music on Windows Phone
1. The Traditional USB Way
After we record songs from Apple Music, the next procedure is to transfer them to Windows Phone. Since Zune has been phased out, the quickest way to do this is through the Drag and Drop method.
First you need to plug your Windows phone to PC using USB cable. Then locate the device on your PC, it should appear under "portable devices". Double click to open it, and find the "Phone" icon. Open the folder, after which simply drag and drop the files to the "Music" folder. All right, the songs will be stored to your phone and you can listen to them freely.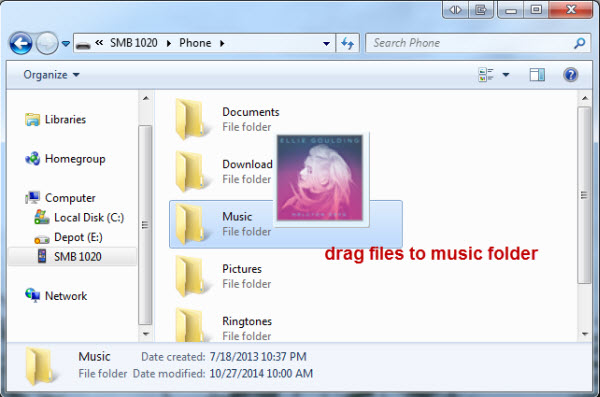 2. Convenient Wireless Transferring Way
If you don't have USB cable in hand, just utilize a cool way to transfer files on Windows phone. With the app called "Music Drop", you will be able to wirelessly transfer files from one device to another via a web browser. This program is available for free on the Windows App Market.
To start with, install Music Drop on your phone, then connect both your PC and device to the same Wi-Fi network. On your computer's browser, type in the port number given by the software. Locate the "Music Drop" icon and this is where you need to put the recorded files you wish to transfer.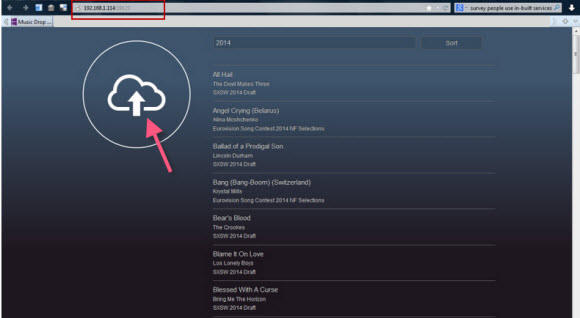 Although Apple doesn't have a concrete news yet on when they would officially release Apple Music on Windows devices, the above ways will facilitate you to play Apple Music on Windows phone without hassle. So just enjoy the music and make your life more colorful.