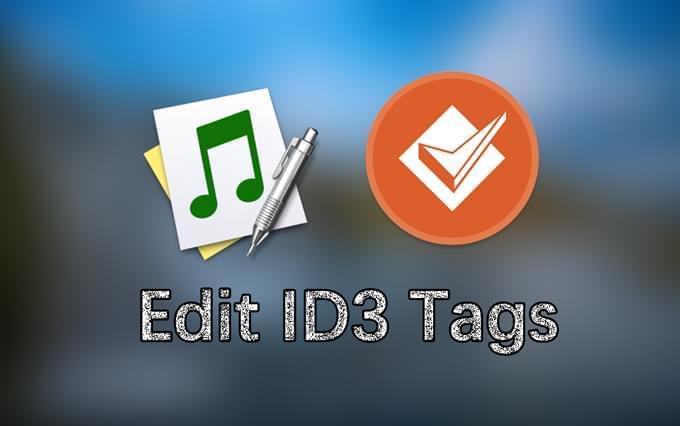 "Hi, I loaded a bunch of songs on the flash drive, because I want to play mp3s on my car. But the radio interface seems to display the wrong music information. I can't know the right song name when it's playing, so how can I correct the title name without going through every single one?"
Many of such similar situations happened around you and me. It is really easy to recognize the artists by ear that you are familiar with. But to those strange songs, you had better label an ID3 tag that includes the items of artist, title, album, year, genre and even a cover. Moreover, as time goes on, MP3 and many digital music players have become more sophisticated. In this case, choosing a nice ID3 tag editor is undoubtedly the best solution to all.
The good news is that a lot of resources on ID3 tag editing tools can be searched on the web. However, it is also a tough job to choose the best one from so many candidates. Today, the new released Apowersoft Audio Recorder 3.0.0 enhances the built-in ID3 Tag Editor, which will help you assign the ID3 tags you like in the manner you want it displayed.
ID3 Tag Editor in Apowersoft Audio Recorder
Based upon the main function of recording audio played on computer and microphone, Apowersoft Audio Recorder also contains some other affiliated tools like audio converter, audio editor, ID3 tags identifier, ID3 tag editor, YouTube to MP3 extractor and CD burner. Now, this new version makes a big improvement in editing ID3 tags, which is more powerful and smart to recognize your music files' information. That is, it will identify the name of the song, duration, artist, album and year when it is recording. Even better, it is available for Windows and Mac operating system.
How to use ID3 tag editor for Windows?
To edit ID3 tags of a song, you need to download Streaming Audio Recorder on your Windows computer first. After installation, there are two ways to tag the music you want. One is directly recording music from online websites like Pandora, Jango, Spotify, YouTube, Vevo and more. Simply click Record to start, and it will automatically identify the ID3 tags during the recording process.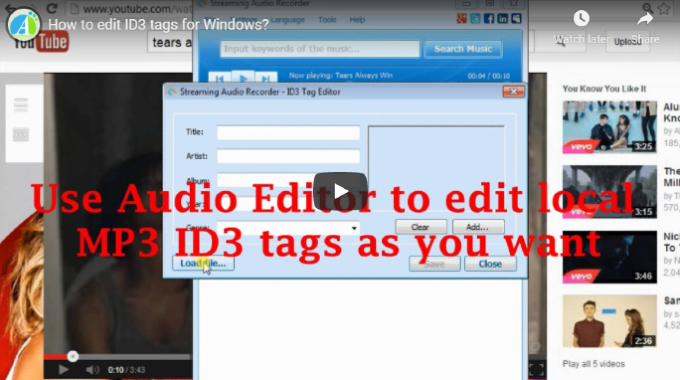 Or if you have collected a bunch of music files on your hard drive, but some display only incomplete information and some display none. What's worse, some display wrong information on the title or artists. To manage these audio files systematically, you can choose ID3 Tags Identifier from Tools to auto-identify or correct the music information. This is the new added function of Streaming Audio Recorder. Alternatively, you can use the ID3 Tag Editor from Tools to edit ID3 tags manually at your will.
How to use ID3 tag editor for Mac?
If you are using Max OS X, then you should download Apowersoft Audio Recorder for Mac that has the capacity to record any sound you want on your Mac in high quality. It is very easy to use, just click red button to start recording. You have no need to wait for the last seconds of the recording, as it will automatically identify the track information. If you want to edit the tag as your preferences, you can right-click the audio file and choose Edit Track Info.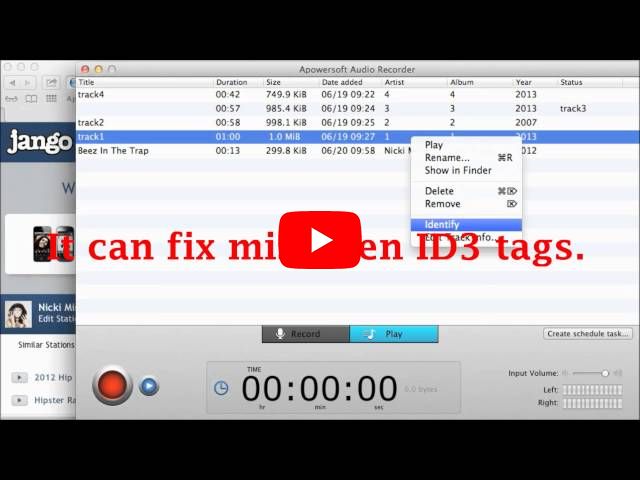 About the problem I mentioned before, it is easy to be solved by making use of Apowersoft Audio Recorder. Just connect the flash drive through USB port, and use the software to edit the MP3 ID3 tags you want. It's done.